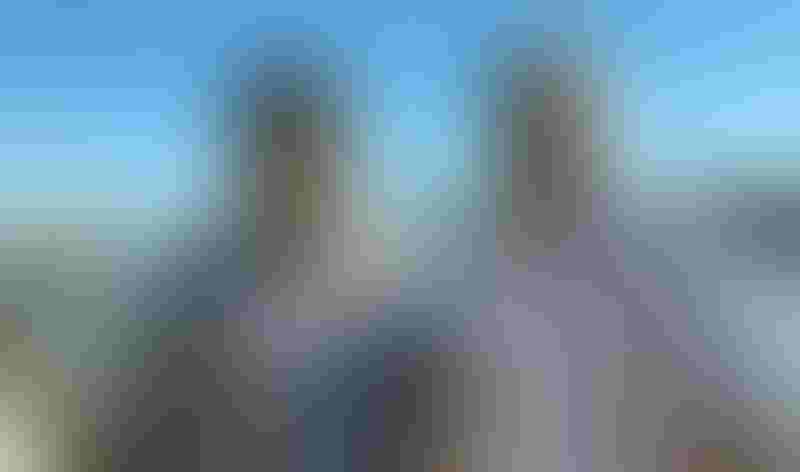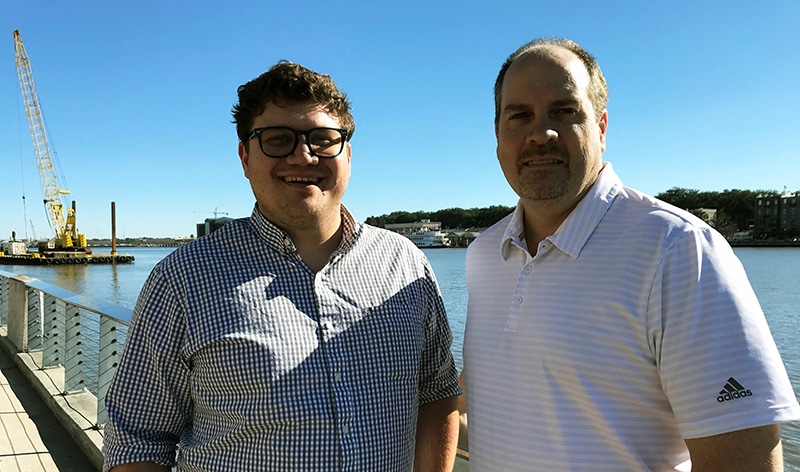 Josh Whitlock, left, co-founder of Trackter, and David Pemberton, CEO of Trackter, stand near the Savannah River Canal during the 2019 SE Fruit and Vegetable Conference.
Josh Whitlock and Jacob Shepherd believe the fresh produce industry could use another way to handle business.
Whitlock and Shepherd, both 30, grew up in Newnan, Ga., about an hour southwest of Atlanta. Two years ago, the friends started developing Trackter, a live, web-based marketplace where growers and buyers can bid on and sell fresh fruits and vegetables, schedule logistics, book transportation and track the shipments from the farm to a processor or directly to the store shelf.
They say the system allows growers, shippers and buyers to make better business decisions with traceable, transparent, real-time data.
David Pemberton is the team's chief operating officer, who brings seasoned experiences from the cooperate food world, including a stint managing a joint venture between The Coca Cola Company and Nestle.
This past January, Southeast Farm Press sat down Whitlock and Pemberton at the 2019 Southeast Fruit and Vegetable Growers Conference in Savannah, where they were meeting with industry leaders to drum up support for and participation in the new application, which is gaining traction, they say.
The Trackter team was one of 10 semi-finalists in the annual American Farm Bureau Federation Ag Innovation Challenge, receiving $10,000 in start-up funds.
Whitlock grew up on a small family farm, and after college, he worked as a watermelon broker for a large company, overseeing the harvest, the packing and transportation of shipments up the East Coast, a tough logistical game with many moving parts and variables as harvest moves from Florida up the Eastern Seaboard each season.
A few years ago, Whitlock said, a load of watermelons he was responsible for went MIA in Florida as a hurricane hit the state. That missing load and troubled experience was his tipping point. He and Shepherd earlier had toyed around developing an application to better manage melon logistics. It was time to get serious.
He called Shepherd, who was a consultant at the time with Accenture Strategy. Shepherd has experience working with large social media companies in the Bay Area, Dallas and D.C., and with mobile applications, machine learning and IoT technologies.
With their combined knowledge, they contracted with others to build out the Trackter marketplace and logistics tool. They beta tested the system on a large vegetable operation in south Georgia in 2018 and made adjustments from what was learned.
Whitlock, Shepherd and Pemberton say their full-time job now is carving out a solid footing for Trackter in the marketplace.
With the system, buyers place ads, or post orders for produce. Growers can post their inventory. The software brings it all together and can facilitate a transaction. For example, a buyer might put in an order for three of loads of melons in two weeks, say between July 1 and July 7. Trackter can help the buyer find those melons by looking into the inventory on the system and matching the buyer with a grower.
Whitlcok says there is a two-penny-per-pound fee for a grower to use a traditional watermelon broker service, which covers the broker's overhead in facilitating the transaction between grower and buyer. Trackter's automated system, he says, can do the transaction more efficiently and cheaper than traditional brokerages and charge smaller fees.
The transactions on the platform are binding agreements, Pemberton said, and the system enables payments through the transfer of electronic funds, with payments going to growers more predictably and hopefully quicker. The system builds a history profile of each party, too.
"The other downstream affect is growers have direct access to the end-user of that product, whether that be a processor or a maybe a retailer. So even though there isn't a human involved (directly in the transaction), a relationship can quickly develop in terms of frequency and dependability. And with that transparency and traceability through the system, if all goes well, the likelihood of a buyer returning to growers is very likely," Pemberton said.
The company charges a fee for transactions within the platform's marketplace, and the system has growers on board now, along with wholesalers and shipping enterprises.
Later in 2019 they will have a large retailer signed up to use Trackter. They just closed out their first round of seed money investing, and are now in expansion mode, looking to hire more staff.
They can now handle and track as much as 10,000 shipments at a time on the system, but with a quick call for more server space, they can scale up quickly with no problems, Pemberton said.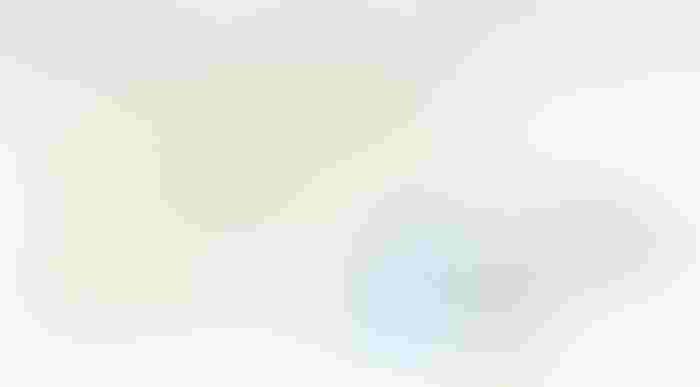 Subscribe to receive top agriculture news
Be informed daily with these free e-newsletters
You May Also Like
---