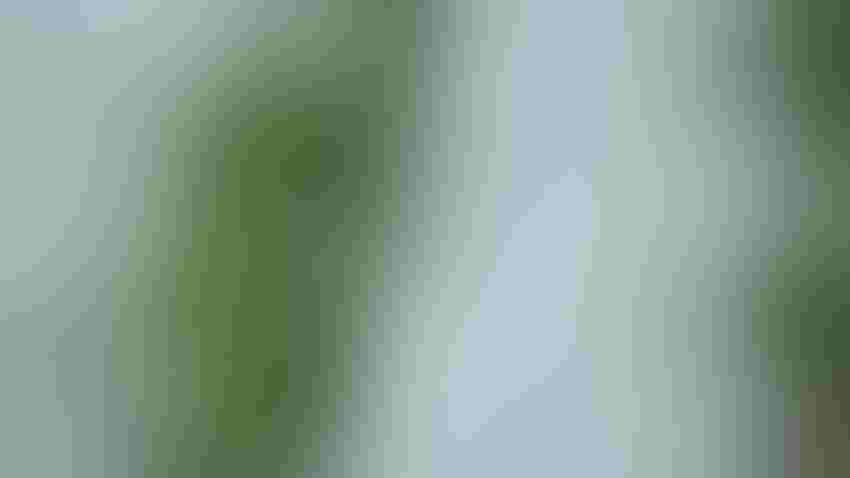 Another round of tumultuous weather hit large areas of Texas and Oklahoma last week bringing violent thunderstorms, flash floods, wind damage and large hail that blasted farms and ranches and communities causing severe damages and breaking many local rainfall records.
Last week's storms represent only the latest barrage of unstable weather across the region this spring. Significant weather events in March and again in April crippled eastern parts of Texas and southern Louisiana and parts of the Texas Coastal Bend with record flooding, reversing a late winter trend toward drought conditions in some areas following an early wet fall last year.
Across the region, widespread hail storms damaged some crops, flooded rivers, streams and fields, shutdown agricultural operations in some areas and closed roads and highways, resulting in numerous water rescues in cities including San Antonio, Corpus Christi and Houston.
Farmers from South and East Texas suffered crop losses, forcing many to consider replanting corn and some sorghum fields as a result of lodging caused by high winds and water-soaked soils, but damages were not excessive. Producers also report stranded, lost and injured livestock—scattered or injured by floodwaters and hail that in a few isolated spots measured three or more inches in size.
For many, the storm event last week represents the third time in as many months that record or near-record rainfall has saturated field and pasture and caused evacuations in both rural and urban areas.
For the latest on southwest agriculture, please check out Southwest Farm Press Daily and receive the latest news right to your inbox.
ABOVE AVERAGE PRECIPITATION
Hardest hit by heavy rains and floods were the Texas Coastal Bend where as much as 17 inches of rain fell in isolated areas over the last seven days and in Southeast Texas, including Houston, where the wettest 12-month period on record was noted. Parts of the Texas Winter Garden, San Antonio and the adjacent Texas Hill Country experienced high winds, some hail and heavy flooding last week.
Houston currently measures 24.8 inches of precipitation above average for this 12-month period, with Abilene, Dallas, and Austin also 20 to 25 inches above average over the past 12 months. Houston received more than 74 inches of rain in the past 12 months, placing it as the wettest 12-month period ending on May 12 of any year on record.
Thunderstorms dumped more than a foot of rain and led to flood-related rescues in Corpus Christi, caused raw sewage to spill into a creek, and resulted in a water boil order by the Texas Commission on Environmental Quality. As of this writing the city is in day seven of that order after a second flood event saw a repeat of the sewage spill. No injuries were reported in Monday's floods last week in Corpus Christi, but emergency management officials reported high-water rescues from vehicles and low-lying areas, and residents were evacuated from their homes in Aransas Pass and in Ingleside.
National Weather Service forecaster Penny Zabel at the national Weather Service in Corpus Christi said the area has received 10 to 15 inches of rain across the Coastal Bend over the last seven days with isolated areas reporting slightly more.
COASTAL BEND HARD HIT
The Coastal Bend, specifically Kleberg, Nueces, San Patricio, Aransas, and Refugio counties, experienced significant heavy rain events that began on the morning of May 15th, 2016, and ended on May 16th, 2016. As much as 10 to 15 inches of rainfall fell during that period and by Sunday (May 22) weekly accumulations had reached nearly 17 inches in parts of Nueces County.
In addition to several hundred homes that were flooded in Ingleside and Aransas Pass, many roads and highways were closed due to high water. Numerous water rescues occurred in San Patricio and Nueces counties. Many schools and businesses either delayed opening or remained closed on Monday until flood water receded.
In the Rio Grande Valley, more moderate rainfall amounts have been recorded over the course of the week, mostly considered beneficial rain events.
Omar Montemayor, AgriLife Extension agent in Starr County, said most row crops there are not irrigated and needed moisture. He said grain sorghum, sunflower and corn crops were becoming stressed from the lack of rain in recent weeks. By Sunday, an additional 2 to 3 inches of rain were recorded across parts of the Valley over the weekend—also termed beneficial for area crops and pastures.
Most Valley crops were planted by mid-February and no significant rain had fallen until the last week, he said. It had been hot and sunny for weeks, and producers were getting worried the same pattern might persist into the heart of summer.
"Most of our crops are dryland, so there's not much we can do but hope for rain," Montemayor said.
Agriculture experts in Cameron County said the rains came at a good time there as well, since almost all cotton and grain sorghum already has been planted for this growing cycle.
"Very beneficial," said Enrique Perez, county extension agent for Cameron County. "Some areas started irrigating about a week ago, but these rains benefit all our crops."
ACROSS THE STATE
Across the Texas Winter Garden, in Frio County, 9.5 inches of rain has fallen so far this year and remains 3 inches above this time last year. The storm system that brought rain to Starr County dumped 2 to 3 inches of rain to some parts of the county. AgriLife officials re[ort good moisture for peanut planting, which was underway before the rains began to fall, and that wheat and potatoes were being harvested and still looked good, though wet fields may cause some delays.
Much-needed rain in Atascosa County was beneficial for range and pastures, but both wheat and peanut harvesting was delayed by rain.
Potatoes, wheat and processing corn were being harvested throughout the Frio County area. Bermuda grass hay fields were being cut and baled at the time rain began falling last week. Widespread rainfall, averaging a little over 1 inch, was received in McMullen County and improved topsoil moisture conditions.
Range and pasture conditions remained mostly fair but were declining in quality. Some ranchers began supplemental feeding for cattle herds and some were short on forage on the south end of the county. Body condition scores on cattle were declining some, but most remained in fair condition. Brooks County received approximately 1 inch of rainfall, which should boost the cattle market, as range and pastures were expected to improve in quality.
UPPER COAST
In the Upper Coastal Bend weather conditions have been wet over the last week. River flooding in Colorado County created very poor corn and cotton conditions. AgriLife Extension officials say winter wheat was drying up near harvest until last week's rain events hit as corn started to square and sorghum started to head out in some fields. Hay cutting began in some areas amid a surplus of hay from last year's bumper crop. Herbicide and fertilizer applications continued on pastures and hay fields. Weed control was being applied to a good portion of rice crops. Some sugarcane aphid populations were reported.
Crops were in fair condition in Fort Bend County. The soil was already saturated and additional rains were expected to stress crops. Walker County received additional rain. Vegetable gardens were doing well. Excessive moisture from previous rains created problems for root crops. Grazing pastures were experiencing a transition from cool-season forages to warm-season growth.
Waller County had water standing in most areas of the county. Brazos County experienced some drier conditions but significant rain had fallen in some parts of the county. In Grimes County, rains left pastures in good condition. Forage producers began baling hay. Hardin County received rain and most producers could not get into fields to work or cut hay. In Montgomery County, weather conditions allowed some drying to occur before rains returned. Soil erosion occurred due to the intense recent rainfall events.
EAST TEXAS AND OKLAHOMA
In East Texas, a few counties received heavy rains, which caused flash flooding, but most counties reported good days of sun and heat the week before, which helped dry some wet pastures and crops. Warm season forages looked good in Gregg County as soil dried. Producers were hoping for warmer nights so summer grass would start to grow while they benefit from the rain. Applications of fertilizer and herbicides continued. Ryegrass and clover were being baled.
In Trinity County, grass was plentiful. Some producers were trying to bale hay even though many pastures were too wet for hay production. Corn improved in Houston County as flood waters receded. Smith County reported some squash and onions were being harvested. Other vegetable crops were growing well and looked good. Jasper County had some replanting of tomatoes due to earlier rains. Upshur County reported planting of fruit trees and crops.
Southwest Oklahoma wheat farmers are dealing with empty pockets, and feeling jinxed after hailstorms cut an unpredictable path of destruction through their crops. The storm spread out over a 10 –mile swath in Jackson County, destroying a little more than 1 million bushels in its path. An estimated $6 million was lost in crops so far across the area.
Other hail damage was reported across the Texas Hill Country and in deep Southwest Texas, parts of the Texas Winter Garden, and isolated areas of the Texas Panhandle. Hail storms across Texas ranged from pea-sized hail to reports of three-inch hail northwest of San Antonio.
About the Author(s)
Subscribe to receive top agriculture news
Be informed daily with these free e-newsletters
You May Also Like
---