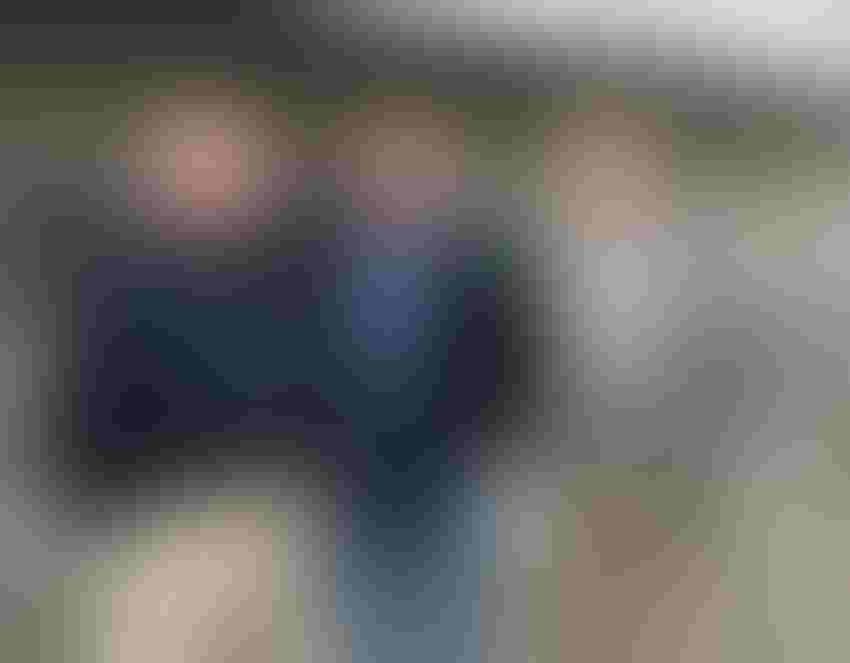 U.S. Agriculture Secretary Sonny Perdue, Jeff Huckaby, Grimmway Farms CEO and president, and Gary Black, Georgia Department of Agriculture Commissioner, Feb. 19 at a ribbon cutting for a Grimmway Farms carrot processing facility in Sparks, Ga.
California-based Grimmway Farms is planting Southern roots.
The Bakersfield company is looking to Georgia and the Southeast for expansion, where regulations are not as overstepping, and the region's climate offers a chance for the company to extend its carrot-growing season and availability of fresh carrots to its eastern customers, said Jeff Huckaby, Grimmway Farms CEO and president, during a ribbon-cutting event Feb. 19 for its already working fresh-carrot processing facility in Sparks, Ga., in Cook County near the Georgia-Florida line and positioned just off Interstate-75.
U.S. Agriculture Secretary Sonny Perdue, with several local and state officials including Georgia Department of Agriculture Commissioner Gary Black, attended the opening ceremony. Perdue said he got to know the family-based company when he visited California, along with 32 other states, during the first nine months of his tenure. He said the company's values and community- and employee-first business model fit well into the region and Georgia, where Perdue was a two-term governor.
Black said his department oversees agriculture regulatory enforcement and takes that charge seriously but views the department as a promoter of Georgia agribusinesses, too, and a partner in helping them stay in business and grow in the state.
The company explored several locations for its eastern expansion, but in part chose the Cook County location because of enticing negotiations with local and state leaderships and the county's established and thriving fruit and vegetable industry. County and state officials say it will have a positive economic impact on the community.
The company currently has 500 acres of carrots in cultivation in Florida and Georgia, Huckaby said, with possible moves into South Carolina as the company learns the growing conditions and best management practices to grow carrots in the region. The company grows about 40,000 acres of carrots in half a dozen states.
Grimmway Farms began in 1968 when brothers Rod and Bob Grimm set up a roadside produce stand in Anaheim, Calif. They soon began growing carrots and moved 10 years later to the Bakersfield area where the climate allowed for two carrot crops per year. Located in the Southern San Joaquin Valley in Central California, Grimmway Farms has become one of the largest growers, producers and shippers of carrots in the world, according to information provided by the company, and it produces about 60 different year-round and seasonal vegetables and fruits under its Cal-Organic Farms brand.
Carrots thrive in sandy, loamy soils in California. The same soil type is prevalent in south Georgia and Florida. The soil, combined with a climate of 75-degree to 85-degree days, and nights between 50-degrees to 60-degrees, provide optimal growing conditions for carrots, according to the company.
Some interesting, if not surprising, facts about carrots, courtesy of the Grimmway Farms website include:
The longest carrot was recorded in 1996 with a length of 5.14 meters (16 feet, 10 ½ inches). – World Carrot Museum.

The heaviest carrot in recorded history (1998) was 18.985 pounds and was a single root mass.

Contrary to popular belief, baby carrots are not grown bite-sized. They are bred long and slender, and then cut into two-inch pieces and lathed to uniform width.
Subscribe to receive top agriculture news
Be informed daily with these free e-newsletters
You May Also Like
---