Agriculture's economic forecast is sunny... with a few clouds
Agriculture's economic forecast is sunny... with a few clouds
Russ Tronstad, University of Arizona agricultural economist, predicts bullish demand and prices for western-grown tree nuts, fruits, and vegetables.He expects a possible softening in alfalfa prices in the near term, and a mixed future for western irrigated cotton.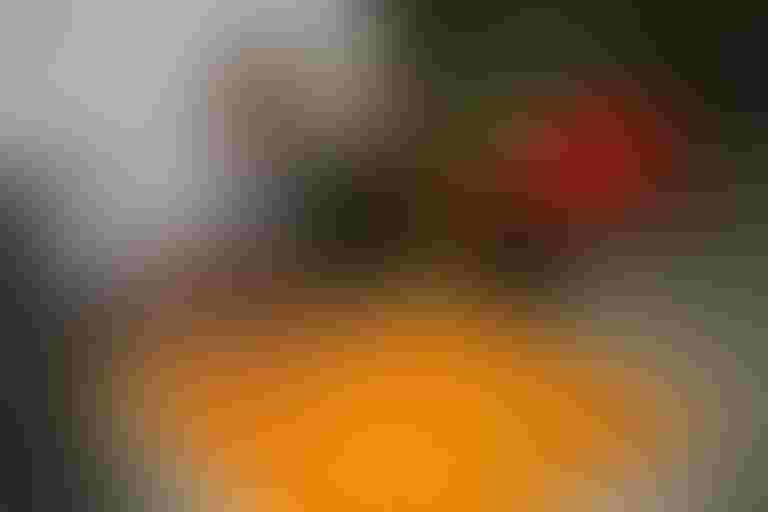 The USDA has been authorized to purchase oranges from U.S. production areas as part of a trade mitigation package
Russ Tronstad, University of Arizona (UA) agricultural economist and Extension specialist, has an electronic filing cabinet full of PowerPoint slides with a slew of agricultural data gleaned from his own research findings, plus statistics from U.S. government agencies and others.
For the most part, Tronstad says the data point to a mostly bullish forecast - demand and price wise - for western-grown commodities, including tree nuts, fruits, and vegetables to name a few. Yet the UA Extension specialist expects a possible softening in alfalfa prices in the near term, and a mixed future for western irrigated cotton tied to crop insurance and global competition.
The overall positive outlook for Western agriculture is largely tied to growing worldwide incomes and population which currently stands at about 7.3 billion people.
Get the  latest agricultural news each day to your Inbox. Click here for the free Western Farm Press Daily e-mail newsletter.
Speaking to growers at a UA workshop held in Marana, Ariz. in October, Tronstad said the United Nations' (UN) mid-range population estimate is for 9 billion people by 2050. The UN's low range estimate calls for no major population increase by the mid-century mark. The government agency's high end estimate is a whopping 11-billion people.
Producing more food to feed more bellies is not the only important factor signaling an increased demand for commodities. Tronstad says personal income must also grow worldwide, not only grow in larger countries with burgeoning populations like China, but also in less-developed regions of the world including the Sub-Saharan region in Africa.
Higher personal income allows people to afford a healthier diet, including more protein-enriched foods, including meats, nuts, plus more fruits and vegetables.
"After adjusting for inflation, many commodity prices should be higher over the next decade," Tronstad said. "Specialty crop growers can benefit from more diversity in the diet."
Tronstad explained, "Increased nut consumption in China has put legs under nut crops grown in California and Arizona."
Tronstad's work emphasis in risk management, international trade, and agricultural marketing is based mostly on livestock, fruits and vegetables, and field crops.
He is a former co-editor of the Journal of Agricultural and Resource Economics.
Softening alfalfa prices?
The outlook for the nation's corn industry will depend on the livestock industry, the largest user of corn. He says the cow-calf outlook is promising, following a heavy cattle selloff in recent years in Texas and Oklahoma tied to drought and high corn prices which caused many cattlemen to liquidate herds.
With stronger prices ahead for many farm commodities, Tronstad says output (producer) prices are just one part of the equation.
"As always, the outlook for commodities as a whole is not only what you can sell your commodity for but how efficiently you can grow it," Tronstad said.
Looking at the hay outlook, current U.S. hay stocks are higher in than recent years due in part to the cattle selloff. In California, May 1sthay stocks for 2013 were about a third higher compared to last year. Arizona hay stocks have not changed much.
"Overall, I expect a softening in alfalfa prices for the next couple of years," the economist said.
For western hay growers, Tronstad expects prices will be affected by the financial health of the western dairy industry.
On corn, U.S. corn growers produce about 30 percent of the world's corn crop.
About 17 percent of the U.S. corn crop is converted to produce ethanol for transportation fuels. Tronstad says the U.S. corn-for-ethanol industry is at a crossroads. While production is expected to increase some, a major limiting factor is the "blend wall," the current 10.2 percent limit imposed for ethanol use as fuel in many automobiles.
Some economic projections suggest that cellulose-based ethanol, derived from grasses and woody plants, might gain a small foothold in the ethanol market. The cellulosic ethanol industry is still in its infancy. Tronstad says cellulosic ethanol is not yet ready for prime-time production.
"The production of switchgrass for conversion to (cellulosic) ethanol is supposed to be a crop grown relatively inexpensively," Tronstad said. "The current production and conversion processes, in my opinion, are not yet economical."
Keys to feed the world
On the topic of feeding 9-billion-plus people, Tronstad believes agriculture can meet the challenge. 
The International Food Policy and Research Institute predicts that food production must increase 60 percent from 2010 levels to meet the demand in 2050. To achieve the increase, higher yields are expected to supply 80 percent of the increase. The remaining 20 percent needs to come from additional farmed acreage, primarily in Brazil and Sub-Saharan Africa.
Tronstad says U.S. farm land acreage is expected to remain about the same. Tighter water supplies will cause western agriculture to reduce the production of lower-valued commodities.
"I believe the world's producers can feed 9 billion people by 2050," Tronstad said. "For this to happen we need improved yields and less storage losses in developing countries."
Other economic tidbits from Tronstad's e-filing cabinet include these points.
Production agriculture employs 1.4 percent of the U.S. workforce (farms selling $1,000 or more of product).

Food represents 13 percent of the U.S consumers' expenditures (food consumed inside and outside the home).

12.5 percent of the world is undernourished (868,000 million people). This includes about 26 percent of those living in Sub-Saharan Africa.

Higher incomes around the world will reduce the consumption of rice and wheat in favor of higher protein foods.
Tronstad also shared USDA data on how much of the global food and fiber supply is produced by U.S. farmers today, compared to 30 years ago. Below, the numbers on the left are the 1983-1984 totals. On the right are the current percentages.
Rice – 2.1 percent then and 1.3 percent now;

Wheat – 13.4 percent then and 8 percent now;

Coarse grains – 25.4 percent then and 30 percent now;

Soybean products – 64 percent then and 34 percent now; and

Cotton – 13.2 percent then and 11.9 percent now.
Tronstad also said agricultural output falls into six categories – what Tronstad calls the "Six F's of Agriculture" - food, fiber, fluids (coffee and wine), fuels (biofuels and wood), flowers, and fun (on-farm entertainment).
He noted that the boom in global commodity prices in recent years triggered significant financial investments in the agricultural infrastructure in Brazil, Argentina, and other developing countries. With many of these related infrastructure costs now paid, Tronstad says these countries will continue to produce grain and oilseeds even if crop prices decline.
More news and comments from Western Farm Press:
Where is one-fifth of the world's fresh water hiding?
Western IPM Center offers $200,000 in IPM grant funds
Subscribe to receive top agriculture news
Be informed daily with these free e-newsletters
You May Also Like
---