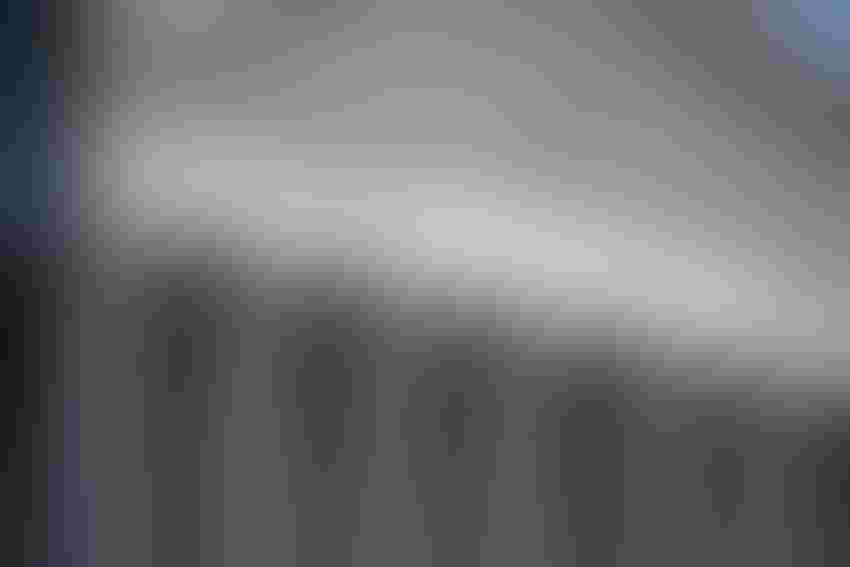 Since 2015, there have been a number of legal developments for the agricultural sector. Many of these issues will continue to play out over the next year and will impact agriculture throughout the Mid-South and other regions of the country.
In particular, there were important developments in environmental regulation of agriculture, food safety regulation, and use of drones in agriculture.
The University of Arkansas System Division of Agriculture National Agricultural Law Center (NALC) has compiled a list of some of these stories with links to NALC resources links for the NALC-led Agricultural & Food Law Consortium for additional information. Many of these issues will be covered at the Third Annual Mid-South Agricultural & Environmental Law Conference, April 22, at the University of Memphis Cecil C. Humphreys School of Law. Get more details on this Mid-South Ag Law conference.
Photo: Delta Farm Press
Photo: Delta Farm Press
(1) Waters of the United States
On May 27, 2015, the U.S. Environmental Protection Agency and the Army Corps of Engineers finalized the highly controversial final rule that sought to significantly modify the agencies' regulatory scope over "waters of the United States." The final rule was especially controversial for agricultural interests, who assert that the rule represents a significant overreach that falls outside the EPA and Corps statutory authority.
The final rule became effective in August 2015, but was immediately challenged in multiple lawsuits in courts throughout the country.
In October, the United States Court of Appeals for the Sixth Circuit issued a stay that prohibited, at least for the time being, implementation of the rule. On Feb. 22, 2016, the Sixth Circuit held that it had jurisdiction to hear the WOTUS challenge, at least for those states within the Sixth Circuit.
This is a landmark issue for agriculture in the Mid-South and around the country and will continue to play out in all branches of government in 2016. As various courts move forward with decisions on the WOTUS rule, it is increasingly likely that the matter will be appealed to the United States Supreme Court.
(2) Des Moines Water Works Lawsuit
In Board of Water Works Trustees of Des Moines, Iowa v. Sac County Board of Supervisors, et al, the City of Des Moines brought a legal action that tests the legal boundaries of the "agricultural stormwater runoff" exemption under the Clean Water Act (CWA).
The action targets three counties and the drainage districts they oversee, claiming the drainage districts constitute "point sources" under the CWA. The drainage districts are county organizations that create and maintain drainage ditches so that farms with tile drainage can drain excess subsurface moisture in order to promote agricultural productivity.
This matter will continue throughout 2016 and — regardless of the outcome — will undoubtedly be a top story for agriculture for the foreseeable future.
(3) EPA Authority to Set TMDLs
In November 2015, the United States Court of Appeals for the Third Circuit ruled that the EPA has authority to establish Total Maximum Daily Loads (TMDL) for states in the Chesapeake Bay region.
American Farm Bureau Federation and others have formally argued that the EPA lacked authority under the Clean Water Act to take its TMDL action rather than states, pursuant to the text and structure of the CWA. AFBF and its allies have formally requested that the United States Supreme Court take the case and overturn the Third Circuit decision.
This issue will play out in 2016, with an element of uncertainty added to the outcome in light of the recent death of Supreme Court Justice Antonin Scalia.
Photo: Getty Images
Photo: Getty Images
(4) Ag Biotech Approval
On Feb. 5, 2016, the USDA Animal and Plant Health Inspection issued a notice of intent to prepare an environmental impact statement "in connection with potential changes to the regulations regarding the importation, interstate movement, and environmental release of certain genetically engineered organisms."
This is the first step in a process that could include a regulatory definition for "biotechnology" and modify the pace at which certain GM crop traits are approved for market access.
A National Agricultural Law Center-hosted webinar from July 2015, presented by Dr. Mike Firko, Deputy Administrator for USDA APHIS Biotechnology Regulatory Services, provides helpful background on the GM regulatory approval process.
(5) Labeling of GM Foods
The issue of GM food labeling continues to be a hotly debated and controversial issue playing out at both state and federal levels of government.
The Vermont GMO labeling law, set to go into effect on July 1, 2016, would be the first state law requiring mandatory labeling of certain foods containing GM ingredients. The Vermont law would require GM products to be labeled as "Produced with Genetic Engineering" unless it falls under an exemption.
In February 2016, Senate Agriculture Committee Chairman Pat Roberts proposed legislation that would preempt states' GM labeling laws.
A federal lawsuit, GMA v. Sorrell, challenging the Vermont statute is currently pending.
An Ag & Food Law Consortium webinar from July 2015 provides an update on legal issues in GM labeling.
Photo: Delta Farm Press

Photo: Delta Farm Press
Drone rules benefit farmers
(6) Unmanned Aerial Systems/Drones in Ag
In 2015, the Federal Aviation Administration (FAA) released a proposed rule for the commercial use of small (under 55 pounds) Unmanned Aerial Systems (UAS). This is a major step towards finally being able to use drones to monitor field conditions across the country.
The FAA is expected to finalize the rule in 2016 and this rule will contain the requirements for operating a small drone for commercial purposes. An Ag & Food Law Consortium webinar discusses legal issues associated with drone use in agriculture.
Photo: Getty Images
Photo: Getty Images
(7) Antibiotics in Animal Agriculture
Concerns continue to surface regarding the type and amount of antibiotics that are used in animal agriculture. Over the past several years, the Food and Drug Administration has issued guidance documents that address the labeling and ultimate usage of animal antibiotics, and FDA continues to implement that guidance into practice.
As part of that process, FDA issued the Veterinary Feed Directive final rule in June 2015. This directive requires veterinarians to issue all VFDs within the context of a veterinarian-client-patient-relationship.
This development is part of what promises to be an ongoing debate for the animal agriculture industry.
On May 18, at 12 EST, the Agricultural & Food Law Consortium will host a free webinar on this topic. The presenter will be Michael Murphy, U.S. Food and Drug Administration Veterinary Medical Officer, Center for Veterinary Medicine. Get more details for this webinar.
(8) Food Safety — FSMA Implementation
While the Food Safety Modernization Act (FSMA) was signed into law almost five years ago, 2015 was an important year in terms of implementation. Two major regulations — the "produce safety rule" and the "good manufacturing practices" rule — were finalized.
The produce safety rule addresses growing, harvesting, and packing holding conditions of fruits and vegetables that are typically consumed raw. The good manufacturing practices rule outlines requirements, including the necessity of a written food safety plan and monitoring preventative controls that covered facilities must meet.
Together, these rules regulate the majority of food that American consumers purchase and consume.
MORE
Photo: Delta Farm Press
Photo: Delta Farm Press
(9) Bee Health & Pesticide Regulation
On Jan. 6, 2016, a lawsuit was filed by the Center for Food Safety and others against EPA in which the parties challenge EPA's regulatory approval process for coated seeds. The lawsuit focuses on seeds coated with the class of pesticides known as neonicotinoids (neonics) as well as non-neonic coated seeds that EPA has approved or is likely to approve.
The plaintiffs assert, in part, that use of coated seeds is detrimental to bee health. A Congressional Research Service report, available free of charge on the National Agricultural Law Center website, provides an extensive background on the policy issues implicated in the bee health debate.
(10) Endangered Species Act – Listing and Delisting
The Endangered Species Act, a federal law meant to protect endangered and threatened species, continues to stir controversy. Lawsuits have been filed against the U.S. Fish and Wildlife Service (FWS) by organizations in several states, asking that specific species be "delisted" and protections for those species be removed.
Other new lawsuits argue to the contrary — that FWS acted wrongfully in refusing to list other species, denying them the protection of the law.
Meanwhile, Congress has considered several bills and dozens of riders that might change either the mechanism of the law itself or the ability of FWS to enforce its provisions.
An Ag & Food Law Consortium webinar provides a basic overview of the structure, operation, and implementation of the Endangered Species Act.
(11) Endangered Species Act – Monarch Butterfly
On Jan. 5, 2016, two environmental protection groups filed a notice of intent to sue the U.S. Fish & Wildlife Service as part of their effort to compel FWS to list the monarch butterfly as a threatened species. This action is a follow-up to a petition filed in August 2014 seeking ESA protection of the monarch.
This is an important issue to watch because the environmental groups claim that the widespread planting of glyphosate-resistant crops is the major cause of the decline of the monarch population.
Photo: University of Arkansas
Photo: University of Arkansas
(12) Livestock Protection Laws
So-called "ag-gag" laws — state laws designed to prevent activists from obtaining employment through identity fraud or making undercover videos — have undergone significant developments this year.
A challenge to Idaho's law was heard in federal court, with the judge finding the law unconstitutional as a violation of both free speech and equal protection rights. Idaho's attorney general has filed a notice of intent to appeal the decision. In the meantime, a similar challenge to Utah's law is pending.
(13) Country of Origin Labeling
In December 2015, Congress repealed Country of Origin Labeling (COOL) as part of the fiscal 2016 omnibus appropriations legislation. The repeal applies to muscle cuts of beef and pork as well as ground beef and pork.
The repeal came on the heels of retaliatory action available to Canada and Mexico as a result of a World Trade Organization ruling adverse to the COOL law. A Congressional Research Service Report, available free of charge on the National Agricultural Law Center website, provides an extensive background on the policy and legal battles associated with COOL.
(14) Cow Palace Litigation
In early 2015, a federal district court in Washington state ruled in a motion for summary judgment in the Community Association For Restoration Of The Environment, Inc. et al v. Cow Palace, LLC case that the Resource Conservation and Recovery Act (RCRA) could apply to dairy operations at issue. RCRA governs the disposal of solid waste and traditionally has not applied to manure from farming operations because it has a beneficial use as a fertilizer.
However, the court in Cow Palace raised the prospect that RCRA could be triggered by what it considered to be over-application of manure and the leaching of nitrates from lagoons.
An Ag & Food Law Consortium webinar presented by Peggy Kirk Hall at The Ohio State University addresses the Cow Palace litigation and other state and federal legal issues involving agricultural nutrient management.
Harrison M. Pittman ([email protected]) is Director of the National Agricultural Law Center. Elizabeth Rumley ([email protected]) and Rusty Rumley ([email protected]) are Senior Staff Attorneys for the Center and helped with writing and editing this article.
Subscribe to receive top agriculture news
Be informed daily with these free e-newsletters
You May Also Like
---