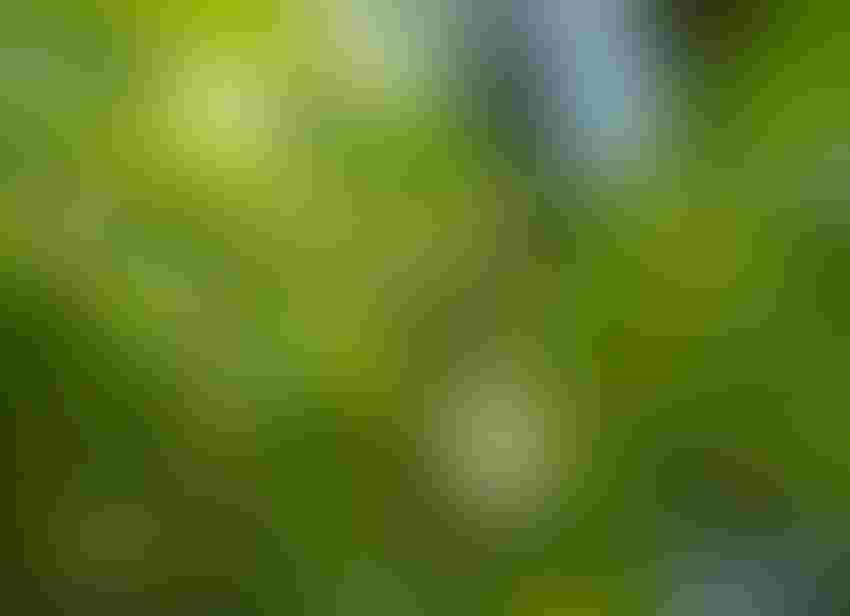 Green walnuts in the tree.
VYCHEGZHANINA/Thinkstock
High demand in export markets for light color walnut kernels makes it important to pay attention to management practices that can prevent off-color pellicle and other nut quality issues.
Close attention to water management can help prevent undesirable walnut pellicle color, shrivel, thin shell, and peewee nuts — all of which affect the grower's bottom line.
Bruce Lampinen, integrated orchard management walnut and almond specialist at University of California, Davis, told growers at the 49th annual Tri-County Walnut Day that optimum water management just prior to harvest will help them avoid pellicle color issues.
Other factors that can affect walnut quality include variety, leaf loss due to shading, disease or water stress, sunburn, hull damage by husk fly, disease, high temperatures during harvest, and soggy orchard floor conditions at harvest.
Color problems in the 2017 walnut harvest, he says, were the result of very hot summer temperatures and irrigation issues. Sunburn was worse on trees in very wet soil conditions. There is not a clear connection between temperatures and pellicle issues when irrigation issues are also involved.
Walnut conditions and when they occur are as follows: Thin shell/June; severe shrivel/early July; slight shrivel/early August; yellow pellicle/early August; black pellicle/mid-August; bronze pellicle/late August-early September
Sunburn does not usually cause bronzing, Lampinen says, but rather darkening of the pellicle on the burned side of the nut.
Research in a San Joaquin County Chandler walnut orchard found that a reduction in mobile carbohydrates from the leaf was a factor in undesirable pellicle color changes. The carbohydrate reduction from the leaf was caused by loss of leaves due to water stress, or shading, or a combination of those factors.
Where nuts grow on the tree often determines their quality, Lampinen says. Nuts growing low in the canopy near the tree trunk are most affected due to shading. Lower quality nuts likely came from spurs that were receiving less than 30 minutes of direct sunlight per day. Quality problems in nuts growing near the center of the tree tend to be less severe with central leader tree structure because the light path through the tree is shorter.
Nut quality problems can be associated with current-year orchard conditions or previous-year conditions, he says. Previous season problems with nut quality can be due to insufficient carbohydrate storage in buds formed during the previous season, resulting in small leaves and nuts. Peewee nuts are likely from buds that formed in low light positions the previous year and had limited carbohydrate reserves.
Most severe quality problems occur in orchards planted in hedgerow configuration and mechanically hedged. Lampinen says. That is due to dense vegetative growth in response to the cutting and exposing nut positions that were shaded to full sun.
In order to keep lower canopy positions alive and productive, at least a half-hour of direct sunlight per day is needed. When orchards approach their full yield potential, some quality loss is difficult to prevent due to shading. When an orchard gets above 70 percent midday canopy light interception (or yields top 3 tons per acre), those lower positions will be continually shaded and quality will be impacted. Short-term water stress, or other stress, exacerbates the problem.
The percentage of nuts with undesirable pellicle colors peaks in from early August to early September. Water management is critical at this time, Lampinen says, and he cautions growers that an excessively large irrigation prior to harvest could cause quality problems.
Wet soil conditions — at or wetter than baseline — are responsible for much of the pellicle bronzing, though Chandler is generally less sensitive to wet conditions than Howard or Tulare varieties.
The Crisosto laboratory at UC Davis is studying post harvest biology, orchard factors, and post-harvest factors that control walnut quality.
Subscribe to receive top agriculture news
Be informed daily with these free e-newsletters
You May Also Like
---