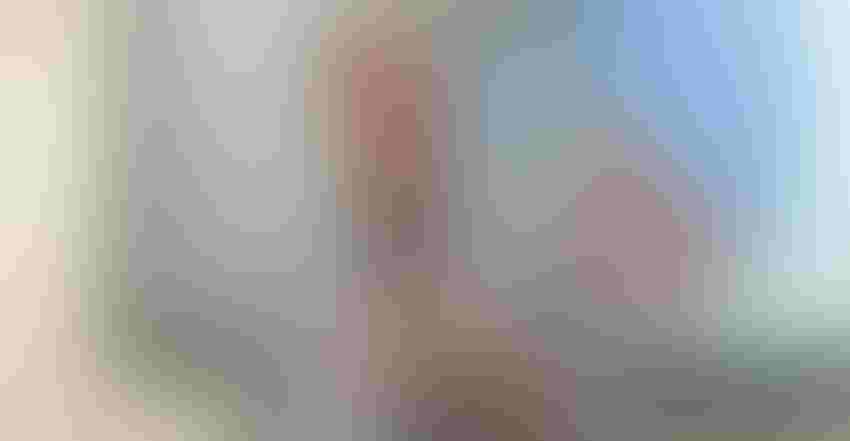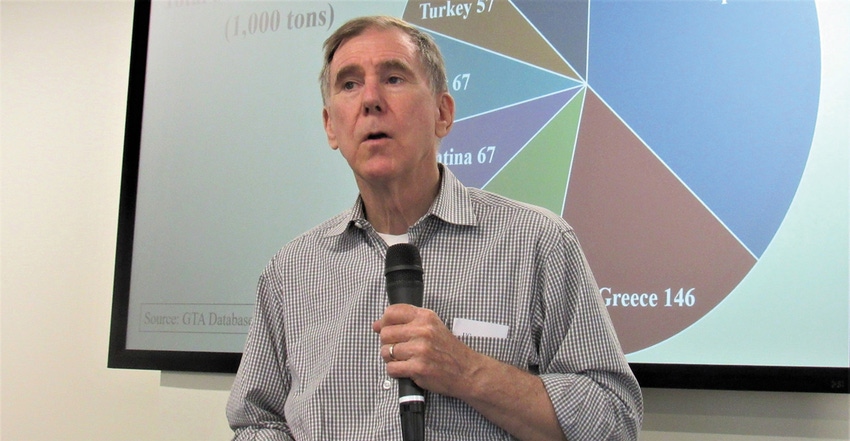 Dan Sumner, director of the University of California's Agricultural Issues Center, speaks at a workshop in 2018.
Tim Hearden
Dan Sumner holds a lot of titles, but "omniscient oracle" isn't one of them.  Still, as director of the University of California Agricultural Issues Center, he does research, teaches, and directs public issue outreach programs that deal with the future of agriculture.
And because he was raised on a farm where he was active in 4-H and FFA activities, his adult life has been centered around farm policies and their impact on agriculture.
So, a good man to ask about feedback concerning this year's tree nut harvests.  "The main challenge has been drought, irrigation water, and looking forward to how it will all play out?  Everybody's planning on how to deal with SGMA and the long run, but the initial concern is how to get through 2022 if things don't play out better than normal to end the drought.  So, what's on everybody's mind is the season that's already in the box where yields are down — and the one to follow.
"When we see final year-end 2021 numbers, we'll see labor costs and water costs through the roof for some farmers who had to pump a lot more or buy water to keep trees alive.  In those cases, there go the profits, although prices are better than earlier season predictions."
Sumner says he likes to wait until all the hard numbers are in before officially evaluating a season, but he does see a lot of negative factors impacting this year's harvest, everything from lack of water to lack of labor to lack of shipping containers and a lack of semi-trucks and drivers to move product.
"Remember, while recent conversations revolved around COVID, the pandemic didn't cause the labor problems.  Farmers still had to worry about perennial hassles like diseases and pests and everything else in addition to the traditional water and worker headaches."
He makes a good point when he urges a deep breath and admitting that "tree nuts are less labor intensive than a lot of other hand-harvested tree fruits like apricots and peaches."
An additional positive involves low interest rates.  "Four percent, or three or two, is feasible while you plant a tree nut orchard and wait for a return, but start talking 10% interest rates and a bunch of orchards that looked like they made sense a few years ago, don't make sense anymore. Not saying it's a guarantee that rates are going to rise, but that's just another thing on the plate of people who worry about the bottom line."
Some growers have made the decision to fallow orchards or rogue them for different crops.  "Twenty or 30 years ago, the thought of planting a crop like almonds was approached with confidence with capital from outsiders.  Nothing wrong with that or even financing the project themselves --- although you don't want to put in thousands of dollars and decide a year later you wish you hadn't.
Changing crops?
"If you live in the Midwest, you plant corn or beans.  If you plant in the Central Valley, you've got 222 crops to choose from.  Some growers who planted almonds years ago did so on soil that was not ideal.  Turns out some of those decisions were wrong, although even if the ground wasn't perfect from an agronomist's viewpoint, a lot of money was made.
"Today, changes are being considered with growers saying they may not want to replant in that same place, not because of the soil, but because of water availability — or lack of it.  How is this region going to settle on SGMA?  Where will we get our water?  Will I be able to pump groundwater when I need it?"
As climate change effects begin to change some planting variables, there are growers who may be considering moving further up the coast.  "Farmers are totally in tune with climate change, locally where it matters to their production situation, both short- and long-term.  They have to be conversant with chill hours and warmth that brings on evaporation transpiration.
"I haven't seen a lot of change yet, but some growers may be looking north, especially those at the northern edge of pistachios."
But despite the list of problems, growers remain optimistic.  "They remain so because they are so innovative," he says.  "It' won't be easy, but it's been hard for a long time, and smart farmers still manage to stay in business."
Subscribe to receive top agriculture news
Be informed daily with these free e-newsletters
You May Also Like
---