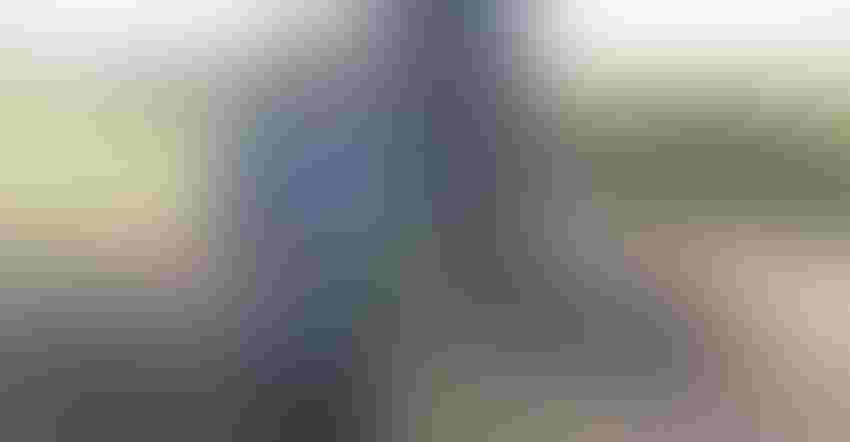 Nik Wiman, an associate professor and orchard specialist at Oregon State University, discusses the state's hazelnut industry during a presentation to reporters at the North Willamette Research and Extension Center in Aurora, Ore., in early August.
Tim Hearden
Talks on tree nuts at the upcoming Innovations Conference at an Oregon State University research farm will include two emerging technologies that will help growers – pressure chambers and electric weed control.
The conference set for Sept. 22-23 at OSU's North Willamette Research and Extension Center in Aurora, near Portland, will include presentations by associate professor and orchard specialist Nik Wiman and assistant professor Marcelo Moretti, both from Oregon State.
Wiman will give a 30-minute presentation on pressure chambers, whose concept was born in the 1960s but has advanced in sophistication to the point that it's become a key part of the water-saving toolbox for many California tree nut growers.
Moretti will give a half-hour talk on electric weed control, a system that generates a high-voltage current that is applied directly to the plant via foliage contact with a metal bar.
"In dealing with weeds, our biggest problem is that agricultural herbicides, pesticides in general, are encountering resistance," Moretti told Farm Press last spring. "We can delay that push back, but the chemical we have previously used to control weeds can now have a non-chemical companion tool."
Pressure chambers
University of California farm advisers who've been promoting the pressure chamber in recent years say it's essentially a blood pressure test for tree leaves. By testing a leaf with the device, a grower can see how well a tree is pulling water up from the soil and can plan to provide irrigation when the tree really needs it.
Also sometimes called a pressure bomb, the device has also helped with research. A few years ago, the pressure chamber and other monitoring devices helped researchers determine that it's better to hold back on irrigating walnut trees in the spring rather than in the summer.
UC Davis scientists have been using pressure bombs to measure plant water stress since the early 1990s, but the devices became popular with growers and UC Cooperative Extension advisers at the height of the last drought in 2012-16, when shortages led to drastic surface water cutbacks.
Wiman will discuss how the pressure chamber can help scientists and growers understand drought stress in hazelnuts in the Willamette Valley, covering the basics of drought stress and applied research on irrigation management in the valley.
Electric weed control
Like with pressure chambers, the concept of using electricity to control weeds has been around for decades, but its use has become "inevitable" because of plant resistance to herbicides, Moretti has said.
OSU began testing it in its fields last year in collaboration with Zasco, a Brazilian company.
In a current three-year, USDA-funded organic production weed control study using 5,000 to 12,000 volts on a 75-horsepower tractor, Moretti is discovering excellent efficacy with both annual seedlings and perennial weeds like horsetail, bindweed, nut sedge, and thistle, he said in the spring.
Other presentations
The two talks are among a day and a half of scheduled presentations at the Innovations Conference, which is being held for the first time in the Pacific Northwest after the first four gatherings were conducted in California.
Other tree nut-related presentations at the conference will include a talk on the evolution of nutrient management in hazelnuts and discussions of biological solutions for nematode and weed control and natural beneficial compounds for plants.
The conference will cover other crops, too, including presentations on dry farming vegetable crops in the maritime Pacific Northwest, tabletop strawberry production and maintaining agriculture's resilience to climate change.
For information about the conference and to register, visit https://bit.ly/3Kk9h1K.
About the Author(s)
Subscribe to receive top agriculture news
Be informed daily with these free e-newsletters
You May Also Like
---