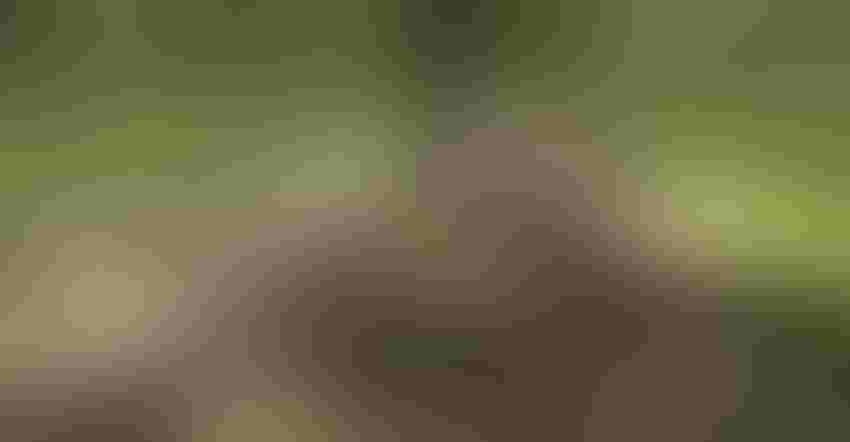 Every percent of reduced water application leads to the same percentage of crop loss in almonds, University of California pomologist David Doll says.
UC Davis
The author byline of David Doll is a familiar one in the agricultural world, writing as The Almond Doctor on his website where he shares almond orchard research.
One of the most recent efforts by the University of California Cooperative Extension nut crop pomologist farm advisor deals with a 2021 update on the how and why of almond drought management:
"Drought conditions are forecast to persist in California and although almonds, from a survival standpoint, are relatively tolerant to drought, their yield is impacted when water applications are reduced," he writes.
"To minimize the impact, a water-use strategy accounting for available resources needs to be developed and applied," he advises.  Doll defines available resources as rainfall, wells, stored soil moisture, and surface water resources.
In examining some previous drought conditions and their effect on almond yields, he notes the impact of water stress. "Every percent of reduced water application leads to the same percentage of crop loss."  While the relationship isn't exact in its definition and numbers are estimates, roughly a 10% water deficit has the potential to lead to a 7-10% loss of crops.
"Moderate to severe deficits also affect the following season's crop," he warns.  "Reduced spur positions from the lack of growth and reduced carbohydrate reserves heading into floral bud development lead to reduced nut set.  Field observations suggest water shortage in a given year will have a greater impact on crop yields the following year with Year Two crop reduced by about 2% (ergo, a 10% water deficit leads to a 20% crop loss), somewhat of a 'hangover' effect which takes two years of full irrigation to return the orchard to production potential."
Updated details
While much of the basic strategy to mitigate the effect of drought can be found in the UCANR publication, Drought Management for California Almonds, Doll offers additional, updated details.
"When it comes to perennial nut crops, data is now showing most operations begin irrigation too early in the spring, generally starting around mid-March.  Soil types and depths also influence the start of irrigation.  While spring rains may delay irrigation, if minimal rain has fallen, stored soil moisture reserves may not have been refilled as it typically takes over half an inch of rainfall to refill soil moisture levels.  Depending on pressure chamber readings, soil moisture levels, and in-season rainfall, first irrigation may be delayed to as late as early May."
A concept called Proportional Deficit Irrigation, applying available water as a proportion of water use, may be the best strategy.  If only 30% of water is available, the orchard should be irrigated at 30% of the crop's evapotranspiration for the entire season.  "This strategy has been shown to be the easiest as well as one of the more effective strategies to manage a drought situation," he notes.
Doll concludes with the acknowledgment that, "The effects of droughts may vary depending on water availability.  By considering start-timing and application of water as a proportion of availability, on-farm water resources can be stretched.  When utilized with improved irrigation distribution uniformity, these methods will reduce in-season and long-term effects of drought."
Subscribe to receive top agriculture news
Be informed daily with these free e-newsletters
You May Also Like
---