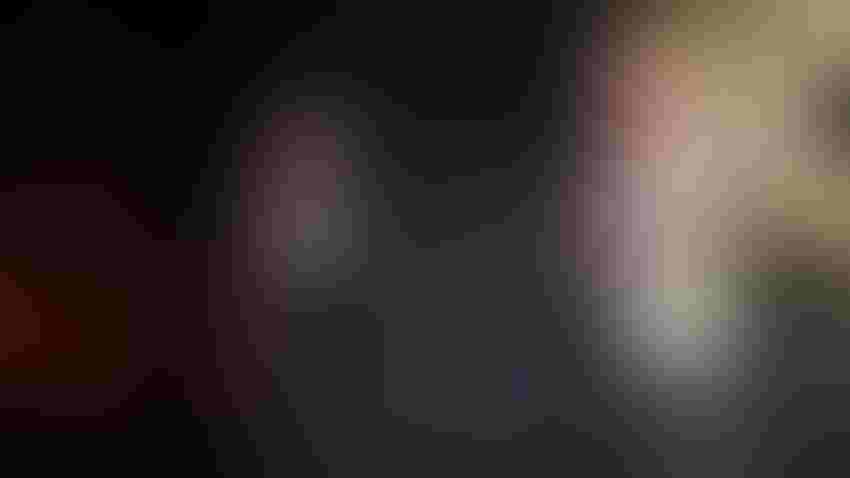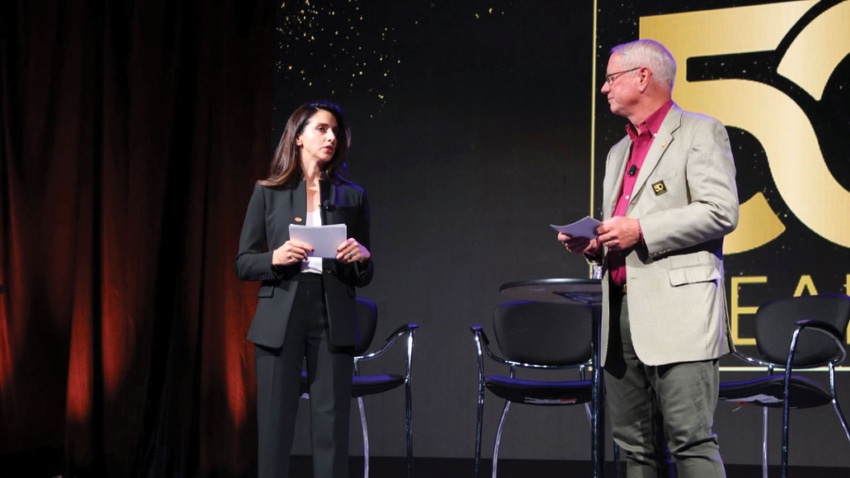 Almond Board of California chairwoman Alexi Rodriguez, left, and President and CEO Richard Waycott make their State of the Industry presentation during the 2022 Almond Conference in Sacramento. This year they'll be joined by Clarice Turner, who was hired in July to succeed Waycott when he steps down at the end of the year.
Todd Fitchette
Registration is now open for the 51st annual Almond Conference, which will bring together almond growers and industry professionals for three days of workshops and exhibits Dec. 5-7 in Sacramento.
The annual event at the SAFE Credit Union Convention Center focuses on innovative research, market development and best practices and includes updates on production and consumer research, regulations and other topics.
The event kicks off Dec. 5 with a "State of the Industry" report from industry leaders, including Almond Board of California chairwoman Alexi Rodriguez. The conference will likely bid farewell to outgoing Almond Board president and chief executive officer Richard Waycott and welcome his replacement, Clarice Turner, who was hired in July.
The conference will feature targeted workshops all three days and luncheon speakers on Dec. 6-7. Workshops at the conference center on trade and marketing, policy, water, and sustainable cultivation practices.
Sign-ups are also being taken for exhibitors at a trade show that will blanket the bottom level of the convention center with the latest products and innovations available to growers. Prices for booths will remain unchanged from 2022, ranging from $3,000 to $12,500 depending on size.
"As an exhibitor of the Almond Conference, your company will have the opportunity to expose your brand, message, products, and services to the single largest gathering of growers, processors, and members of California's almond industry," the Almond Board states on the convention website.
Last year, 270 vendors marketed their wares and services to 3,716 attendees from 24 countries and 40 U.S. states, according to an Almond Board summary. There were 27 educations with 71 speakers in 2022.
The conference includes an opening reception and dedicated trade show time on Dec. 5 from 3:30 to 6 p.m., and a gala cocktail reception and awards dinner Dec. 6.
State of the Industry addresses in recent years have discussed the many challenges confronting the industry, including drought, heat waves and a shipping container crisis that jeopardized producers' lucrative overseas contracts.
Challenges ahead
This year's presentation is likely to discuss the industry's 792-million-pound carry-out as of the start of the new marketing year on Aug. 1, which represents 31% of last year's crop. Last year's carry-out was nearly 837 million pounds, or about 29.2% of the previous year's crop.
The surplus will add to an expected 2.6-billion-pound crop in the current harvest. The industry will hope that sales remain brisk; 2022-23 was its third-largest shipment year on record, according to Waycott.
The board will also likely report on the progress of its Almond Orchard 2025 Goals, which are to cut water use by an additional 20%, increase use of environmentally friendly pest management tools by 25%, eliminate orchard waste by making better use of byproducts and halve the amount of dust kicked up during harvest. The goals were introduced at the 2018 conference.
Attendance at the conference is free but registration is required. The conference has arranged discount rates at area hotels for those who book by Nov. 4.
Conference organizers warn that there are fraudulent agencies contacting industry members offering to secure rooms. The conference does not partner with any booking agencies, and organizers advise attendees to book directly with hotels.
For questions about lodging, contact April Thompson at [email protected].
Subscribe to receive top agriculture news
Be informed daily with these free e-newsletters
You May Also Like
---