Rains replenish soil, increase walnut blight risk in Tehama County
Rains replenish soil, increase walnut blight risk in Tehama County
"We had pretty decent weather in March, including beautiful, clean water from rains, plus some bright sunshine and no freezing temperatures," Rick Buckner says. "The trees are coming along fairly quickly."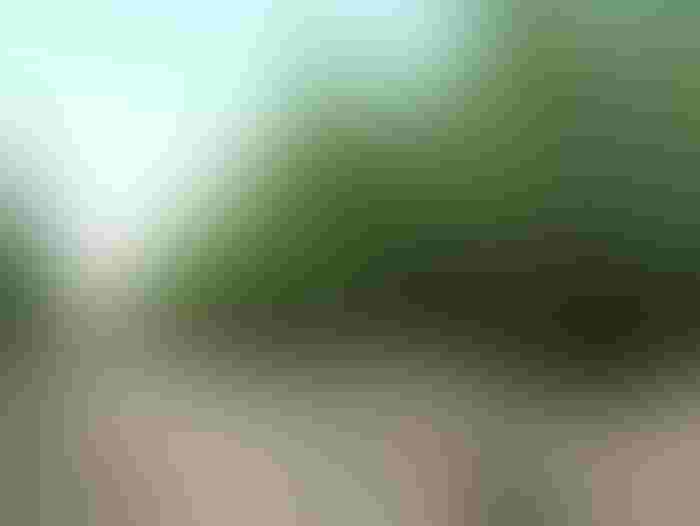 For the first time in five years, Tehama County walnut growers are starting their growing season with soil profiles full of water from winter rains.
In some cases, fields are even a little soggy, says Rick Buchner, University of California Cooperative Extension orchard farm advisor in Tehama County.
Rains over the fall and winter months have totaled about 30 inches so far, according to Buchner's backyard gauge.
He says the welcomed recharge of the soil moisture level should help leach some damaging salts which may have accumulated in root zones over the last four years of drought.
"We had pretty decent weather in March, including beautiful, clean water from rains, plus some bright sunshine and no freezing temperatures," Buckner says. "The trees are coming along fairly quickly."
However, the orchard advisor says March's warm, wet weather has increased the threat of walnut blight.
This disease, caused by the bacterium Xanthomonas arboricola pv juglandis (Xaj), reduces crop yields by attacking the developing walnut. Walnut blight tends can be more severe in Tehama County and other northern California areas due to the higher probability of spring rainfall, compared to other areas of the state.
Symptoms of walnut blight infection include several black lesions on catkins and black, slightly sunken lesions at the flower end of the young nuts. Also, shoots may develop black lesions, and irregular lesions may appear on leaf blades.
Walnut blight bacteria, which overwinter primarily in dormant buds, are spread in the spring by rain. As the buds open, leaves and flowers are exposed to infection by Xaj.
Bud opening exposes the flower to pollination. However, this also leaves the nut vulnerable to attack by the bacteria which invade and destroy the kernel tissue inside the nut.
Depending on weather conditions, a series of several applications of a copper product tank mixed with a registered EBDC material at label rates are applied to protect buds, flowers, and developing nuts. Given the rainfall, applications are suggested every 7-10 days to protect the crop from infection.
Typically, the ideal time to begin treatment is when 30-40 40 percent of the shoot-flower buds reach the prayer stage. This is when the terminal leaves of pistillate flower buds begin to unfold, similar in shape to hands in a prayer position.
Tehama County's relatively few early walnut varieties, including Ashley and some Serr, reached this point in mid-March which was earlier than usual, Buchner says.
The later Chandler and Howard varieties, the bulk of Tehama County's walnut acreage, followed close behind. Normally, these varieties don't reach the 30-40 percent prayer stage until the first week of April.
"Fortunately, rain events were accurately predicted and growers were able to apply protective sprays prior to the rainfall," Buchner explains.
He recommends making a second spray 7-10 days after the first application to treat the pistillate flowers not open enough for the first spray.
"If you achieved good coverage with the first and second applications, then watch the weather forecasts and be prepared to make additional treatments as needed, particularly if Xaj populations are high," according to Buchner.
Given the right temperature and moisture conditions, walnut blight can remain a threat until nuts reach full size, the husk matures, and the rain is over.
"Late infections don't typically destroy the kernel," he says. "But, they can produce lesions on the husk which can attract secondary pests, including the Navel orangeworm."
Aside from walnut blight and the other walnut disease and insect crop risks, Buchner says a major concern for Tehama County growers this year is low walnut prices.
"In order to compete in the down market, growers will have to produce good yields and high-quality kernels this year," he says. 
"This will require proper irrigation management. Applying two much water can suffocate the tree roots while under-watering can stress the trees. Either way, walnut quality can suffer."
Subscribe to receive top agriculture news
Be informed daily with these free e-newsletters
You May Also Like
---