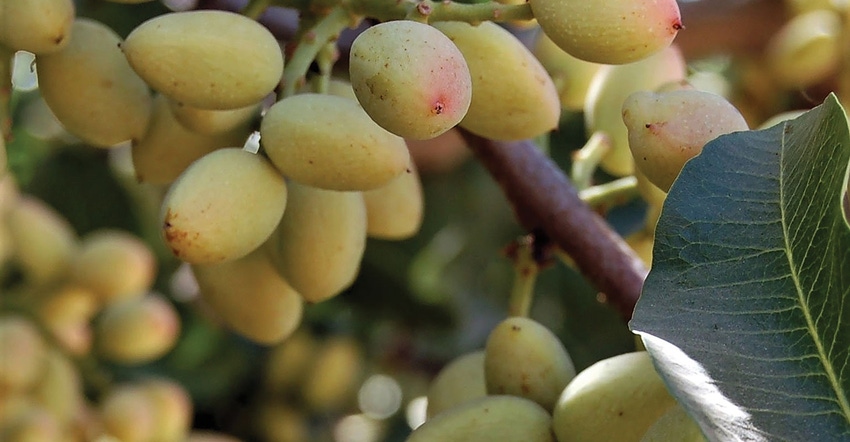 Pistachio production is expected to increase by 20,000 to 30,000 new acres a year.
University of California, Davis Fruit and Nut Center
Consensus within the $1.6 billion pistachio industry is that 2020 was a "low-insect, high-quality" nut year, says Bob Klein of the California Pistachio Research Board.
Speaking as part of the virtual University of California Advances in Pistachio Production Short Course, Klein said, "We've had nearly constant growth in the industry since the late 1960s, after the Kerman cultivar had been released and commercial plantings began. We've gone from about 4,500 bearing acres then to pretty close to 335,000 in 2020 with most of the acreage in the southern San Joaquin Valley from Merced south to Kern County where almost all of the large processing plants are located."
In a wide-ranging discussion, the former plant pathologist presented what he called "a qualified look using weasel words so I can later say I could have been wrong," as he discussed the contemporary industry outlook.
He noted the current acreage of over 400,000 acres — both bearing and non-bearing — was expected to continue to increase because "the rate of planting doesn't appear to be slowing as we're adding some 20,000 to 30,000 new acres every year, much of it Lost Hills and Golden Hills varieties.
"Acreage is increasing at a rapid pace because pistachios have been very profitable," he said. "You have a long non-bearing period, but when they get to bearing, by all accounts they are the most significant crop we currently have in California.
"With acreage going out of commodity production due to soil and water quality issues, there aren't many crops you can put in these locations, but pistachios are one of them. That lack of other options combined with the profitability aspect make pistachios the right crop in the right place at the right time."
While industry growth has been positive overall, there have been some slowdowns caused by things such as verticillium wilt in the late 1970s and botryosphaeria in the mid-1990s along with current concerns like pistachio bushy top syndrome (PTBS) from clonal UCB-1 rootstock, he said.  "Current planted acreage and its age range suggests we'll likely have larger crops going forward," he noted.
His estimate of final 2020 crop harvest — given before final USDA/NASS numbers were issued — was pretty spot on, "somewhere between a billion and 1.05 billion pounds," he predicted, adding "even our off-year crops will be in that range and we're likely to have a crop of 1.6 billion pounds by 2026."
Tempered by realities
The rosy predictions were tempered by practical realities involving pests, diseases, impact of climate change, along with horticultural and regulatory considerations.
"Navel orangeworm is our single largest consumer complaint and why not? No one likes to open an in-shell nut, pop it in their mouth and encounter a navel orangeworm and frass," Klein said. "We also have mealy bugs and eradication in current infestations is problematic. Add into that the appearance of invasive pests like the Glass Winged Sharpshooter and Monterey stink bugs and the pest problem compounds."
Climate is also a concern with warming increasing and rainfall decreasing.
Horticultural topics include rootstock varieties developed to acclimate to not only climate, but pests and diseases. "Much of that development, from Atlantis to Lost and Golden Hills, has been to address root-borne diseases and climate change," he said.
Regulatory concerns ranging from sustainable groundwater management to salt leaching and nitrogen will continue. "The phase in of all these regulations will be put into place over the next few years and will affect how growers raise their orchards," he said. "Ultimately, regulators are going to want to merge all the programs together into one cohesive regulatory program which will result in a lot of paperwork."
For more news on tree nuts as reported by growers and farm advisors, subscribe to the Tree Nut Farm Press e-newsletter.
Subscribe to receive top agriculture news
Be informed daily with these free e-newsletters
You May Also Like
---