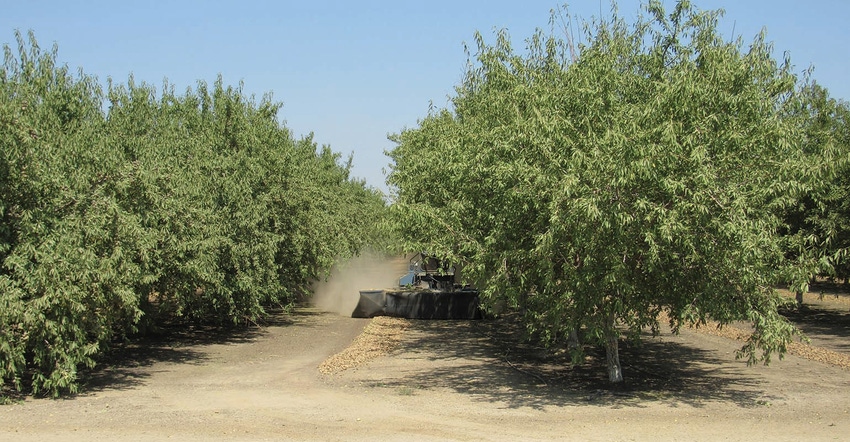 Ongoing Oregon State University suggests vitamin E in almonds may slow cognitive decline and age-related macular degeneration.
Tim Hearden
The Linus Pauling Institute at Oregon State University is keying in on the benefits from vitamin E, with one study suggesting a diet that includes almonds and hazelnuts may be effective in managing cognitive decline and other age-related ailments.
Naturally occurring vitamin E includes eight fat-soluble isoforms, but only one -- α-tocopherol – is shown to reverse vitamin E deficiency symptoms such as ataxia, peripheral neuropathy, muscle weakness, and damage to the retina of the eye, according to a long-term study by OSU researchers.
Fewer than 10% of American adults meet the estimated average daily requirement of 12 mg/day of a-tocopherol, the scientists wrote. Randomized controlled trials don't link vitamin E supplementation to prevention of chronic diseases such as cardiovascular disease, cancer or cataracts, but limited clinical evidence suggests it may be beneficial for managing age-related macular degeneration and fatty liver diseases secondary to type 2 diabetes, according to the research.
Plant seeds, especially sunflower seeds, almonds, and hazelnuts, are rich sources of α-tocopherol, and many vegetable oils such as olive and canola oil also contain α-tocopherol. Other sources include tomato, avocado, spinach, asparagus, Swiss chard, and broccoli, according to the scientists.
The vitamin E research, which ahs been ongoing since 2000, could bolster the Almond Board of California's overall push to promote almond consumption as part of a healthy livestyle. One 28-gram serving delivers 6 grams of natural, plant-based protein; 4 grams of filling fiber; 13 grams of unsaturated fat and only 1 gram of saturated fat, according to the board.
Secret to normalcy
A survey publicized in early 2022 showed that almonds could be the secret to battling pandemic fog, as 79% of almond eaters reported a high degree of confidence in being able to reestablish a sense of normalcy, the Almond Board reported.
Additionally, the survey found that the most common effect of snacking on almonds across audiences is feeling good and satisfied.
"It's so important to carve out daily me-time, even if it's just a quick walk or healthy snacking, and as a new mom, it can be challenging to maintain balance in my day-to-day," registered dietitian Natalie Rizzo said earlier this year. ""That's why I love snacking on almonds because almonds' power-packed nutrition makes it easy to snack smart. Snacks that have protein, fiber and healthy fat, but are low in sugar help keep you energized and curb your hunger – ideal for when I've got my hands full!"
The ongoing vitamin E research could prove significant, as a 2013 study by The Ohio State University found that one form of vitamin E inhibits the activation of an enzyme that is essential for cancer cell survival. The loss of the enzyme, called Akt, led to tumor cell death. The vitamin had no negative effect on normal cells.
About the Author(s)
Subscribe to receive top agriculture news
Be informed daily with these free e-newsletters
You May Also Like
---