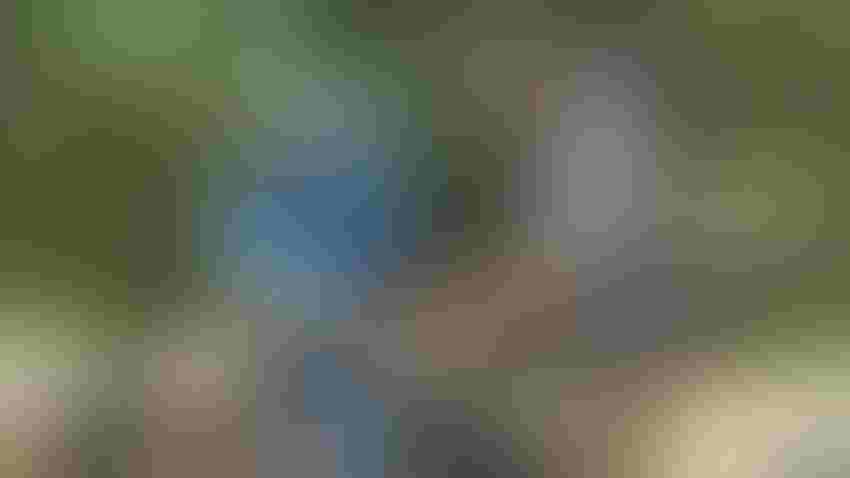 The University of California's Jim Adaskaveg (left) and Franz Niederholzer sample an almond branch for phytophthora during a field day May 18 at the Nickels Soil Lab near Arbuckle, Calif.
Tim Hearden
The lack of availability of pure well water in recent years has caused almond growers to rely more on surface water, which in turn has fueled the spread of phytophthora syringae, a University of California expert warns.
The wave of atmospheric rivers that swept across the Golden State this winter and spring also created the right conditions for plant pathogens, UC scientists say.
As a result, the university is teaming with the Almond Board of California in seeking registration for a trio of new modes of action against phytophthora, a fungus-like pathogen that can affect almond crops but is rarely seen in California. The fungicides – Orondis, Presidio and Elumin – will provide new coverage for phytophthora strains that have become resistant to phosphites, said Jim Adaskaveg, a professor at the University of California, Riverside.
"The problem is over the last couple of years, we've seen phytophthora develop in July and August" after spring and summer irrigation from surface-water sources, Adaskaveg told growers at a recent field day near Arbuckle, Calif. "Now we're seeing different species … We're trying to register different modes of action so we don't get resistance."
This spring, Extension advisers in the San Joaquin Valley began noticing gumming at the base of some almond trees. When they returned weeks later, the amber-colored gumming had moved into the canopy, looking like gumballs stuck to branches, some of which were already dead, according to the UC's news service.
Found in canopy
Lab tests confirmed phytophthora, which typically develops in wounds caused by pruning but this year began in the canopy at twigs, the university reports. During intense storms, infections can move up trunks and into the canopy and eventually kill the tree.
The best way to fight phytophthora is by prevention, Adaskaveg said.
"Last time we had new materials was in the 1980s, so it's been 40 years," he said. "When it stays wet for weeks on end you can get infections. With cold weather, it doesn't move that fast, so if you treat in March you can get it stopped."
The last time California saw a major outbreak of phytophthora in orchards was in the 1990s after a series of El Nino-influenced storms. Forecasters are anticipating strong El Nino atmospheric conditions next winter.
Subscribe to receive top agriculture news
Be informed daily with these free e-newsletters
You May Also Like
---