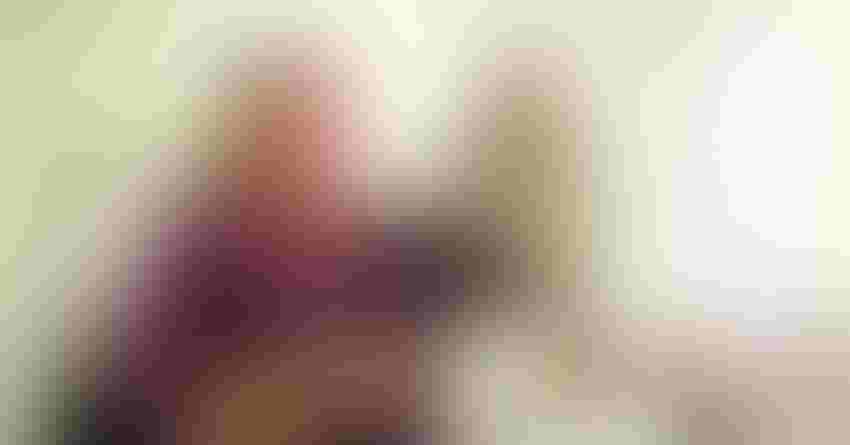 University of California Integrated Pest Management (IPM) Specialist Emily Symmes helps tree nut growers at one of her winter meetings understand the various mating disruption technologies available.
Todd Fitchette
[Part of a continuing series on the Navel orangeworm.]
Of the four building blocks to good Navel orangeworm (NOW) control in tree nuts – sanitation, mating disruption, insecticide timing and early harvest – mummy removal during the dormant season may be the cornerstone, but in terms of integrated pest management efforts, mating disruption holds promise as a good tool to assist in season-wide insect control that can limit nut damage and improve margins.
Mating disruption in simple terms is the attempt to keep moths from reproducing. This is done through pheromones, which can trick male moths into thinking female moths are in a location they aren't. The goal is to keep moths from finding each other and mating.
Studies by the University of California suggest consistent, positive results with no clear winners among various products by the major companies – Suterra, Semios, Pacific Biocontrol Corporation and Trécé – currently providing pheromone products to tree nut growers, according to David Haviland, an Extension entomologist based in Kern County.
Except for Trécé's product, which is a static piece of material treated with a pheromone and hung in an orchard, the remaining emit aerosols in a timed fashion to give off the scent meant to confuse adult moths so they cannot find each other and mate.
In 2017 Haviland tested the four major pheromone-based mating disruption devices available at the time in replicated studies in almond orchards. Grants from the Almond Board of California and the California Department of Pesticide Regulations funded the work. Haviland says the studies revealed significant reductions in adult moth populations and, more critically, reduced nut damage through feeding activities.
In his southern San Joaquin Valley work, Haviland discovered feeding damage averaged between 1% and 1.5% when using one of the four mating disruption products. This was a 46% reduction when compared to the control.
The feeding damage is largely seen from developing larvae after egg laying takes place inside nuts after hull split and in overwintering nut mummies not removed from orchards during the dormant season. Extension specialists stress the importance of removing these from orchards in the off-season to eliminate the first flight of insects. This gives growers a greater jump start on NOW control throughout the season.
Of the four products studied by UC researchers, all work consistently and can result in over 90% reductions in male moths captured in traps and upwards of 70% reductions in nut damage in larger orchards that are shaped in traditional squares or rectangles.
Haviland said that smaller orchards, those under 40 acres, or those with triangular shapes, can see reduced efficacy from mating disruption as prevailing winds can more quickly blow the pheromone scent out of the orchard. For this reason, orchard orientation can be an important factor in deciding whether mating disruption will work or be cost-effective to the grower.
BEST RESULTS
Haviland said his studies pointed to orchards "the squarer the better" with previous history of NOW infestations as the best candidates for mating disruption efforts. For those growers with what might be considered a more "normal" infestation rate on average, the addition of mating disruption to a 1-2 spray regime showed the greatest cost benefit, when compared to orchards with traditionally low NOW pressure, or the triangular-shaped orchards in which he recommends against using mating disruption.
Haviland studied seven orchards with what could be termed "normal" or consistent NOW pressure, employing mating disruption in addition to a pesticide spray program. In that example, the added cost of mating disruption was more than recovered in an increased crop value of $240 per acre through better yields of marketable nuts.
In one study he worked with a grower who already had low moth populations due to focused sanitation efforts, well-timed insecticide applications and early harvest activities to see if it could help him reduce his use of insecticides. The idea was to see if Haviland could help the grower reduce at least one pesticide spray throughout the season while maintaining the growers' consistently low reject levels.
In this example, Haviland said the grower made an additional $46 per acre after employing mating disruption with the elimination of one insecticide treatment.
"I don't recommend this to everyone" Haviland said. "This grower did this from a perspective of having traditionally-low NOW pressure; he owns his own harvest equipment and he harvests as early as possible; has excellent sanitation and is heavily invested in these efforts."
PITFALLS
Done correctly, mating disruption can quickly shut down pheromone traps used to sample orchards for moth populations, resulting in inconsistent and unreliable moth counts from the male-only traps. This is both a pitfall and an indicator that mating disruption efforts are working, Haviland says.
"When you implement mating disruption the pheromones used with these products compete with the pheromones in the traps and the traps become less effective," he said.
Despite this, growers and their pest control advisors still must find ways to monitor moth populations, and fortunately there are methods that, though not perfect, can be helpful.
Egg traps for female moths can be helpful in April and May to determine biofix, but later in the season become less reliable as hull split competes for locations to lay eggs. There are also male-female lures that can be used to attract both moths, and Peterson traps, which use ground-up materials as an attractant and a sticky material to capture the moths. Extension specialists recommend using these in concert with each other as a tool to survey for moth populations.
Subscribe to receive top agriculture news
Be informed daily with these free e-newsletters
You May Also Like
---