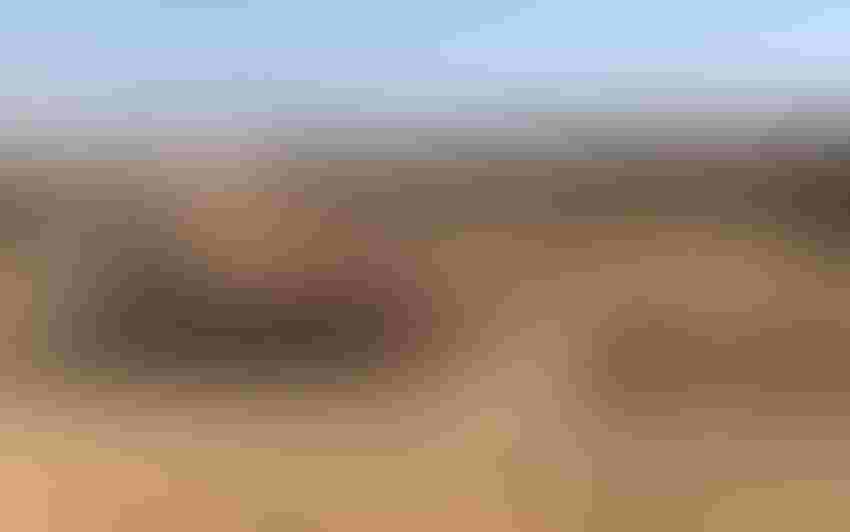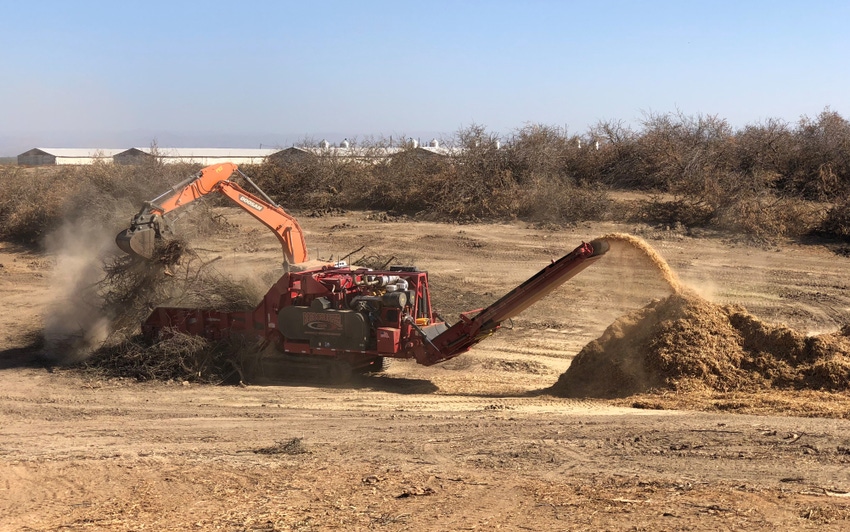 A horizontal grinder piles wood chips from an orchard being removed. A spreader will come along and spread the chips into the soil.
Brent Holtz/UCANR
Fall and post-harvest tree removal projects garner the spotlight for growers managing orchards with aging and low-production trees, especially in almond operations where tree planting often represents an annual task.
As older trees are pulled in a block, they are generally put aside for chipping, reducing the dead wood to ground matter that can be incorporated back into the soil in anticipation of replanting young trees. In some cases, producers opt to haul away the chipped wood to be used as fuel at electrical facilities.  
Tree removal and replacement is a critical time for almond operations. Orchard advisors generally agree that nematode sampling should be considered prior to removal. This practice helps growers to determine which species may be present, which can help with rootstock selection. If orchards operators opt to sample for nematodes, this can best be accomplished a year or even two before anticipated removal efforts.
Zack Fowler, co-owner of Fowler Brothers Land Development and California Orchard Removal and Grinding Services, which specializes in tree removal and orchard redevelopment in California and Arizona, says he recommends careful planning when considering removal and orchard redevelopment.
"You can pull trees and replant but easily fail to take advantage of correcting issues like leveling, addressing soil fertility issues, and grading to avoid water or irrigation issues. We contract with many orchards just to do the pulling and grinding but we specialize in taking an old orchard through the reconstructive stages which has many steps in order to deliver a healthy and productive replanted orchard to the landowner's specifications," he said.
He says soil testing, tree removal, ripping, gripping, disking, floating, laser leveling, fumigation, and tree planting are all important steps that should be considered when redeveloping an almond orchard.
"We can do piecemeal removal and grinding or offer a full package from start to finish depending on what the orchard owner wants. But addressing each of those steps and other important factors are critical to create the perfect environment for regrowth of a high-production orchard," he said.
While orchard redevelopment has long been an important part of almond production, the practice has developed in scope in recent years.
"Growers historically removed older, low producing orchards after harvest and worked through the fall and winter to prepare lands for replanting using dormant, bare-root trees. Today, the advent of potted trees allows growers to plant orchards year-around. Accordingly, planting operations have been an on-going activity," reported Mel Machado, Director of Member Relations with Blue Diamond Growers in his Oct. 28 Crop Progress Report.
No one knows better than almond growers the expense in time and money orchard redevelopment requires. But there may be some good news on the horizon. After years of lobbying for help in the expensive redevelopment process, some headway is being made.
In a press release from the California Department of Food and Agriculture recently, public comment is currently underway on a move to include Whole Orchard Recycling practice into its Healthy Soils Incentives Program.
"Whole Orchard Recycling is a practice by which orchards are chipped and incorporated back into the soil. As an alternative to burning, it builds soil organic carbon and microbial biomass, which improves soil health, nutrient levels, structure and water retention. The scientific process developed for quantifying carbon sequestration and reductions of greenhouse gas emissions in agroecosystems has been validated by modeling Whole Orchard Recycling," according to the California Department of Food and Agriculture.
For more than nine years an experimental field trial at the Kearney Agricultural Research and Extension station of the University of California Agriculture and Natural Resources Cooperative Extension Center has been underway indicating the advantages of Whole Orchard Recycling.
 "We are excited to propose a new science-based management practice to be added to the existing list of carbon sequestration practices under the Healthy Soils Incentives Program," said CDFA Secretary Karen Ross. "This will allow growers to put a valuable carbon pool from their fields back into the soil, and further climate change adaptation and resiliency."
A summary of the results and report was presented at the October 17 public meeting of the Environmental Farming Act Science Advisory Panel in San Luis Obispo.
The public comment period was open for three weeks from October 25 through November 15.
For more news on tree nuts as reported by growers and farm advisors, subscribe to the Tree Nut Farm Press e-newsletter.
About the Author(s)
Subscribe to receive top agriculture news
Be informed daily with these free e-newsletters
You May Also Like
---