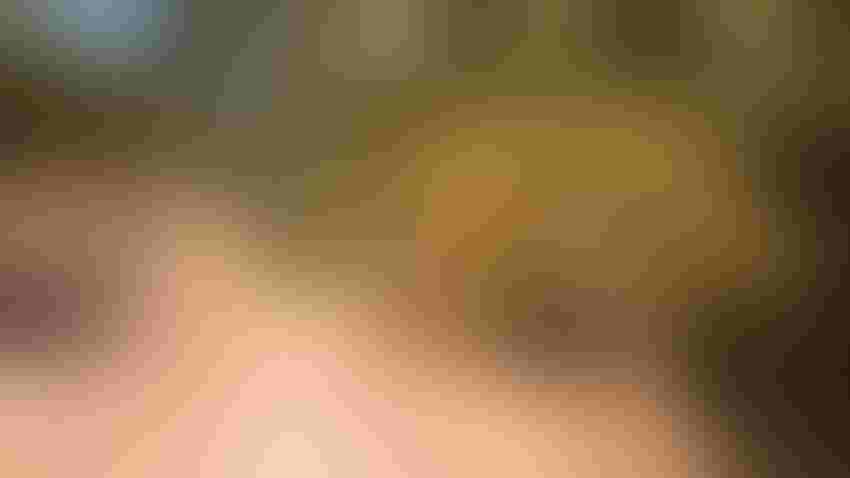 U.S. pistachio industry officials are optimistic that the American crop can continue to gain market share as signs suggest improved global demand for the U.S. crop.
Todd Fitchette
The U.S. pistachio industry continues to trend in a more optimistic direction than its nutty cousin, the California almond. Several factors can be credited with this.
The alternate bearing nature of pistachios has tempered its rise in production, though the on-year, off-year cycle appears to be closing somewhat due in part to new varieties and farm management practices. As more acreage comes online, annual production should soon average above 1 billion pounds. Last year's U.S. production was just under 885 million pounds across the growing region of California, Arizona, and New Mexico. About 99% of the U.S. crop comes from California.
New California pistachio plantings hit 35,000 in each of the two previous years, according to information provided by the Administrative Committee for Pistachios, a federal marketing order. It takes about seven years for pistachios to become bearing. About one-fourth of current pistachio acres in California are non-bearing.
Bearing acreage in California is expected to top 450,000 acres.
Absent the issues with supply chain constraints and marketing during the worldwide pandemic, the trend line for export shipments is positive, according to Richard Matoian, president of American Pistachio Growers, a voluntary trade organization based in Fresno, Calif.
Coming out of the COVID-19 pandemic and, as trade transportation issues ease for U.S. farmers, domestic shipments of U.S. pistachios, and their export to various places around the globe have never been higher.
Domestic shipments
Domestic shipments of pistachios exceeded 250 million pounds in the most recent fiscal year that runs from Sept. 1 through Aug. 30. Exports to Europe hit 200 million pounds in the 2021/22 fiscal year, slightly higher than the previous year.
Exports to the Middle East and Africa were also up significantly, particularly as a percentage of previous shipments. Shipments to the region during the last fiscal year topped 100 million pounds, more than two times their previous year's level, and 30% higher than the previous record in 2018/19.
The Middle East is particularly interesting because of Iranian production – the U.S. industry's main global competitor. Also noteworthy, according to Matoian, is the increased demand from Turkey, which previously had largely been a closed system. Turkish pistachio production tended to meet local demand, but now there are indications that demand there may be increasing due to factors not fully understood by the U.S. pistachio industry, he said.
Even China and Hong Kong are trending upwards after COVID issues stopped global trade, and tariffs from China cut shipments to the region in half.
"We believe that market has the potential to rise again," Matoian said of China and Hong Kong.
India remains a bright spot as demand there is up over 100%.
Demand also continues to rise in Canada and Mexico. Shipments in the last fiscal year topped 35 million pounds, another record for the industry.
Carryout
Each year Matoian informs his board and members at the APG conference of the unsold volume of crop carried from one marketing year to the next. This volume added to the new crop can negatively affect grower returns if it grows too high, something the California almond industry is suffering through.
While pistachio carry-out continues to rise, so too does total production. As a percentage of the annual pistachio crop produced, data from the Administrative Committee for Pistachios, a federal marketing order, shows unsold pistachios carried forward into the new marketing years remained relatively flat, between 100 million pounds and 300 million pounds.
From 2011 through 2015, the carryover ranged from 25% to over 50%. Since then, production has increased dramatically as the volume of unsold pistachios has wavered between 10% and 30% of the crop, based on data from the Administrative Committee for Pistachios, a federal marketing order.
According to ACP, the carryover of pistachios in 2021 was about 300 million pounds on production that topped 1.1 billion pounds, or about 27% of the crop.
Two years ago, the American pistachio industry had over 1.45 billion pounds of nuts available to sell from its production that year and what came forward into the new marketing year from the previous year's unsold crop. Last year, that volume of gross inventory shrunk to 1.23 billion pounds on production that failed to reach 1 billion pounds. As a percentage of production, Matoian appears little worried about the number.
"My belief is our carry over number is going to be much less because of our existing trend in sales," he said.
As Iranian production – the U.S. industry's chief competitor – continues to wane because of water availability and other issues, this can bode well for a U.S. industry with obvious growth trends. World production of pistachios in 2022 exceeded 1.5 billion pounds, with just over half of that coming from the United States. Iran, Turkey, Syria, and the EU made up the balance of that production.
In 2012 the U.S. had 57% of the world export share of pistachios. Iran had 42% of the world market share. Last year the U.S. market share grew to 67% as Iran lost market share, now down to 24%. Turkey's market share grew to 7%, though Matoian seems little bothered by that since Turkey is importing more U.S. pistachios.
Matoian is optimistic that sales trends in the current marketing year will help decrease what is carried into the next marketing year, which he says could help grower price returns.
Subscribe to receive top agriculture news
Be informed daily with these free e-newsletters
You May Also Like
---