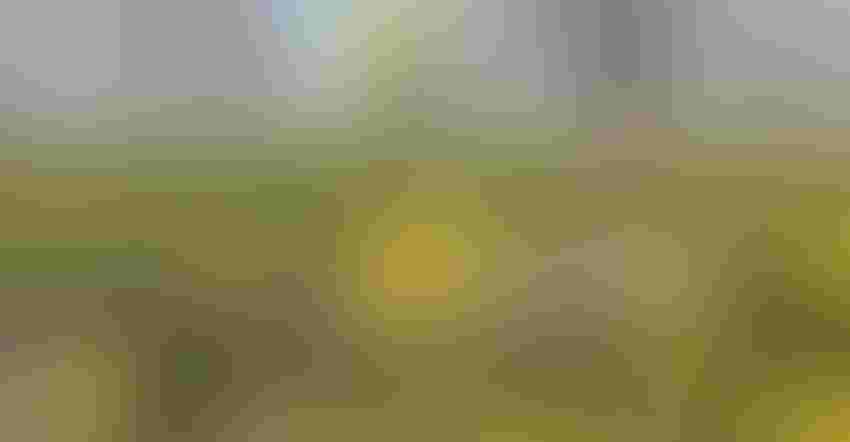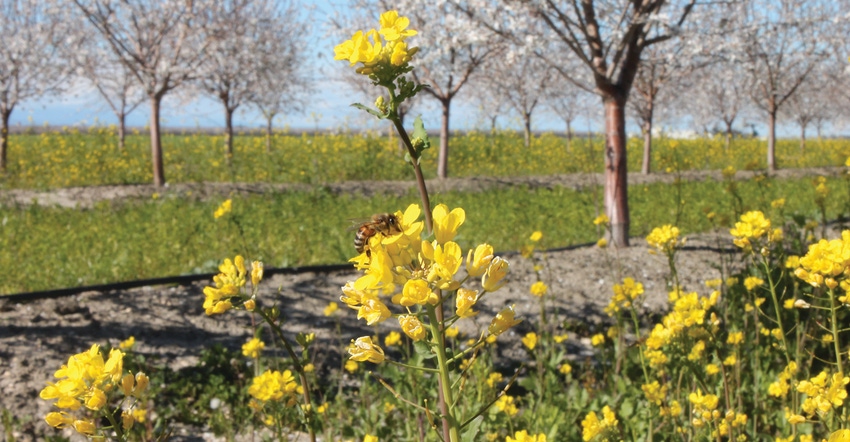 A honeybee forages on mustard plants among almond trees.
Project Apis m.
A recent survey of almond farmers with small orchards, defined as 1 to 49 acres, showed half the respondents either already grow or are interested in growing cover crops with growers in Sacramento Valley statistically more likely to adopt cover cropping.
With bee populations having to fight myriad problems of their own, the orchard growers who rely on them for pollination purposes are seeing their numbers diminish and the costs for their service — an estimated $400 an acre for two hives, according to the Almond Board of California—increase.
Project Apis m. offers seed mixes developed with California's unique water issues in mind producing cover crops that perform "with an average amount of rainfall."
Their Mustard Mix grows into a full mature stand using only rainwater (although supplementing with irrigation improves crop performance). With most orchards having a weed-free floor in the fall, Mustard Mix is a fast grower that out-competes most traditional orchard weeds after planting in a 'no-till-drill' method that tackles stubborn compacted ground.
"I definitely promote growers' willingness to support beekeepers by providing supplemental forage," said apiculturist Elina Nino with the University of California Department of Entomology and Nematology.
"Evidence supports the use of cover crops or supplemental foraging as beneficial to bee health," she said. "Almond colonies with access to plantings like Mustard Mix produced more brood and ended up having higher numbers of frames of adult bees. They also tended to live longer. The difference in survivorship being 90% for those in the mustard-available colonies versus 60% in matching control colonies. These supplements are definite bee benefits."
Beekeepers have been losing colonies in large numbers, and the California wildfires only worsened the losses. "I know of at least four beekeepers who have lost hundreds of colonies to wildfires," Nino said. "They not only lost the bees, they also lost queen producers or queen breeders, valuable bee stock."
Varroa mite surge
Add in an unanticipated above-the-threshold surge of Varroa mites in apiaries, and the problems compound. "Normally we've gotten a handle on the mites by now and it's rare to go into winter and still have issues with these mites," she said. "Maybe it's because it's been a warmer year and bees have had longer to reproduce and therefore the mites have also had a longer time to reproduce too."
So, with a record year for almond production and a difficult year for beekeepers, what does that portend for bloom time next February when even more trees could be in need of even more bees?
"That's a tough one to predict, although in all honesty, it could be a bit of a struggle," she said.  "If you count the existing number of acres of almond trees in California and go by the traditional two hives per acre standard for pollination, we usually have between 2.5 and 2.8 million colonies and that may not be enough.
"By that count, we may be half a million bees short of what is needed to adequately do the pollination," she said. "We can't ask the bees we have to work harder, so we'll just have to go along with it and see what happens. We'll bring in what's available and keep our fingers crossed for good weather that will allow the bees to go out and do their best to forage and pollinate."
For more news on tree nuts as reported by growers and farm advisors, subscribe to the Tree Nut Farm Press e-newsletter.
Subscribe to receive top agriculture news
Be informed daily with these free e-newsletters
You May Also Like
---