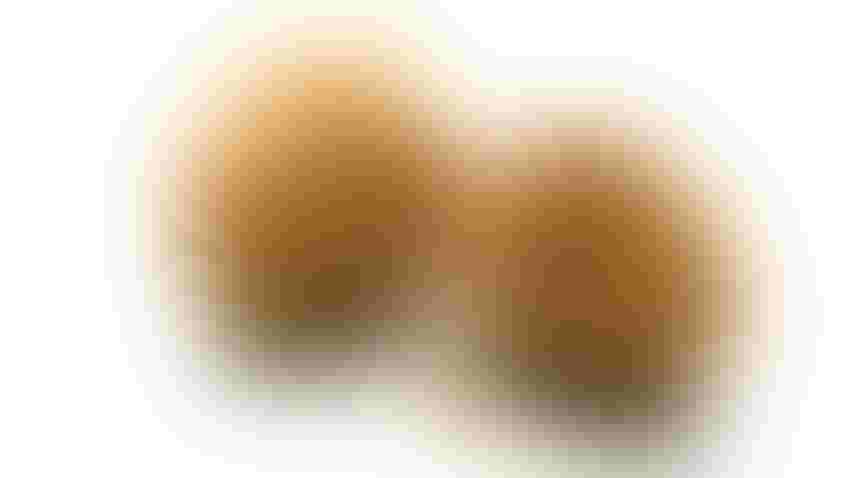 Favorable conditions during the walnut growing season made for robust nut sets.
USDA ARS
The walnut industry's prediction of a "stellar" harvest this season has gained support from the USDA, which is forecasting a 5% bigger crop than 2022 despite fewer bearing acres.
The National Agricultural Statistics Service forecasts production in California at 790,000 tons, up from last year's 752,000 tons. The prediction is based on 385,000 bearing acres, down 4% from last year.
Industry leaders have been excited about the prospects of this season's crop as prolonged heavy rains in growing regions helped restore deep soil moisture and provided for healthy root zones.
The rainfall last winter and spring enabled trees to better tolerate late-season heat, the California Walnut Commission noted earlier this summer. The state also benefitted from an extensive snowpack which has provided sufficient water to support tree yield this summer.
And unlike with almonds, of which there is a large carryover supply, preliminary figures indicate last year's walnut crop is virtually sold out.
"Last year, we were facing a completely different scenario with 130,000 tons in inventory brought on by the lingering effects of the COVID-impacted global marketplace and a record heat wave last September that negatively impacted the entire crop, which led to lethargic sales and record-low grower returns," said Robert Verloop, CEO and executive director of the commission and California Walnut Board.
"With minimal carryover from the previous crop year and favorable weather throughout the growing season, we're optimistic about the new crop year," added Tim Sabado, CEO of Prima Noce, based in Linden, Calif.
Harvests beginning
Harvests are set to begin this month and continue into November because of cooler temperatures early in the season. Temperatures in California are expected to stay close to seasonal averages over the next few weeks, according to the federal Climate Prediction Center.
Industry leaders say the cool and mild winter and spring of 2022-23 produced vigorous canopies that supported strong pollination, resulting in robust nut sets in orchards.
Low prices prompted the acreage decline. From Oct. 1, 2022, through June 30, 2023, 23,000 acres were removed, and more reductions are expected later this year as more growers shift to other crops, the commission has noted.
Subscribe to receive top agriculture news
Be informed daily with these free e-newsletters
You May Also Like
---