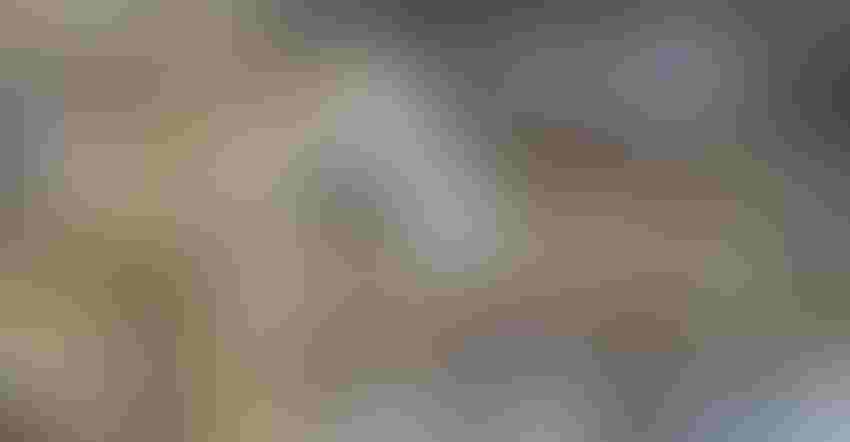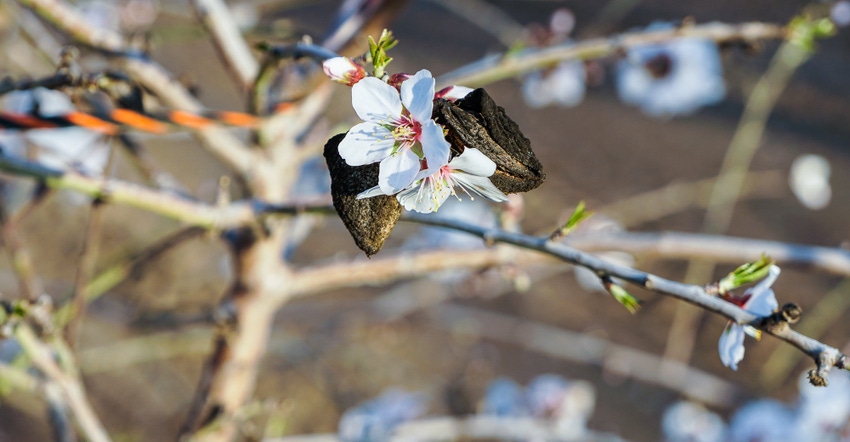 Almond growers largely neglected orchard sanitation efforts last winter, leaving large populations of "mummies," or dead nuts, on the trees. These can become habitat for overwintering Navel orangeworms and increase NOW pressure during the growing season.
Navel orangeworm damage in California almonds last year hit an all-time high, leaving some growers with costly reject levels. This has farm advisors and folks like the large almond cooperative Blue Diamond Growers consistently in front of farmers with messages on control.
Mel Machado, Blue Diamond's director of member relations, says he saw growers that once consistently lived with reject levels under 2 percent with reject levels near 10 percent after last season's harvest.
Those rejected nuts cost money and mask a bigger problem as the reject levels published on grower statements are half the actual levels as damaged nuts will fall out of the processing stream at the huller and sheller before getting to the processor.
"Keep in mind that the reject levels you see in your statements are half what is coming out of the field," Machado told Blue Diamond members at a growers meeting in June. "If you had 10 percent on your grower statement you had 20 percent coming out of the field. Half those nuts did not make it through your huller and sheller."
Machado has spent much of the current growing season educating members on those losses, which are significant. Growers lose premium payments in addition to losses from nuts that cannot be sold.
For instance, a Blue Diamond grower with 10 percent rejects who previously was paid full premiums, stands to lose over $1,700 per acre on a 2,500-pound Nonpareil crop at $2.50 per pound, Machado says.
"I'm kind of crazy but I want to pay you more money," Machado told members at the recent meetings. "That's your money that's being left behind with these reject levels."
Machado has previously used this example – he has the spreadsheets to show how costly reject levels are to growers – to illustrate that the cost of an additional spray or winter sanitation efforts can easily be paid for with more marketable nuts and the associated premium payments.
Will this year be worse?
Though insecticide treatments can help there is no "silver-bullet" for Navel orangeworm (NOW), which feeds on almonds, pistachios and walnuts and causes the nuts to become unmarketable.
Circumstances look potentially worse this year as growers last winter failed for one reason or another to complete winter sanitation in their orchards. This is the practice by which farmers remove the nut mummies left around on the trees after harvest. It's those unharvested nuts that die and become habitat to overwintering NOW larvae, which then becomes the first flight of NOW in early spring when temperatures begin to warm.
Growers are consistently told that they need to remove all nut mummies from their orchards during the dormant season. This includes knocking them from the trees, cleaning mummies out of tree crotches and rows, and destroying them with a mower.
In mid-season meetings ahead of hull split in the almond crop, Blue Diamond Growers and several Cooperative Extension farm advisors continue to promote practices growers can employ to perhaps mitigate bug damage in the upcoming harvest.
When it comes to insecticide treatments, "coverage is key," according to Machado.
UC Cooperative Extension Entomologist David Haviland says much of what growers can and should do throughout the season are behind them now. "Winter sanitation is too late and if you're using mating disruption you already are," Haviland says.
Haviland says growers should rely on their pest control advisors for recommendations. Machado calls PCA's "a priceless benefit" in NOW control and general pest and disease issues.
Well-timed insecticide applications with effective coverage will be critical as the second flight of NOW begins in late June and early July. Hull split during this period makes the nuts susceptible to damage. Haviland says PCAs can use traps to better predict when moths begin flying and apply their pesticide applications accordingly.
UC researchers recommend mating disruption, a pheromone-based practice that makes it difficult for male moths to find female moths, as another tool for NOW control. University research shows that mating disruption can reduce moth counts by 50 percent, Haviland says.
Climate change
Warmer winters with fewer episodes of Central Valley fog, coupled with earlier spring warm-ups and warmer summertime nights combined to boost NOW reproduction and add a fourth flight of NOW moths in California's tree nut-growing regions. A slight change in flight timing can come at the inopportune time of almond harvest, leaving growers with a decision to harvest early. This can create additional problems as nuts are still green, which leaves them susceptible to moisture damage in stockpiles and makes it more difficult to separate the kernel from the shell during processing. Nuts harvested while still green will need additional drying time before going to a stockpile.
University researchers won't recommend early harvest as a practice, but mention it as a possible method to perhaps aid in reducing moth damage, though it creates new issues related to drying and the possibility of promoting mold growth in almond stockpiles.
What can growers do?
Pheromone and egg traps seem to work to gauge moth populations and thus can be helpful in knowing when to time pesticide applications.
Mating disruption can be helpful too, but its use can render pheromone traps ineffective if one grower is using one method and the neighbor is using the other. Researchers say the pheromone traps used to attract female moths are becoming more popular with growers and PCAs.
For researchers and others promoting a systems approach to NOW management, winter sanitation remains a critical pillar in controlling the pest. By removing its opportunity to overwinter in an orchard, new generations can be curbed and moth numbers reduced. Some researchers believe at least one pesticide spray can be eliminated by simply performing good winter sanitation.
Harvesting as soon as possible then getting those nuts off the ground and through hulling and shelling is also important. Still, Machado warns not to harvest too soon and stockpile green nuts because of the greater likelihood of creating damage as mold develops in the moist nuts.
Subscribe to receive top agriculture news
Be informed daily with these free e-newsletters
You May Also Like
---