Almond Board asks USDA for 1-cent assessment hike
Almond Board asks USDA for 1-cent assessment hike
Almond Board is funded by a 3-cent-per-pound assessment of nut productionAssessment would go to 4 cents for three years then return to 3 centsIf approved, first-year budget increase could be $20 million based on 2 billion pounds of production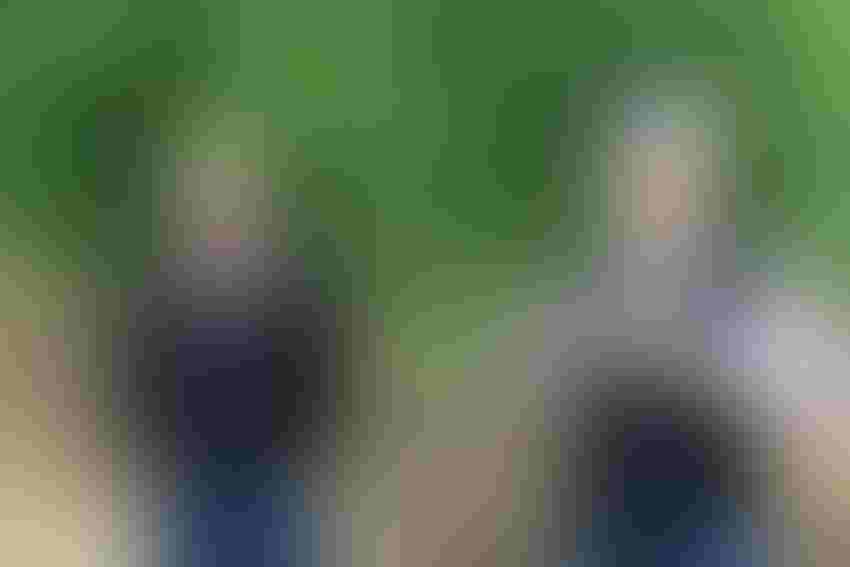 <p>Almond Board of California President and CEO&nbsp;Richard Waycott, left, listens to almond grower Nick Gatzman of Travaille and Phippen in Manteca, Calif. explain during a recent group tour of growing operations about&nbsp;efforts undertaken to make their surface irrigation system in southern San Joaquin County more efficient.</p>
In an effort to keep global almond demand in front of a growing supply the Almond Board of California (ABC) is looking to boost the assessment it charges growers by a penny.
The increase from 3 cents to 4 cents per pound could happen with this year's harvest if the U.S. Department of Agriculture approves the unanimous request by ABC directors at their April board meeting.
The request has a three-year sunset, meaning the assessment would return to 3 cents per pound with the 2019-2020 season.
At the current subjective production estimate of 2 billion pounds, the extra penny would generate an additional $20 million for next year's ABC budget.
"We need to invest now by keeping demand ahead of supply," Waycott said.
Waycott cited three basic reasons the board voted to boost the assessment 33 percent.
The ABC expects almond production to grow 30 percent, or about 600 million pounds, by 2020. Waycott says this needs to be addressed now with world markets by working to increase demand ahead of the projected supply. The Almond Board hopes to do this through existing programs and by implementing new, innovative marketing plans.
"The idea is to give us a shot in the arm with some additional funding," Waycott continued.
Leadership role
Waycott also talks about the almond industry's leadership role as California's highest-valued agricultural crop and soon the largest crop by total acreage.
California almond production continues to grow because of additional plantings and the increase in bearing acres. The latest USDA figure puts bearing acreage at 900,000 on total plantings that are approximately 200,000 acres more than that.
The third reason Waycott says the temporary assessment boost is needed is to address a transforming consumer landscape.
The Almond Board continues to state that consumers are more interested in how and where their food is grown and processed, and as a result the ABC if taking a leading role in the world of sustainable farming.
To achieve this, Waycott says the ABC board is working to define "the almond orchard of the future." This includes spending additional money on research through the organization's Accelerated Innovation Management (AIM) program and global marketing.
The AIM program is designed to expand and accelerate sustainability and production research in nine areas:
Irrigation and nutrient management;

Orchard and rootstock development;

Pest management tool development;

Pollination research and management practices;

Biomass and byproduct innovation;

Soil health research; and,
Waycott says the income boost could help fund a few new positions within the organization. While there are some key positions the board will look at, "we are not intending to hire a lot of new people," Waycott said.
Firebaugh-area almond grower Joe DelBosque had not heard of the proposed assessment increase until contacted by Western Farm Press about the proposal. DelBosque said that while the proposed increase seems a bit untimely given the significant drop in almond prices in the past year, he understands that the Almond Board of California is trying to keep world demand ahead of production.
"I think it's a good thing," DelBosque said of the increase.
It was about a year ago that almond growers were coming off of record high almond prices that surpassed $4 per pound to the grower. Since then they have fallen to the low $2 range – still profitable, according to some growers.
The price declines come at a time when grower margins are stressed by exponential increases in the price of irrigation water.
The Almond Board of California is a federal marketing order that was established in 1950 as the Almond Control Board to deal primarily with compliance issues. In 1970 the name was changed to its present Almond Board of California and its focus expanded to include production, nutrition, market research, advertising and promotions, quality control and statistical analysis.
As a federal marketing order the ABC is expressly prohibited from setting field or market prices. It is also prohibited from lobbying efforts on behalf of the almond industry.
Subscribe to receive top agriculture news
Be informed daily with these free e-newsletters
You May Also Like
---