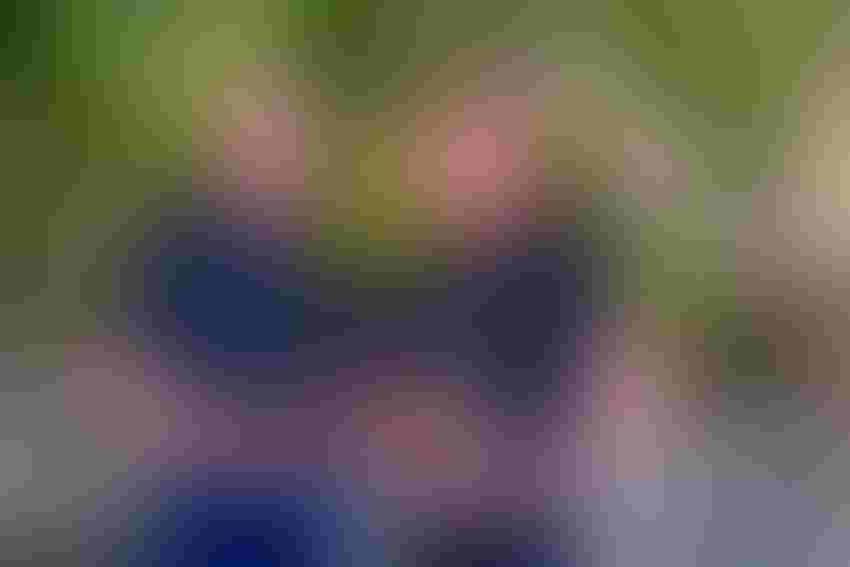 California and Arizona pistachio growers Jim and Gloria Zion created "Wicked Harvest," a pistachio-infused Kentucky bourbon aged in wine barrels for a long, smooth finish.
For California and Arizona pistachio growers Jim and Gloria Zion, pairing the tasty nut with Kentucky bourbon and wine is perhaps as much about adding value to the popular crop as it is a passion.
While the process is a bit of a trade secret, Jim says the outcome is Kentucky bourbon with a unique flavor profile that makes it a premium product.
The idea was borne almost three years ago as Jim was having a discussion with Steve Thompson, owner of Kentucky Artisan Distillery, over a topic passionate to both of them - pistachios and bourbon. The discussion led to the possibility of doing something with pistachios in an alcoholic beverage. Jim did not simply want another flavored product; rather something that could sit on the top shelf in a bar.
Two years later, Wicked Harvest was born. It's a blend of pistachios infused in Kentucky bourbon, finished in wine barrels, with a smooth and lasting finish with a unique flavor.
The wine barrels were Gloria's idea. She's a wine connoisseur who readily admits bourbon was not her thing. She now prefers a glass of whiskey at the end of the evening over that second or third glass of fine wine.
"I've never been a brown spirit drinker and I never intended to even try these iterations," she said of early batch samples created in Kentucky.
Adding value
Jim has long looked for different ways to add value to pistachios. He wanted to move beyond the roasted, salted snack nut idea to something completely different. He's tried other products he didn't think would work with consumers, but that didn't deter him.
"Almond growers have done a great job at creating value for their product," he said. "You can't go down a grocery store aisle and not find something with almond in it, so I started to wonder about pistachios."
Consumers seeking American pistachios are currently limited to how they can consume U.S. pistachios. While the snack nuts in a bag can be easily found in the grocery store, some processors have taken to making paste and ice cream, but nothing yet with the volume seen with almonds, walnuts and peanuts.
The American pistachio industry could be on the cusp of improving its reach into grocery store aisles as the industry faces the possibility of producing one billion pounds of nuts in 2018, Jim says. This rapid growth in production could put the industry at "critical mass" and allow further product development by the large food manufacturers, he believes.
"If you look at the trajectory of almonds over the past 40 years, pistachios are growing exponentially faster," he continued. "I think we'll see progression and movement in this industry quite rapidly."
This is where he sees creating a Kentucky bourbon with pistachios that can be helpful in getting people to think outside of the box about the different ways to incorporate a nut that has earned the American Heart Association seal for heart health.
"I'd like people to start thinking about the different ways to use pistachios in products," Zion says. "We're trying to value-add and break out of the mold."
Over the past two years, the Zions enlisted friends and fellow pistachio growers to taste-test various iterations of Wicked Harvest Bourbon, including the annual American Pistachio Growers convention and other social gatherings to allow people to sample different formulas of the bourbon to see what they liked.
Different formulations included blends from 80 proof to about 110 proof. They settled on an 80 proof blend.
"You could run your car on that stuff," he joked of the higher-proof bourbon.
Making liquor
If growing and processing food products didn't offer enough regulatory oversight for the Zions to navigate, getting into the alcohol business was a new educational adventure.
"People have suggested we write a book called, 'oh, so you want to be in the alcohol business'," he said. "There's a lot that goes into this, including licensing, government approvals, and labels."
While whiskey can be made of wheat, barley or rye, Kentucky bourbon must be at least 51 percent corn stored in newly-charred oak for a minimum of two years, he says.
"We stuck with Kentucky bourbon because no one does bourbon better than Kentucky...Basically Kentucky does three things well - horse racing, basketball and bourbon," he says.
Starting with Kentucky bourbon, the Zions wanted a product that wasn't just flavored but infused the actual pistachio kernel into the process. Because nobody else does this, getting the Alcohol and Tobacco Tax and Trade Bureau to understand that this wasn't merely a flavored whiskey was an arduous process, but they prevailed.
They also ran into some challenges naming the product as the word "wicked" in Wicked Harvest is used elsewhere by other makers. After a few iterations with the word "wicked" in it, and a phone conversation with another company with the same word in its product, Jim says they came to an agreement that neither would attempt to create a product like the other.
Marketing
It's one thing to make a product; it's a whole other process to get consumers to buy it. That's Gloria's mission.
With the self-proclaimed title "director of first impressions," she travels the Central Coast and other parts of California offering Wicked Harvest to select locations. The goal isn't to have it in the large box stores or retail chains, but to have it in venues that help create value for the top-shelf product.
Wicked Harvest is already in more than 30 locations in the Central Valley and on the Central Coast, she says.
Their bourbon is more than a product, but a story, she says. Part of the story includes pointing to the finishing process – that whole pistachios in used wine barrels are used to enhance the flavors, instead of simply adding artificial flavors into the process.
She also talks about "the perfect trifecta" of Kentucky aged bourbon, quality U.S. pistachios and fine wine barrels in creating a smooth, long finish.
"We envision this bourbon as an excellent ingredient in craft cocktails as well as straight up," she continued.
Individual pistachio growers may soon become part of this story as the Zions think of ways to incorporate their story onto labels of Wicked Harvest.
While the process has been educational and rewarding for the Zions, Jim's goal remains - pushing the envelope on what can be done with American pistachios.
"The hope is for folks to see what we're doing and think, 'If they can do that with pistachios then what can we do with them or other nuts," he says.
Subscribe to receive top agriculture news
Be informed daily with these free e-newsletters
You May Also Like
---