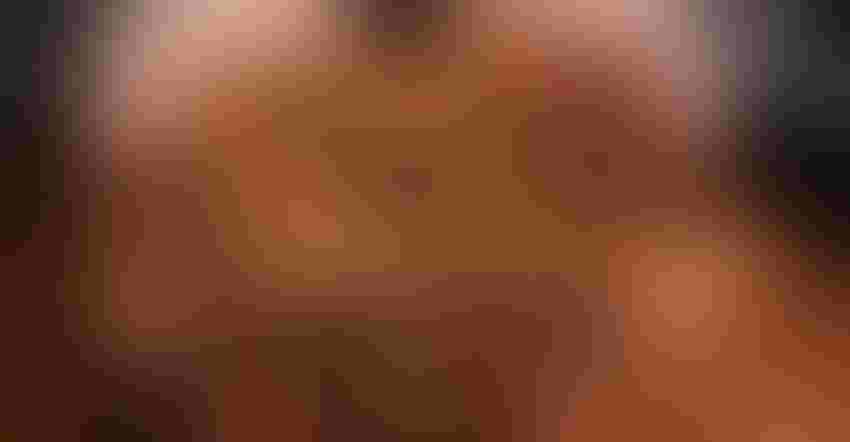 Pecan production in the U.S. Southwest is down slightly in 2022.
American Pecan Council
Depending on where their trees are rooted, California pecan growers have recently gotten started with harvest, are already in the middle of it, or pretty close to being done with it.
The Year-End Inventory Report issued by the American Pecan Council shows grower deliveries into the supply chain this year are expected to tally up at approximately 307 million pounds, a number down slightly from last year's deliveries of 332 million pounds.
APC calls it "decent production" over the last two crop seasons despite the significant amount of production devastated by hurricane force winds. Expectations are for a good crop in the southeast, especially Georgia's pecan growing area that accounts for nearly a third of all U.S. pecan production. PecanReport.com notes: "So far, quality from the southeastern region looks good and hopefully the quantity will also be there."
Domestic demand still outpaces production capacity where growers continue to plant new orchards and rehabilitate older ones, but are currently unable to meet that rising demand.
Texas pecan trees suffered from drought and other natural forces and growers are fearful of significant losses. The drought, compounded by water supply issues, has not been kind to growers in New Mexico and some sectors of California where optimism still persists via the planting of some 200 new acres per year. And, according to Tulare County grower Mark Hendrixson, current president of the California Pecan Growers Association, "There's definitely room for much more acreage to be planted in the coming years because the future for pecans is a bright one."
Depending on whose numbers you choose, there are somewhere between 3,000 and 5,000 acres already in-ground in the Sacramento and San Joaquin Valleys." And it's a long-term investment as well-maintained pecan trees can produce for 50 to 100 years.
As reported by the California Farm Bureau, Visalia pecan processor Blake Houston of HNH Nut Co. is quoted as saying the pecan outlook "remains very positive" as marketing efforts by the American Pecan Council take hold.
Where reality lies
But you've got to grow them and process them first, hopefully at a profit, and between the vision and the results lies reality.
Houston, who runs California's only commercial pecan shelling operation, says: "There's only about six million pounds in the state, so it's not too big a sandbox to play in. Harvest of our varieties [Wichita, Western, Waco, Shoshone, and Cheyenne] was rain-delayed a bit, but we should still finish up by the end of January — again, weather-dependent."
Between receiving, cleaning, dehydrating, shelling, and marketing, it's a busy time of the year. "Because of a delayed pecan harvest and because walnut growers didn't want to do a second shake, we were late getting seasonal holiday nuts to crack."
As a sheller/marketer, Houston says: "I share the same concerns as everyone else in agriculture today, especially the increasing cost of doing business. We're developing new strategies ad new ways to utilize technology to decrease our labor costs while increasing our efficiency and hopefully decreasing our overhead costs, both fixed and variable. We're trying to make good decisions on an hour-to-hour basis."
Houston sees some industry modifications occurring. "My crystal ball predicts some collapsing in the 3 billion pounds of almonds, 1 ½ billion pounds of walnuts, and the pistachio sector for a variety of export and trade issues. Walnut consumption rates are falling. Pistachio supply is overcoming consumption. And pecan consumption rates have increased by almost 40% in the last three years due to a marketing blitz. I get calls from large companies, private equity firms, thinking of planting a thousand or two thousand acres of pecans as diversification.
"So we see a weakening in almonds and walnuts along with a firming and strengthening of pecans, a response to the simple supply-and-demand issue."
About the Author(s)
Subscribe to receive top agriculture news
Be informed daily with these free e-newsletters
You May Also Like
---