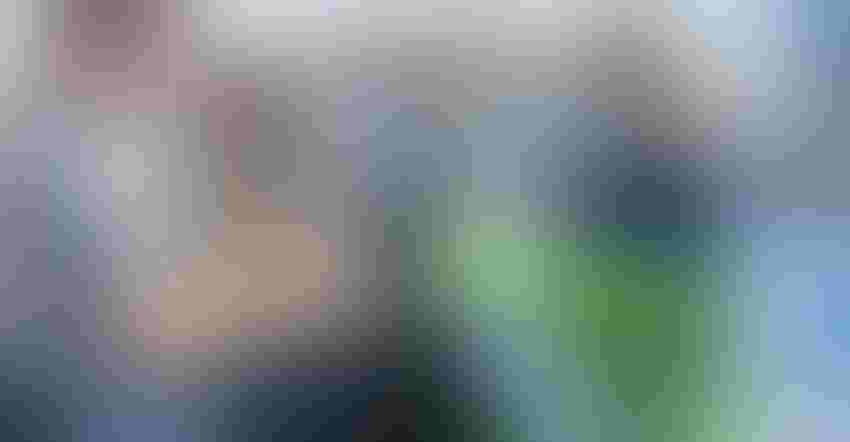 WORKING THE CROWD: A farm show is the one place that gives farmers a chance to see people, talk equipment and generally keep up on this fast-changing business.
For the reader who has followed Farmer Iron for a few years, you know I have this thing about farm shows - I love going. Sure, I might complain on day three of 90-plus-degree weather, but who wouldn't? But why am I already talking farm shows when to many of you it may feel like the planter just left the field?
As part of my job at Farm Progress I get involved in producing the show guides for some events we're involved with - full disclosure we do own two major shows. That work gets you thinking about warm days, big crowds, and plenty of walking, a little early. And it got me thinking about why farm shows continue to be so popular. Here are three thoughts.
First, a farm show is one of the last places where you can encounter a lot of information in a single day. If you have a specific product or service you want to research, there's no better place. You could spend time Googling your heart out looking up new information, but frankly much of what you want to see doesn't go online until the week of a farm show. In addition, reading what someone says about something on the Web does have value, but so does a face-to-face when you're standing right by the machine.
That personal contact with an expert who can answer your specific questions and point out key features, still has value. I find myself frustrated just looking at pictures of things. While I can learn plenty on a web search, before I buy I want to see the product; talk to an expert. Farm shows do that.
Second, there's an air of anonymity. Say you have a stable of a specific color of machine. You're known to be the lover of that brand. But there's new tech from a competing brand you want to check out. We all know that if your truck is seed by the neighbors at the competing dealer...well, people talk. But if you attend a farm show, you can spend quality time in the competitive booth checking out that new machine, getting your questions answered and no one is the wiser.
Of course, if you do buy that machine, the neighbors might talk, but what the heck you already know from that in-person research that you made a good choice.
Third, there's just the air of excitement that comes from the big crowd, the smell of pork burgers on the grill and the entertainment of a farm show. We often call the Farm Progress Show the World's Fair of Agriculture - or perhaps others do. (Note: it was once called the Super Bowl of Agriculture, but we backed away from that - no one wants lawyers from the NFL calling)
The fall farm shows are often where you'll be able to see first hand something entirely new to the market. I know that two companies are working on new harvest tech, for example, that'll debut at the show. Also, there are the field demos which are popular for fall shows where you can see equipment in action from combines to tillage to tiling.
Those three things are hot issues and show the value of holding those shows. Companies know customers come calling at farm shows too.
For 2018, there's also a bit of news for one of our shows. Husker Harvest Days is undergoing a significant revamp - new roads, new bathrooms, and more. For long-time visitors to that show, a trip this year will be worthwhile just to see what's different. The change is dramatic, and worth the visit. And if you've never been to the Grand Island, Neb., show, 2018 would be the year to check it out.
Subscribe to receive top agriculture news
Be informed daily with these free e-newsletters
You May Also Like
---