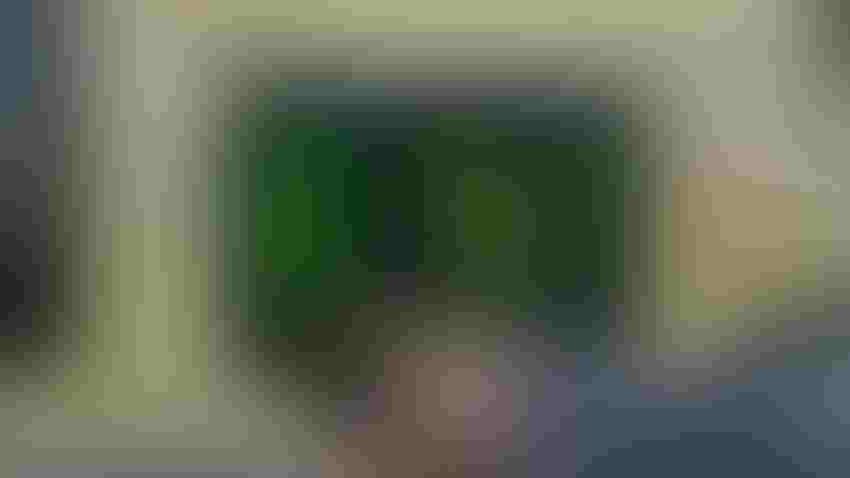 PRECISION TECH IS HERE: The technology to vary and map nitrogen rate, seeding rate and even hybrids on the go exists. Research indicates there might not always be an advantage to determining inputs by crop zone management.
Tom J. Bechman
It didn't take long for cutting-edge farmers and agronomists to decide there was a better use for yield monitor maps than shoving them in the drawer. Many use them to develop crop management zones so they can vary crop inputs based on expected yield productivity — for example, turning up nitrogen rates on more productive ground and dialing back N on lower-producing areas. Is this sound strategy?
Based on a multiyear study by Nicolas Martin, crop sciences professor at the University of Illinois, the answer may be no. Martin recently completed a long-term research trial.
"We used our farm equipment as a printer, creating a patchwork of inputs like a quilt with different colors," Martin explains. "We 'printed' our experiment on multiple sites, using a completely randomized design."
Seven nonirrigated sites were used from 2016 through 2021. Each plot received a randomized nitrogen rate. Plots were analyzed for soil composition, topography and other landscape features.
Weather variables turned out to be more important than anything else in determining response to N rate, Martin concluded. That was followed by landscape and soil attributes. Plus, responses varied year to year depending upon weather effects.
The same multiyear trial also examined whether management zones could successfully determine how to vary seeding rates, Martin says. Each plot also received a random seeding rate.
As with nitrogen response, weather variation was much more important in determining response than variation in seeding rate, Martin says. Overall, there was large inconsistency from year to year on responses to different input variables.
A plot that responded to a higher nitrogen rate or higher seeding rate one year might not respond the same way next time. Martin concluded that management zone mapping is an unreliable predictor of crop responses to inputs. Martin's full report was recently published in the Agronomy Journal.
Stars aligning for precision?
CNH Industrial, parent company of Case IH and New Holland, wrapped up purchase of Hemisphere GNSS for $175 million. Why is that significant? It brings the talent, expertise and network associated with Hemisphere into the CNH family. Spokespersons say it solidifies CNH's position as a leader in precision farming, automation and autonomy technology.
Earlier, Case IH leaped forward with the purchase of Raven, a leader in automation and autonomy in agriculture. Raven introduced commercialization of its automated grain cart pathway at the 2023 Farm Progress Show. To learn about what CNH is doing, visit cnhindustrial.com.
Another company also made a large commitment to precision farming technology recently. Agco will buy Trimble Ag, another leader in precision technology, creating more synergy to move that technology forward.
Predicting disease presence
Pattern Ag began turning heads a couple of years ago when it demonstrated that by analyzing soil biology, it could make accurate predictions that aided crop management decisions. Now, Pattern Ag turns up the heat, using technology to predict expected occurrence of tar pot, gray leaf spot, northern corn leaf blight and more in corn, plus charcoal rot, cercospora blight and frogeye leaf spot in soybeans.
The company introduced what it calls the Complete Bio Panel, which includes new field analysis for these corn and soybean diseases. Knowing where diseases are expected to appear allows you to fine-tune scouting efforts. Visit pattern.ag.
Precision estimates of wind damage
After a windstorm, how do you know how much yield hit to expect? USDA Agricultural Research Service researchers in Mississippi developed a procedure to answer that question, using a real-life experiment carried out on corn damaged by a major windstorm in 2022. It allowed them to test their GPS-mounted yield monitoring system.
Based on their results, each 1% of wind damage means 26 pounds less corn per acre. Potential loss varies from $76 per acre with less than 25% wind damage to $232 per acre with 75% wind damage. The study was published in Frontiers in Agronomy.
Subscribe to receive top agriculture news
Be informed daily with these free e-newsletters
You May Also Like
---