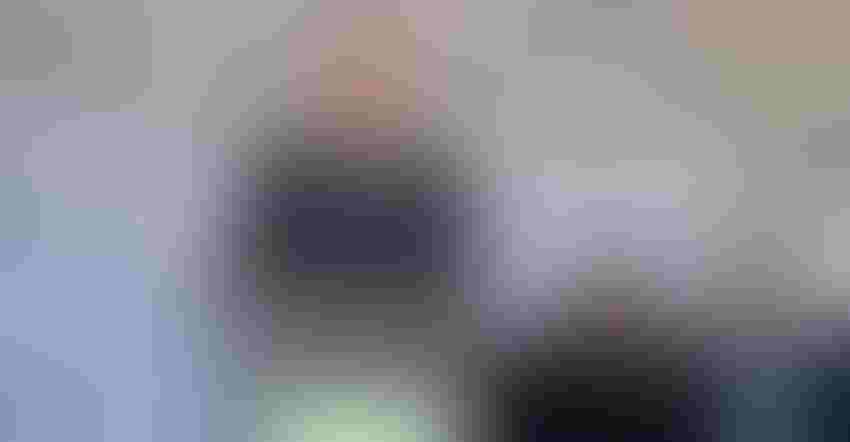 AG DAY TALK: Secretary of Agriculture Tom Vilsack spoke at the National Ag Day celebration on the National Mall. He evoked Abraham Lincoln in his talk, noting the former president and creator of USDA would be impressed by ag's creativity and resourcefulness.
Willie Vogt
The National Ag Day celebration on the National Mall is generating a lot of interest, including a fair share of dignitaries. A highlight of the day is a presentation by Secretary of Agriculture Tom Vilsack. Looking at the crowd and the equipment on display, he also looked back to discuss positives in agriculture.
Ahead of his speech, Vilsack invited an FFA member to the stage to honor the future of agriculture. Katie Powell, Nelson County, Virginia, came to the stage and Vilsack invited her to sit in his chair while he talked, later directing comments to her. Powell is a chapter officer with Nelson Senior FFA at Nelson County High School.
"There's no question there's a tremendous amount of creativity and innovation that's being viewed here today to give people an opportunity to understand the nature of the business, the commitment of American agriculture to innovation, creativity and sustainability," he shares. But to honor that, he reflected on the creation of USDA 160 years ago.
President Abraham Lincoln created the agency in 1862, which during the National Ag Day celebration gave Vilsack pause: "As I thought about this tour today, I couldn't help but ask myself, 'I wonder what Abe would think?'"
Vilsack observes that when the department was formed, 90% of the U.S. population lived on farms and "he started the department with the idea that if you could take that knowledge and spread it, and improve on it and innovate that American farmers...basically it would be endless what they could do."
But what about the technology on display on the National Mall? Vilsack says that while Lincoln might have been more eloquent, he would reaffirm his commitment in the strength of American Agriculture. "I'm pretty sure he would also reaffirm his belief in the innovative capacity here in the United States for us to basically invent and create and I'm pretty sure he would also believe what he believed back then that a country united can do the impossible, and a country divided has difficulty doing anything," he says.
Getting past division
Beyond that division, Vilsack says the country is coming back stronger. Observing that the economy is growing faster than any other developed country in the world, including China. And the country has set out "with an innovative spirit as displayed by the machinery here (in DC) to accept the challenges of today."
He listed climate change, and ag's role in mitigating and adapting to change. He noted that farmers are also adapting to rising production costs, using more precision agriculture tools, as those on display on the Mall.
"I believe that Abe's formula that he used in 1862 to unite this country is still applicable today as we look at these challenges of climate, the pandemic, supply chain disruptions," he says. "I think he would absolutely believe that America's agriculture is getting stronger and would continue to get stronger."
He pointed to record exports in 2021, and on track to be a record again in 2022. He pointed to higher farm income, and "I think he would [Abe] would be excited about the opportunity that's now presented with American Agriculture embracing the notion of utilizing resources from the Department of Agriculture, and addressing in large scale pilots and demonstration projects the notion of climate smart commodities."
Vilsack adds that Lincoln would be excited about the number of innovations and creative solutions the industry is taking on to deal with the challenges presented. He continues, that if you give farmers the ability to make choices and incent them, there is "literally nothing they can't do."
He points to the equipment technology displayed on the Mall, including the John Deere See & Spray Ultimate, which he observes can take pictures and spray only the weeds it sees. Then he turns to FFA Member Powell and says, "This is your future. And it's an exciting and challenging future."
Engaging global partners
Continuing in the vein of what Abe Lincoln would think, he points to the international effort started a few months ago with the United Arab Emirates that grew from a small number of companies and knowledge partners to include 160 partners in the Aim for Climate effort. "We initially thought we could raise $3 billion, then it was $4 billion and now we believe we can raise $8 billion towards innovative and creative solutions," he adds.
He says that Abe would be pleased with sensor technology and artificial intelligence and the modern tools of agriculture and "excited about the future for this country. And I believe he would be very appreciative that agriculture is united in this effort – all ag, all in," Vilsack says.
The concept, all ag, all in, brings together conventional and organic agriculture working together. "We all have a stake in this effort, and we're working together in this effort," he says. "And I think he'd be pleased that we're expanding the notion of agriculture, the idea that it just doesn't have to happen in a rural area it can happen in the big city too."
Closing he notes that agriculture is out, together and facing big challenges and big opportunities. "And we're rising to the challenge, and I think Abe would be proud of us."
He adds that the folks in the crowd and on the stage are dedicated to FFA Member Katie Powell's future. "They're dedicated to the future of the young farmers, and ranchers and producers in this country. The brightest and best days of American Agriculture, despite all the great things that have occurred, are yet to occur. And Katie, you're going to be helping make that day happen.

LOOKING AHEAD: Katie Powell, right, Nelson County Senior FFA, Nelson County, Va., was brought to the stage as Vilsack wanted to highlight the future of agriculture and the role of today's innovators in her future. She spoke with Vilsack, center, after his speech and with Jewel Bronaugh, left.
Subscribe to receive top agriculture news
Be informed daily with these free e-newsletters
You May Also Like
---