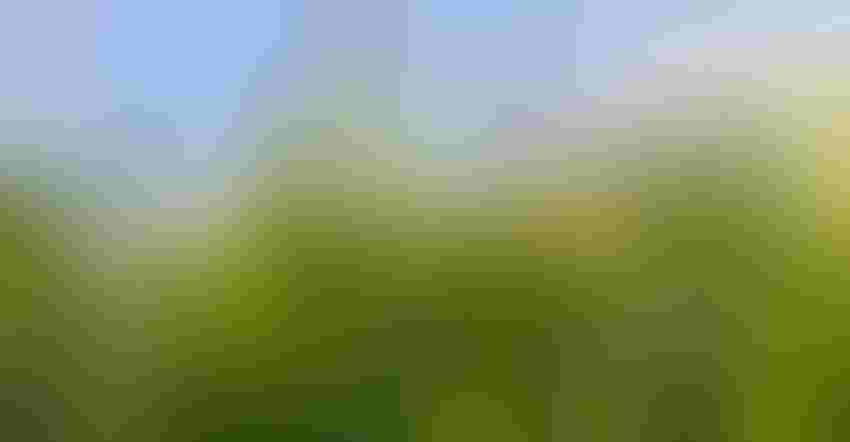 CROP MONITORING: To push yields higher in any crop, keeping equipment on track through the season matters, and precision guidance technology is changing.
Willie Vogt
There are farmers who remember the days of trying to achieve RTK correction with a portable tower in the corner of a field. Those days are long over, and a recent conversation with Trimble shows how far spatial correction has come from those early days.
Farm Progress caught up with two experts from Trimble after the company announced an acquisition that expanded its VRS Now system (VRS means virtual reference station) to cover more than 1 million square miles in North America. Trimble acquired MidStates VRS, a network previously owned by Butler Machinery and Frontier Precision.
The business of providing a correction signal is important, as farmers ramp up their use of precision ag. That means providing VRS and Trimble RTX corrections.
Michael Helling, senior director of strategy, autonomy, and Michael Bruno, channel program manager, talked about the changing nature of directional correction in agriculture.
"Farmers have a multitude of correction sources available to them to get higher accuracy," Bruno says. He calls up OmniStar and Wide Area Augmented Satellite correction as some familiar tools. But Trimble has been providing Trimble RTX — a satellite-based service designed to provide the sub-inch accuracy farmers used to struggle to get — by connecting equipment with ground-based stations for many years as well.
Helling explains that traditional satellite-only based correction systems didn't provide the accuracy and repeatability of RTK. "With CenterPoint RTX, we've opened up the realm of possibility and ease of use for the operator," he says. "A big advantage [to our] RTX, and what will eventually come to VRS, is the ability to use multiple GNSS [satellite] constellations (including Galileo and BeiDou) instead of just GPS and GLONASS [global satellite navigation system]. Trimble RTX uses 18 to 24 satellites at a time, versus 10 or 12 with GPS and GLONASS systems. In areas around trees, the more satellites you can see, the faster your convergence time, and the more accurate your guidance."
The key, says Bruno, is giving the customer a choice. The Trimble RTX system is self-contained in its controller-antenna product. "This is an easier-to-use system," he says. "But if you prefer VRS — and thousands of farmers are using VRS systems — our Trimble VRS Now network has expanded with this acquisition."
One-stop shop
The satellite-based Trimble RTX system provides coverage in rolling terrain where you might have needed a repeater in the past. It's consistent coverage across North America. Need VRS? The company has that with Trimble VRS Now, which covers the bulk of the Midwest and Midsouth down to the Gulf.
"VRS is a positioning standard, but we're pushing the boundaries of VRS performance with CenterPoint RTX," Bruno says. "However, we recognize there is still a market for VRS correction."
Customers with mixed fleets are looking for flexibility in that correction signal, but they also need precision. The VRS Now network can provide that precision with similar accuracy to RTK. "Acquiring MidStates VRS allows us to bring the benefits of a global service, like around-the-clock network monitoring and support, to a local customer base," Bruno says.
This approach means Trimble can be a single source for two precision guidance systems depending on customer needs. And both are fast to start up, which is often a challenge during busy fieldwork — waiting on the GPS system to acquire the precision signal.
"VRS can be faster," Helling says. "The receiver to server can be fast; in seconds you can be in the field."
Trimble RTX is different, but Helling explains it can take 20 minutes or less to get a high-precision signal. CenterPoint RTX Fast networks have brought startup times down to under two minutes across much of North America and Europe.
Helling and Bruno emphasize this correction information is just part of the solution. Trimble tech works on any brand of machine, allowing farmers to have a single system in a networked farm arrangement that the company pioneered several years ago.
Advancements in GPS guidance and that correction signal are changing how farmers work, providing precision for every operation — from tillage to planting to spraying to harvest. It's information they can put to work to enhance management across the farm.
For more information on Trimble's VRS Now or Trimble RTX correction services, visit agriculture.trimble.com or positioningservices.trimble.com.
Subscribe to receive top agriculture news
Be informed daily with these free e-newsletters
You May Also Like
---