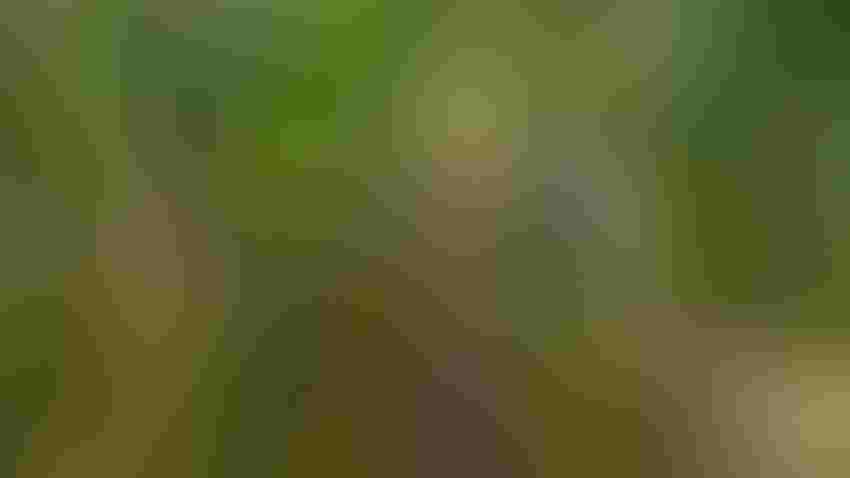 EARLY SIGNAL: These corn plants are under drought stress late in the season. A new project seeks to develop a color-coded system so plants can let you know what's wrong sooner.
Tom J. Bechman
Twenty-five years ago, at the height of the clamor over biotechnology, someone asked a researcher if they could breed plants to signal that they contained a biotech trait. Maybe a little "m" would appear on a leaf if the plant had a trait. Today, that letter might be a "b" for Bayer.
It sounded preposterous, but the researcher didn't laugh. Maybe the idea wasn't that far-fetched.
Kyle Mohler, CEO of the ag startup Insignum AgTech, says his company has developed a trait that generates a purple pigment inside a corn plant if a fungal infection has started but is not yet apparent. Imagine a one-week head start on tar spot!
Mohler says additional traits will use natural pigments of other colors to give an early indication of other yield-robbing factors, such as insects or nutrient deficiencies. With this knowledge, farmers can precisely treat when and where needed.
Moving to the commercialization phase, Insignum AgTech is working with Beck's, Atlanta, Ind. Plans call for a field day this fall so growers can see how plants with these traits react to stimuli. Visit insignum.ag.
Robot at work
The Amiga by Farm-ng follows workers around on a specialty farm in California, acting as the all-purpose assistant, akin to the space-age, ever-present robot maid in "The Jetsons" cartoon. Larry Jacobs, a California grower and co-inventor, says Amiga is an all-electric, modular platform with attachments for autonomy, traction, seating and tool attachments such as lifts.
It can be customized to plant, seed, harvest and more, either in a greenhouse or in the field. When hand-harvest is underway, it can also follow pickers with crates. It will be showcased at the national Fira USA conference in Salinas, Calif., Sept. 19-21. Visit farm-ng.com.
Protein-based biocontrol
Biotalys continues to draw praise and demonstrate strong performance with Evoca, its first protein-based biocontrol. The company expects to develop a whole family of products using the same Agrobody Foundry platform used to produce Evoca. European Union regulatory approval is expected in 2025, and EPA registration is still pending.
Meanwhile, Biotalys revealed results of global field trials in 2022, including trials in California, New York and Oregon. It was tested in cucumbers, strawberries, tomatoes and blueberries, sometimes in combination with chemical controls. Visit biotalys.com.
Plants, temperature change
You know plants respond to seasonal temperature changes. Do they have a built-in clock that makes it possible? Years ago, researchers discovered that, in fact, plants do have such a device — the circadian clock, which allows plants and animals to respond to the Earth's 24-hour and 365-day cycles. Now, researchers at the Donald Danforth Plant Science Center in St. Louis discovered that a new protein complex within plants is responsible for these temperature responses.
Three proteins interact in the evening to adjust plants to cooler temperatures. The scientists now can even pinpoint when during the day these interactions happen.
Will this affect how you farm? Not today, but the more science the researchers uncover, the better prepared they will be to learn how to help plants adjust to a changing climate. Follow the work on Twitter @DanforthCenter.
Find hot hogs faster
If heat stress is something you battle in your hog production units, check out HotHog, a new smartphone app developed by the USDA Agricultural Research Service. It's available for download now in the Apple App Store and Google Play Store.
How does it work? Scientists say it taps into local weather data to predict relative comfort of pigs based on heat stress levels on an hourly, daily or even weekly basis. Think of it as an early-warning system alerting you to take preemptive measures, such as fortifying drinking water supplies, arranging for cooling mists and scheduling transport in early-morning hours.
Subscribe to receive top agriculture news
Be informed daily with these free e-newsletters
You May Also Like
---