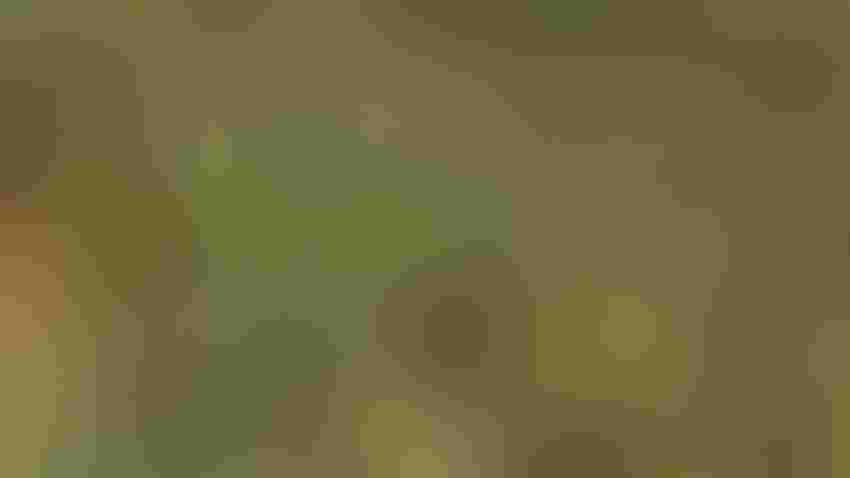 DISEASES PILE ON: These soybeans are under stress. Note scattered plants that are dying, likely affected by soybean diseases. New seed treatments won't cure drought but could provide broader disease protection.
Tom J. Bechman
Soybean seed treatment options will be even greater for 2024. Helena Agri-Enterprises introduces Seed Shield Select, a multi-fungicide-and-insecticide combination touted to provide protection against all major soybean seedling diseases while optimizing root health and plant vigor. Spokespersons say it raises the bar on control of pythium and phytophthora root rot, two prevalent soybean seedling diseases.
Seed Shield Select contains five active ingredients, including picarbutrazox, the latest fungicide active ingredient on the market. Visit helenaagri.com.
New crop research
The weed known as pennycress and its close relative, camelina, could become important agricultural crops in the future. Global Clean Energy Holdings Inc. received a grant of up to $30 million from USDA to develop a large-scale pilot project to measure and validate the advantage of camelina as an ultralow-carbon renewable-fuel feedstock. It's a five-year project.
USDA sees this as an opportunity to accelerate farmer adoption of camelina. USDA's eye is on ramping up production of plant-based feedstocks for renewable biofuels and chemicals. At the same time, the goal is increasing carbon capture in the soil.
Sustainable Oils, a subsidiary of Global Clean Energy, owns proprietary camelina varieties that can be grown to produce ultralow-carbon renewable fuels. Founded in 2007, it's based in Great Falls, Mont. Visit susoils.com.
Tying precision ag to new crops
Intelinair, Indianapolis, is one of 17 company and university partners participating with Global Clean Energy Holdings Inc. on a $30 million USDA grant project to study the use of camelina as a feedstock for renewable biofuels. Intelinair's role boils down to helping work out production practices and economics.
Kevin Krieg of Intelinair explains it this way: "Our team is working closely with other project partners to utilize our AI technology to deliver on the objective of camelina becoming a mainstream crop in cropping systems."
Intelinair will rely on its crop production analytics and yield estimation technology to help position camelina for success. Visit intelinair.com.
Precision agriculture analytics
Sentera, St. Paul, Minn., introduced two analytical packages for crops in 2023:
Lookback Program. Sentera provides tools that help quantify observations, especially images and observations made with unmanned aerial vehicles, or UAVs. Their products include Stand Count to determine corn population in young corn and Tassel Count to size up population at pollination. Spokespersons say the Lookback Program evaluates historic data on those kinds of measurements going back multiple seasons, and helps you use that information to look ahead for what to expect.
Crop Damage Insights. This analytical tool helps zero in on location and extent of crop damage after an unexpected weather event. Spokespersons say it allows quicker response to assessing and responding to crop damage.
Another herbicide option
Tough herbicide for broadleaf weed control in corn is positioned by Belchim Crop Protection USA as a worthy alternative because it represents a Class 6 mode of action. Underutilized as a mode of action, Class 6 herbicides block a weed's photosystem II process. The active ingredient in Tough is pyridate, used since 1976.
What spokespersons believe is new and noteworthy is Tough's ability to help strengthen control on tough broadleaves, including waterhemp, when tank-mixed with other broadleaf herbicides. They note that it may pick up some strains of resistant weeds that other herbicides don't get. Visit belchimusa.com.
Subscribe to receive top agriculture news
Be informed daily with these free e-newsletters
You May Also Like
---