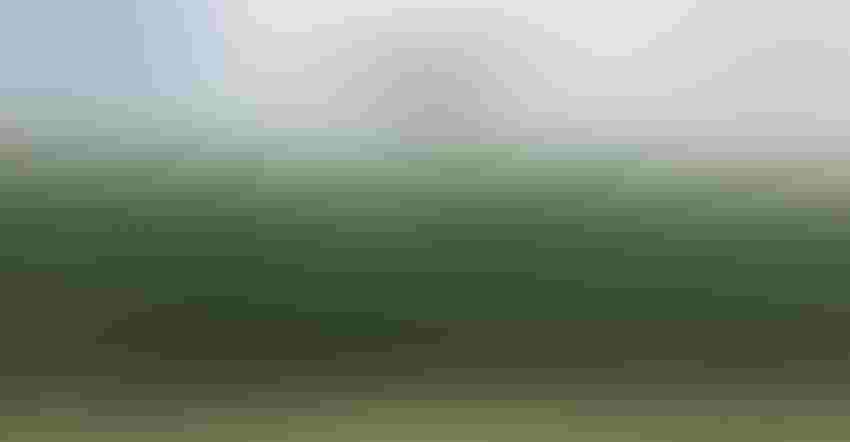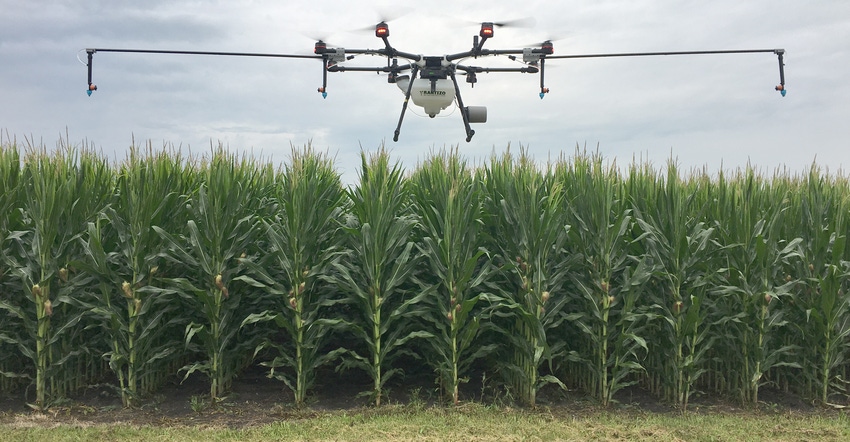 MAXIMIZE THE DRONE: Sony has launched its latest imaging and analysis software for drone use and named four partner companies, including Rantizo. The Iowa-based tech firm will use the imagery to enhance its in-field drone application system.
Courtesy of Rantizo
The name is familiar, but the setting is not. The company that brought you Trinitron televisions and the Walkman may now be bringing you highly accurate stand counts this spring. That's the news the company delivered recently with its announcement that its Smart Agriculture Solution would be put to use by four firms — Drones Made Easy, BirdsEyeView Aerobotics, Rantizo and Progeny Drone Inc.
The Sony product provides day-to-day crop management by collecting and analyzing data on crop growth and health status. The latest version, shown at Commodity Classic, combines high-resolution drone imagery with artificial intelligence for more accurate plant counts and analysis.
Yet what might that mean in the field? Farmers have had access to drone-generated stand counts from other players, and aren't always sure how to put them to use. Michael Ott, Rantizo CEO, shared some thoughts on how his company will deploy the technology.
"We've been talking to Sony since InfoAg in 2019," Ott says. "The thing that impresses me is how fast they can process their data. We're open to working with anyone that can give us actionable insight because at Rantizo, we can deploy a solution."
The Iowa City, Iowa, firm uses a system that allows application of a range of products for in-season actions, from applying insecticide or fungicide to seeding a cover crop.
Regarding those stand counts, Ott talks about the very precise agriculture that is becoming more possible these days. "I think it's a first step, and it shows you where you can lever up your return," he says. "For example, a low stand count area at the edge of a field can be captured, and we can then say that we won't deploy inputs on those areas. You save [on inputs]."
If replant isn't an option for areas with a poor stand count, spending less on those areas makes sense, too. For Rantizo, a company that thinks in 5-foot-square units, super precision make sense. "What's best to do in this precise area? We can be that accurate with a deployment. We're not going to treat a 40-acre field uniformly. We're going to target product to what's needed in each part of the field."
Tech in action
Ott sees potential in deploying the Sony tech to enhance decision-making and input use in the field.
For Sony, the upgraded Smart Agriculture Solution was developed through research with drone-based remote sensing and work with several companies.
In a media release, Theresa Alesso, Pro Division president, Sony Electronics, explains that the "feedback was incorporated into the recent upgrade of Sony's [system], and is the basis for the providers selected thus far for this expanded ecosystem. These integrations provide comprehensive new ways of working for today's growers."
Version 2.0 adds Sony's imaging and AI-based technology for stand counting. The enhanced solution includes a drone-mounted multispectral sensing unit and Fast Field Analyzer image analytics software for in-the-field crop management, monitoring and insights.
Beyond Rantizo, other partners in this initiative include:
Drones Made Easy. This San Diego-based online and retail superstore has flight planning software called Map Pilot, which is also a leading photogrammetry date collection app. Map Pilot AG is a new app that adds optimized mission planning and flight control for ag-specific tasks. The system can take advantage of Sony's new stand count feature.
Tudor Thomas, chief technology officer, Drones Made Easy, notes that before Smart Agriculture Solution, there was no system with multispectral cameras and analytics software that worked with small unmanned aerial systems and could process data at the edge of the field. "With our new brackets for mounting on the DJI aircraft and our Map Pilot AG software integrated with Sony's technology, we have a turnkey solution."
BirsdEyeView Aerobotics. This company, based in Andover, N.H., builds a vertical takeoff and landing drone called the FireFly6 Pro. The airship can cover 600 acres in one flight. The Sony solution has been integrated into the product with custom vibration-isolated mounts.
Progeny Drone Inc. PDI is a Purdue University-affiliated startup that has created Plot Phenix software, which converts aerial crop photos into useful information for plant breeding, crop modeling and precision agriculture. The software converts raw drone imagery of outdoor small-plot research trials into custom-labeled, plot-level metrics.
Learn more about the new Sony system at pro.sony/agriculture.
This story includes information provided by Sony.
About the Author(s)
Subscribe to receive top agriculture news
Be informed daily with these free e-newsletters
You May Also Like
---