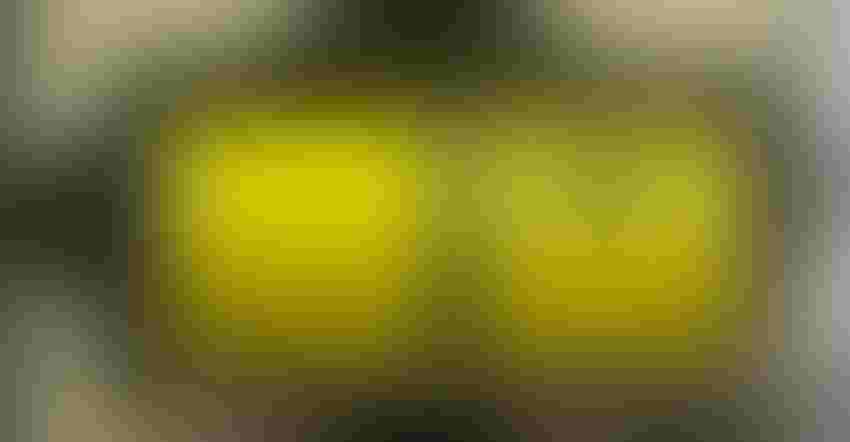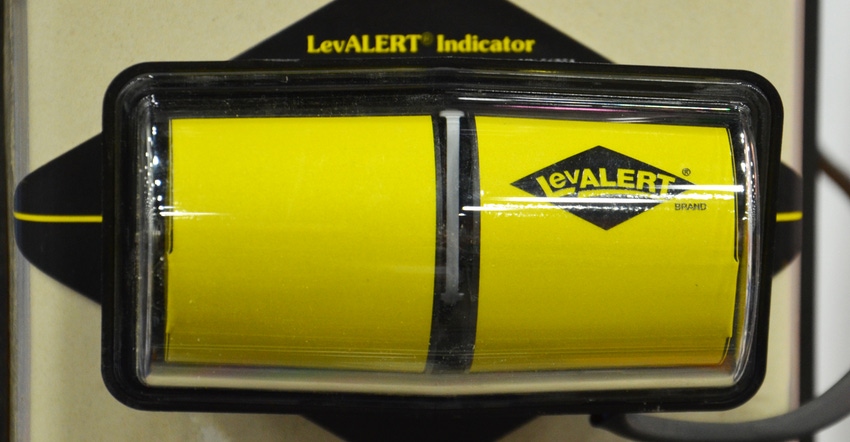 SAVE STEPS, SAVE A LIFE: For minimal investment, you can install grain bin level indicators and know how full a bin is without leaving the ground.
The fewer times you must climb the ladder on the side of a grain bin, or even a stairway around a bin, the fewer times you're risking a fall. And the fewer times you must climb inside a bin to check grain level, the less likely you are to become involved in a grain entrapment incident.
For the list price of $139 per unit, you can install bin level indicators that allow you to know whether grain or any other material has reached the level where the indicator is mounted on the bin. It could be a small investment if it someday prevents injury, or worse, to you or someone else.
The LevAlert Model 760 mechanical grain bin level indicator has been available for a long time. Now LTJ Enterprises introduces a new model, the LevAlert 9700. It uses the same mechanical indicator system as the previous model, spokespeople say. If there isn't product present at the level of the indicator, a black diamond is visible. If the product is at or above the indicator, the diamond turns yellow.
The difference on the 9700 is that it's a modular unit, according to the company. There are now three models: 9700-5 if you're storing sands or powders; 9700-6 for use with corn, soybeans and some other grains; and 9700-7 if you store sunflowers, oats or ground feed.
The indicator is visible from more than 300 feet away during the day, and is reflective so it can be seen at night. You can install it from the outside without entering the bin. Spokespeople recommend installing two or three indicators per bin — ideally, at the bottom, middle and top. For more information, visit levalert.com.
Editors' comments
Farm Progress editors who search for new products each year at farm shows reviewed this product. They include Tom J. Bechman, Indiana Prairie Farmer; Lon Tonneson, Dakota Farmer; and Mindy Ward, Missouri Ruralist.
Tom's takes
Installing these units on grain bins or feed storage tanks seems like a no-brainer. I never liked to climb, and now that I am older, my legs wouldn't let me if I wanted to climb. Staying on the ground and knowing when fill levels reach crucial points without spending lots of money to find out seems like a good idea.
Lon's observations
I am impressed by the fact you can install the new LevAlert 9700 from the outside of the bin by simply drilling a 1 1/8-inch diameter hole in the bin wall. The company has come up with a way to make the display bigger and more visible at night. The fact that there are different components for corn, sunflower, grass, seed and feed is a plus. It's a simple, elegant design. Overall, it appears to be a cool product.
Mindy's views
Working around grain bins is part of farm life. I've covered my share of farmers falling off grain bins and shattering legs. So if there is a product like LevAlert that improves safety by keeping farmers out of and off of bins, and it is economical — well, every farmer should take a look.
About the Author(s)
Subscribe to receive top agriculture news
Be informed daily with these free e-newsletters
You May Also Like
---