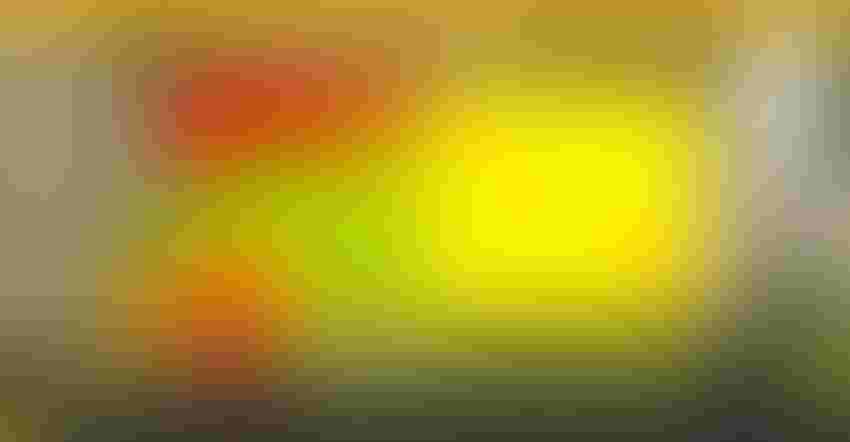 DAILY SATELLITE: Farmers Edge is taking satellite imagery and allowing users to layer in yield information to get increased understanding of how imagery and results match up.
Farmers are learning that aerial imagery, no matter how collected, can be helpful for in-season decision-making. That's a key with today's modern precision ag movement: in-season actions to boost current year results. But capturing imagery can be a challenge, whether by drone, satellite or airplane. That challenge may have been answered.
Farmers Edge, a farm management technology company, has signed a sole distributorship agreement with Planet, a company that is changing how satellite imagery is being captured. "We have 190 satellites in orbit now, and in the past year we've put up 136. We're able to image the entire earth on a daily basis," says Andrew Pylypchuk, account executive, Planet.
He explained that the big change is the way Planet designs and builds a satellite. No longer do satellites need to be single purpose behemoths, launched by NASA. Instead, the company is using off-the-shelf components to create bread-loaf-sized information-gatherers to create a constellation of imaging systems in the sky.
Farmers Edge will be the sole distributor of the imagery product to other users, but the firm has also incorporated the imagery into its FarmCommand management platform. "From the time we started the company, we have focused on satellite imagery to make management zones," says Wade Barnes, president and CEO, Farmers Edge.
Yet that early work wasn't without its frustrations, as image providers were unable to deliver reliably on promises, Barnes says. Planet provides daily images that farmers can view in FarmCommand. "And even if it isn't a great image every day, getting good images three or four days a week is often enough," Barnes adds.
Farmers Edge has been showing farmers the imagery platform in test. "In our work with farmers demonstrating the imagery, they comment that 'This is addicting,' and they can do what they've never been able to do," Barnes adds. He points to early instances where agronomists on the ground were able to spot and identify early cutworm damage in wheat very early, which allowed for faster treatment.
Bring satellite imagery back
The concept of satellite imagery for ag management isn't new, but the rise of drones, and innovators with airplane-captured imagery, have brought renewed interest in all things aerial. Yet Barnes admits that agronomists have walked away from satellite imagery in the past, due to unmet promises. "A lot of agronomists and consultants are done with satellites, and they do not see it as a tool," Barnes says. "And they're concerned about using drones to capture images, too. It can be expensive."
Daily satellite imagery — at the 3-meter level — may change that. Barnes explains that there are so many images that farmers can't possibly check on all fields every day. "We're working on a way to alert farmers in our system to changes in their fields as captured by the images," he says.
That "visual analysis" is planned for 2018. It would essentially use the FarmCommand platform to provide an alert to a farmer if there's a sign of distress in a satellite image from one capture to the next. Farmers, or their agronomists, could then review the images to determine if there's a problem that needs addressing.
A dashboard of images
During a demonstration of the Farmers Edge platform, which works to pull in data from a range of sources, Farm Progress got a look at a system that gives a farmer quick access to critical information all season long. In addition, the company has a nitrogen use model to help manage crop fertility all season.
The platform gathers information from satellites, but also from in-machine ISOBUS connectors that use telemetry to broadcast information to the FarmCommand system. There are also on-farm weather stations to capture local information as well.
The result is a dashboard where a farmer can manage the farm — from phone, tablet or desktop — all season long. From growth stages for crops by field to weather impact on returns, the system is pulling a lot of information into a single place. The added depth of daily satellite imagery just adds to what the company plans to offer.
A key feature is the growth-stage model, which Richard Marsh, product manager, explains is expanding. "We will have growth-stage models for 10 crops in 2018," he says. "We based crop staging models on where the crop is grown and the seeding date."
The system, using weather data, planting date and growing degree days, can allow farmers to check on field progress across the farm. The growth models take into account specific hybrid or variety information — provided by the farmer, Marsh explains.
Going into 2018, knowing specific details of fertility use, crop progress, and pest infestation gets easier as crop management platforms evolve. Farmers Edge kicks it up a notch with enhanced daily aerial imagery. Learn more about their system at farmersedge.ca.
Subscribe to receive top agriculture news
Be informed daily with these free e-newsletters
You May Also Like
---