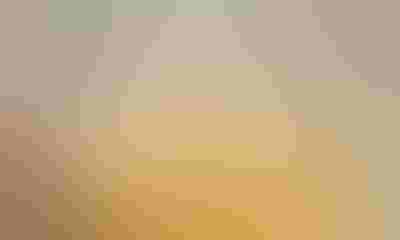 August was a hot month that summer. On one steamy morning, just before the Farm Progress Show, the call no one wants to hear came in. A neighbor was stuck in a grain bin. When his grandson finally crawled out of the bin two hours later, he was covered in sweat, dust and mold. No one was able to save his grandpa.
No one ever knew exactly why Grandpa went into the bin without telling anyone. But they did know the grain was going out of condition, and they were having problems keeping clumps of grain away from the inlet of the unloading auger in the bin floor.

12-MONTH COMMITMENT: You, an employee, or even a stick figure as shown, can become entrapped in grain any time of the year. If it's the stick figure, no big deal. If it's you — that's a big deal!
Unfortunately, experts say that's where a lot of grain entrapment disasters start: with out-of-condition grain. It can happen any month of the year, any time, any place. Gary Woodruff, GSI conditioning applications manager, recently addressed grain bin safety in this question-and-answer format.
IPF: What safety recommendations do you suggest people follow when checking grain?
Woodruff: The No. 1 safety issue is to follow the storage rules and keep the grain in good condition. [Then] you don't have to deal with [grain] condition issues. Grain entrapments usually happen when grain has been allowed to go out of condition. You should never enter a bin. Instead, do your check from outside, looking for an off smell, crusting or a change in surface grain moisture.
IPF: What kind of safety protection do you need?
Woodruff: Use fall protection equipment, and make sure the bin ladder has a safety cage. If it doesn't, then tie off. Having an eave platform helps you stay safer, as well. If you see an issue, move grain out of the bin until all of the damaged grain has been removed.
IPF: What safety rules should you follow while unloading grain?
Woodruff: When unloading grain and grain quits moving, safety experts always recommend having a second person at the roof access door, using fall protection equipment and having a phone to call for help if needed. These are all good recommendations.
IPF: What other advice would you offer someone?
Woodruff: It is best to never enter the bin, particularly if grain isn't flowing normally, or the auger has quit moving grain. Also, never pull grain from the auxiliary well until all of the grain that can be removed via the center well has been removed.
IPF: Why don't you recommend using an auxiliary well in that situation?
Woodruff: Using an auxiliary well puts uneven pressure on the bin. That can cause damage or even [bin] failure. 
Subscribe to receive top agriculture news
Be informed daily with these free e-newsletters
You May Also Like
---