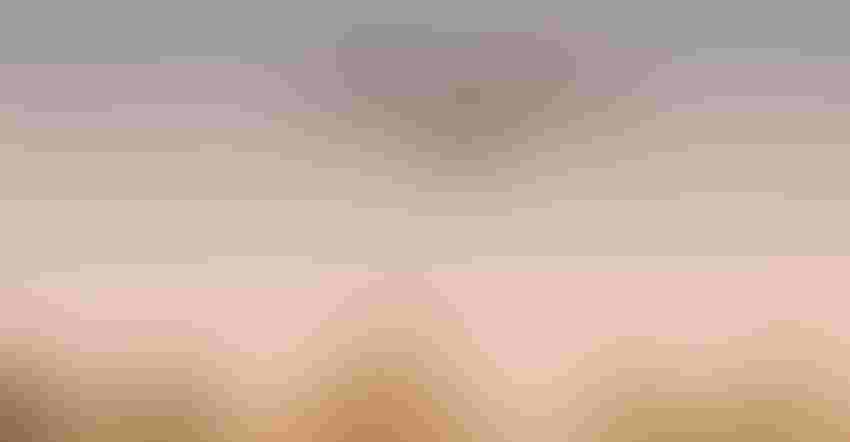 SAFER FLYING: Farmers like to use drones for a lot of reasons, but they should be sure to consider getting insurance.
EAKNARIN JITONG/Getty Images
Jason Dunn tells a story that might scare a fledgling drone user. "There was a drone that struck a power line near San Jose, and it took out power for 4,000 people," he recalls. "That's a very real risk for farmers."
Dunn is the strategic products expert for Munich Reinsurance America Inc., and the company recently conducted an online survey that showed one surprising statistic: "The big surprise for me was how prevalent drones were on smaller farms," he notes.
The study showed that three-quarters of respondents are using unmanned aerial vehicles, or considering their use, to assess, monitor and manage their farms. The survey had 269 respondents and offers a glimpse into this part of precision agriculture. About the same number of respondents have concerns related to drone use including privacy issues, cybersecurity over data captured and transferred, and potential damage or injury from the drone.
"Farmers are getting into [this technology] in a big way and in a hurry," Dunn adds.
Munich Re is a reinsurer, which means they don't sell direct to consumers, but underwrite programs for insurance companies. And the company does have a drone liability endorsement that can be attached to an existing commercial general liability insurance policy purchased through a participating insurance carrier. "We have a few clients using it on their insurance company paper today, and we're talking to several more," he says.
Savvy operators
Farmers who answered the survey are aware of the potential liabilities. Nearly two-thirds of respondents operating drones have informed their insurance company, and another 16% plan to do so. "Traditional commercial insurance policies don't cover, or offer very limited, liability protection for drones. Farmers should speak with their agents or brokers to ensure that their policy protects against privacy claims, as well as bodily injury and property damage incurred as a result of drone usage," Dunn says.
He discussed the concern for privacy issues. "A drone can capture a lot of images besides a farmer's field," he says. "This can be other people's property, and that raises concern. Our product would protect for that."
The insurance would help cover an operation that might be sued by a neighbor over UAV usage. The coverage also protects from bodily injury and property damage.
The survey also found that more than 80% of respondents who use drones are putting them to work at least once a week, or more. Key uses so far include crop monitoring, field analysis, and crop and livestock health assessment. This technology is becoming more widely adopted.
You can learn more about Munich Re by visiting munichreamerica.com, but if you're interested in enhancing your insurance to cover drone use, talk with your local agent.
Subscribe to receive top agriculture news
Be informed daily with these free e-newsletters
You May Also Like
---