An automated solution for increasing harvest efficiency became real when Raven launched pre-ordering for its Harvesting Automation Solution at the Farm Progress Show. You can pre-order this high-tech solution now and expect delivery in January 2024.
Meanwhile, several farmers across the Corn Belt will continue testing the technology this fall, reporting results to Raven. Ben Voss, Raven sales manager, believes this is an important milestone in the march toward autonomous equipment. In fact, Raven introduced it as a level 3, driver-assisted automation pathway.
There is still a driver in the tractor, but he or she doesn't have to be a skilled grain cart operator. Matt Horne, also with Raven, explains that thanks to the automated solution, the combine operator gains control of the tractor pulling the grain cart. Systems within the tractor and combine talk to one another, allowing the tractor to respond to the direction of the combine operator.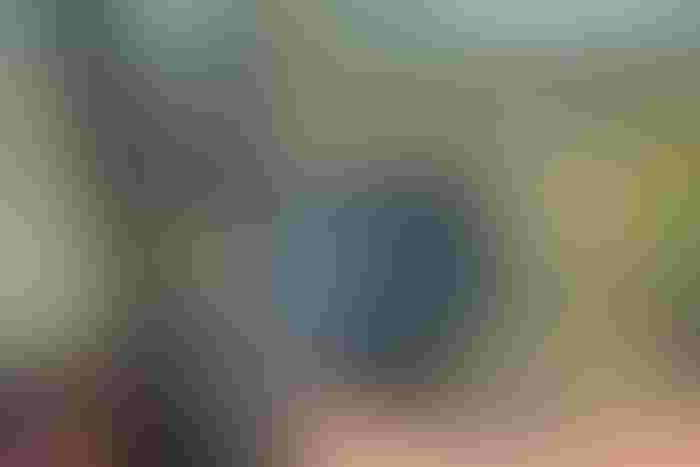 EASY-TO-USE: The small, black control box above the display screen contains buttons which allows the operator to signal and direct the tractor with the grain cart. Photo by Tom J. Bechman
For example, if the tractor and grain cart are behind, the combine operator can signal it to increase speed, up to 15 miles per hour. Once the combine begins unloading, the combine operator can speed up or slow down the cart, allowing him or her to fill the cart full without spillage. He or she can also nudge the tractor and cart left or right to move in or out in relation to the combine.
"This isn't cellular communication," Voss explains. "We're doing it through radio signals. We're creating a communication link so the combine and tractor can talk with each other."
The cost for this next step in technology is reasonable, Voss believes. Expect it to list at about $5,000 per cab, assuming the tractor and combine are already equipped with precision agriculture hardware and software.
Initially, it's available for late model CNH combines and tractors, including the Steiger tractor. It works with tractors with CRV or power-shift transmissions. Eventually, it may be offered for other makes or older CNH models, although setting it up on older equipment could be more costly if more adaptations are needed.
Why this step?
Why is Raven introducing this automated solution when it has already demonstrated that a fully autonomous grain cart with no driver is possible? Spokesmen indicate it is a logical next step that many farmers may be ready for, even ones that aren't yet ready to put trust in fully autonomous operations with no driver.
"We did extensive surveys and found that 65% of users would be interested in an automated solution for harvest," Horne says. "About 70% of those who said they were interested listed finding qualified labor to run the grain cart as the number one factor. Expanding profitability, reducing operator stress and reducing grain spillage were also important."
Raven engineers suggest that Raven Cart Automation can reduce stress for the tractor operator by 22% and by 33% for the combine operator. "This isn't just based on some survey," Horne says. "Those are based on actual measurements of heart rate and other key indicators of stress in both combine and tractor drivers."
Video by Jen Koukol, Addie Bennett
Subscribe to receive top agriculture news
Be informed daily with these free e-newsletters
You May Also Like
---