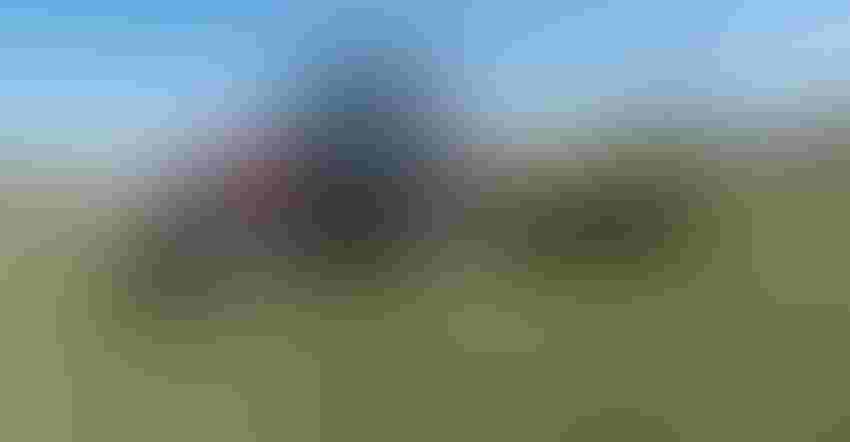 STATE-OF-THE-ART: This tractor is equipped with Trimble's TMX RTK for GPS guidance, plus NextSwath to turn on end rows. Note there is also a GPS receiver on the planter.
Jeff Boyer, Davis-Purdue Ag Center
Many farmers who said they would never pay for autosteering when the concept first came out over a decade ago wouldn't be without it now. They often cite two reasons: more accuracy than they thought possible, and far less fatigue after operating a tractor for an entire day.
Farmers who adopted autosteer still had to make turns themselves by grabbing the steering wheel. A beeper was soon added on most systems to remind the operator that the end rows were coming up, and that he or she would need to make a turn. It didn't take more than an incident or two where someone fell asleep and didn't turn to make it obvious that feature was needed.
Now the next natural advancement is here: systems that will not only guide the tractor for you, but also make the turn on the end. That's right — hands-free turning!
Jeff Boyer, superintendent of the Davis-Purdue Agricultural Center, tried out the concept this year while planting corn. The tractor pulling the planter was already equipped with Trimble's TMX RTK GPS. The signal that provides GPS correction comes from a tower on a grain leg on the farm. The guidance is extremely accurate, Boyer says.
This spring Boyer added Trimble's NextSwath feature to the unit. "It still beeps as you approach the ends, but all you have to do is push a button," he relates. "Once you push the button, the tractor makes the end-row turn on its own. You never touch the steering wheel."
Remember, this technology is new. You still need to stay alert in case of a hiccup.  
Super technology
A tractor that turns itself on the ends may not seem like a big deal, but after running it while planting this spring, Boyer is sold on the idea. "It takes even more fatigue out of operating the tractor," he says. "You don't have to worry about making the turn.
"It also makes a tighter turn than if you do it manually," he adds. "When you do it yourself on a tractor with autosteer, once you head the tractor back into the next pass, sometimes it takes a few seconds for it to find it and line up back on the A-B line. With this new hands-free turning feature, it's just one seamless turn."
There is a GPS receiver on both the tractor and the planter on the corn planter Boyer pulls. "You don't have to mount a GPS receiver on the planter to use the NextSwath feature," he says. "But it allows the planter to line up more precisely on the A-B line instead of the tractor."
Boyer will discuss this new technology at the Davis-Purdue field day on Aug. 31. The ag center, near Farmland, is celebrating 100 years of ownership by Purdue.
Other systems also allow hands-free turning. For example, Case IH's AccuTurn technology was featured in Indiana Prairie Farmer's Hi-Tech Farming column.
Subscribe to receive top agriculture news
Be informed daily with these free e-newsletters
You May Also Like
---