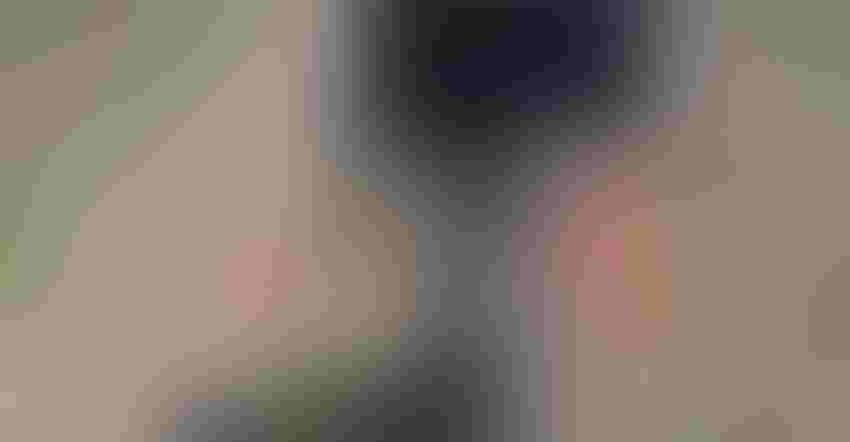 TRADITIONAL STAND COUNTING: This method for taking stand counts still works, it's just time consuming. Companies are rolling out technology that can make stand counts from the air and aid in decision-making.
Tom J. Bechman
Many farmers fretted when the historic late-spring freeze occurred on May 9. In many cases, it turned out the crop wasn't damaged. However, in some cases, plants were large enough that real damage occurred. Or perhaps the long stretch of cold, wet soils preceding the freeze that slowed germination worried you. Did enough plants emerge to justify leaving the stand?
For cornfields, the recommended scouting measure to date, noted by the Purdue University Extension Corn & Soybean Field Guide, is marking off 1/1,000 of an acre in several random spots. Dave Nanda, director of agronomy for Seed Genetics Direct, likes to count plants on both sides of his 17-foot, 5 inch-measuring tape, for 30-inch rows, and then average the two to get one average plant population. Then he repeats this elsewhere.
For soybeans, the Purdue guide suggests using a hula hoop, rolling it at several locations, and then using a table in the guide or a "fudge factor," based on the diameter of the hoop, to determine stand count.
The problem in both corn and soybeans is that you're limited to checking 10 to 12 locations. What if the whole field isn't like the spots you check?
New stand count solution
Sony Agriculture, a new player in the ag field, believes there's a better way. The company has introduced software that can make stand counts based on aerial images obtained through drone flights, and deliver accurate information within minutes right in the field. And here's the revolutionary part: You can get stand count information across an entire field, not just in a few spots you select at random. Couple this with agronomy decision models already available, and you can make replant decisions based on existing stand and including potential replant costs for zones and sections within a field.
Spokespeople note that Sony's advanced artificial intelligence software can get thousands of stand counts from a 100-acre cornfield based on images snapped by the camera during flight. By aligning this stand count information by zone, you can get a clearer picture of what stand counts are across an entire field.
Coupled with existing decision tools, including Syngenta's replant calculator tool, you can make decisions on areas or sections within a field. For example, suppose all but 10 acres of a 100-acre field meet your goal of 90% of intended stand establishment. One 10-acre section, based on aerial information collected using Sony's latest technology, indicates 87% stand establishment. The economics applied in the Syngenta calculator indicate you can live with that population. You could arrive at the same decision using information in the Purdue guide.
However, what if in that 10-acre section, establishment is only 78% of your goal? Both the decision tool and your own numbers indicate replanting should pay. So, you can replant that 10 acres and leave the rest of the field alone.
Spokespeople say this technology is available now. It's rather pricey for one grower to purchase. The standard version of Sony's Fast Field Analyzer Software is $999 per year. The business version, which works with the stand count option, is $1,999 per year. Sony also offers an MSZ-2100G multispectral camera for drones, priced at $3,500.
However, you can get a 15-day free trial of the software to check out potential advantages in advance. Learn more at pro.sony/agriculture.
Subscribe to receive top agriculture news
Be informed daily with these free e-newsletters
You May Also Like
---