Mechanized strawberry transplanter helps reduce labor conundrum
Mechanized strawberry transplanter helps reduce labor conundrum
Francisco Bautista of Betteravia Farms in Santa Maria, Calif. says with the mechanized strawberry transplanter, "We've reduced our planting costs by $600-$1,200 per acre...We also deliver a fresher product to customers while realizing a $1,200 per-acre profit by keeping our workers harvesting."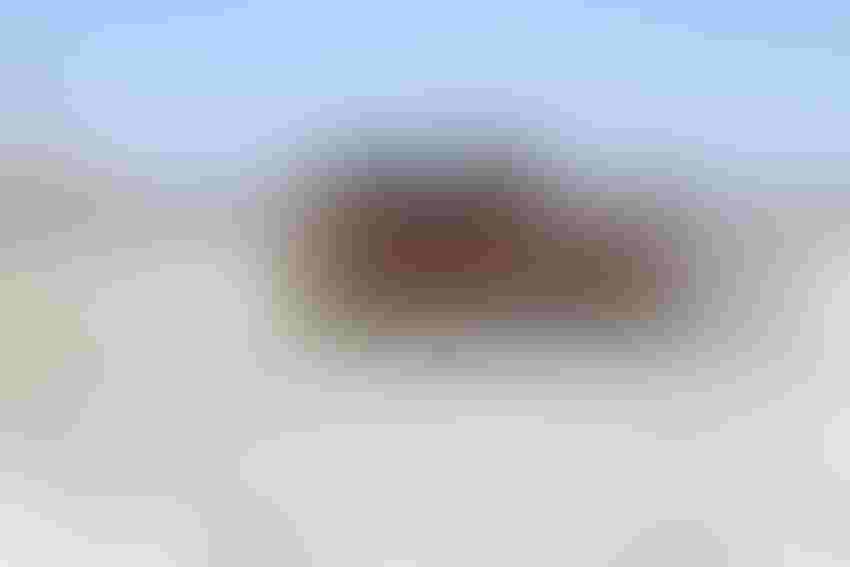 <p><strong>The mechanized strawberry transplanter requires 16 people to plant ten acres a day. In comparison, 100 workers are required to plant strawberry plugs by hand per acre per day. In photo, the plugs are planted through holes made in the white plastic, designed to reduce weed growth.</strong></p>
Innovative agricultural technologies have propelled many U.S. farming operations into the 21st century through advanced control and assessment tools, plus processes and products to increase yields, fight pests, and speed up the crop production process from planting to harvest.
Despite the many wiz-bang computer-based gizmos showcased on trade show floors across the country, California strawberries – the Golden State's third largest crop - still requires hand labor at harvest.
"Santa Maria, Calif. has an urban population around 150,000, yet when it's time to pick our strawberries 4,500 laborers are needed to work within Driscoll's network," explains Randy Sharer, who along with his brother, manage Sharer Brothers Farms, a 300-acre strawberry, raspberry, and vegetable operation.
According to the California Strawberry Commission's annual strawberry acreage survey, California has 36,000-plus acres of the infamous red berry this year. Strawberries account for more than 47 percent of all annual berry dollar sales, the largest in the berry segment, followed by blueberries and raspberries, respectively.
The bulk of California strawberries are harvested from two planting cycles. When fall-planted strawberries are plump and ready for harvest in spring and summer, this conflicts with the summer planting cycle for the fall harvest. This reoccurring scenario has created a decade-long labor conundrum.
Since most strawberry growers pay hand labor harvesters on a "piece rate" scale which equates to $25-$30 per hour, it's understandable why any worker would balk at being taken from harvest chores to planting the next cycle's crop at $10 per hour.
Sharer explains, "We physically don't have enough labor to pull crews away from fields picking fruit for the fresh market before it gets too ripe. If this occurs, fruit can be sent to the less profitable juice market."
Western Farm Press Daily – free agricultural news delivered to your Inbox.
Hand transplanting strawberries is an arduous task. Ten laborers work a ten-hour day to plant one acre by hand.
Due to increasing state regulatory and production costs, the return-on-investment (ROI) for growers continues to erode, yet new technology may help slow this trend.
Mother of invention
In this case, necessity was truly the mother of invention as the old saying goes, and a mechanized transplanter was born.
Chris Waldron, sales manager at Plantel Nurseries, Inc., and Chris Jenkins, production specialist at Driscoll's, met with local equipment manufacturers in 2014 but few shared interest or had equipment suitable for the job.
A year later, Matt Phillips, territory manager at Solex Corp, met with Waldron and Jenkins. Solex Corp has been importing and distributing farming, landscaping, and light construction equipment across the West for 50 years and works with the Italian transplanter manufacturer Checchi & Magli.
"We selected one of the Checchi & Magli models due to its durability and quality, and we thought it could be more easily retrofitted to accommodate our strawberry bed row height and spacing requirements," Phillips said.
The equipment was shipped to Plantel Nurseries for a trial run on a 100-foot shaped bed.
"Based on the trial results, we agreed the equipment could be further modified to work on a larger scale," Phillips said.
Driscoll's need was for a final machine which would have the speed and capacity to plant 10 acres of strawberries per day. Knowing each strawberry bed has four plant lines, Plantel Nurseries' design would need to plant three 64-inch beds per pass.
A frame large enough to mount all 12 transplanters was machined by Plantel Nurseries, replete with a walkway, seating, lighting, plus an awning to shade the 12 workers placing the plugs in rotating cups on the transplanter.
A racking system was designed and attached to the tractor and transplanter to hold enough plugs to plant one-fifth of an acre. Plugs must be re-stocked when the on-board inventory runs low.
Some strawberry beds on Santa Maria-area farms are formed on hills so gravity forced the entire unit downhill during the first full-scale trial.
"We had to design and attach guide wheels to keep the transplanter aligned on top of the beds," Phillips said. "The guide wheels worked like a champ and kept the unit in proper position to the bed tops and plant lines."
From start to finish, Plantel Nurseries spent six months designing, fabricating, testing, and modifying the final machine.
Labor, cost savings
Francisco Bautista, strawberry manager at Betteravia Farms in Santa Maria, oversees 120 acres of production and understands the financial savings from mechanized planting.
"We've reduced our planting costs by $600-$1,200 per acre," says Bautista. "We also deliver a fresher product to customers while realizing a $1,200 per-acre profit by keeping our workers harvesting."
As farms across California struggle to maintain sufficient labor, the mechanized transplanter brings another plus to strawberry operations – no experience necessary.
"When we plant by hand, we need workers who understand how deep to plant the roots, how much soil to cover the plug with, and other nuances which experience bring," adds Bautista.
"The training curve is very short with the mechanized transplanter."
One of the largest berry producers in the world, Reiter Affiliated Companies, used H2A program labor this year for planting, and incurred straight labor and commission costs of around $900 an acre and a fixed cost of $1,000 an acre. Reiter's Peter Navarra understands the value of this new mechanized strawberry transplanter.
"Any time we can gain efficiency through mechanization then we can reduce labor or re-assign labor from one part of our operation to another. This realizes a savings that benefits the operation as a whole," Navarra explains. "It's a single part of our business profile that helps keep our entire enterprise profitable." 
Subscribe to receive top agriculture news
Be informed daily with these free e-newsletters
You May Also Like
---