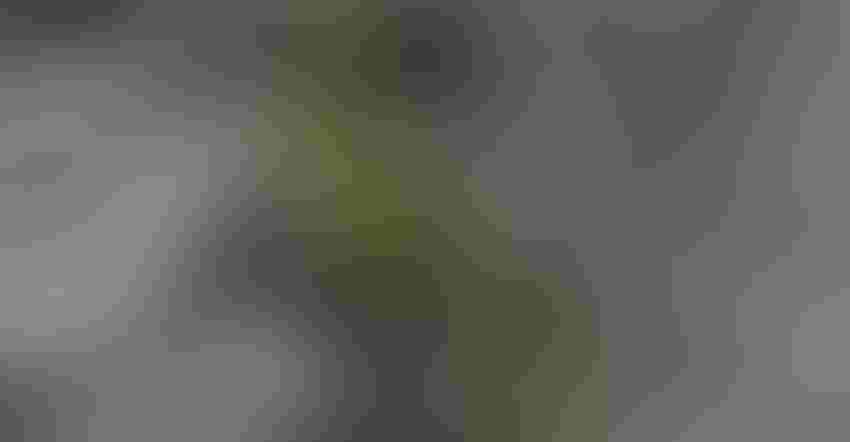 MEASURING LOSS: Farm data can be used in a variety of ways. For Farmers Edge, a new series of partnerships is making it easier for customers to work with their crop insurance agent.
Willie Vogt
For Wade Barnes, the value of data is paramount. The CEO of Farmers Edge has long been focused on gathering information from the farm and working on ways to put that data to work.
Over the past few years, the Canada-based firm has built a network of systems designed to capture information farmers can use for a variety of management decisions. One area of innovation is in crop insurance.
Barnes recalls a major weather event in 2012. While there was severe drought in the United States that year, Canada had significant wet weather. "The federal government put together an emergency package for three prairie province crop insurance companies," he says. "The Manitoba government came to us to work with them and wanted to use Farmers Edge as a tool if there was a dispute with a grower on a claim — and do it through satellite imagery."
This was before the days of Planet daily satellite images, yet satellite imagery has long been available. Barnes says an interesting thing happened in that time. The claims determined by Farmers Edge were usually lower than those by adjusters in the field, yet farmers were not unhappy with that result. Turns out, farmers were more comfortable when they knew those eye-in-the-sky images were used to determine weather impact, rather than an adjuster's field-view estimate.
That was a lesson Barnes took to heart. Later, when he linked up with reinsurer PartnerRe to create new insurance markets around the world, another idea came to light. "When we went to digital in 2014, with weather stations and better satellite information, we found that this information helps farmers make decisions around risk," Barnes says. "'Should I spray fungicide?' We were answering those questions."
Also, the U.S. crop insurance industry is often looking for innovations. The PartnerRe deal in 2018 opened Barnes' eyes to the potential of mating those farm-generated data with the industry to help with claims — and perhaps innovate in new ways. In the United States, however, crop insurance is regulated by USDA's Risk Management Agency. This means new insurance products can be created but once one company has something, all companies offer the product. Different companies look at other innovations to get a leg up in the market.
For Barnes and Farmers Edge, the opportunity was to use the collected data to provide information for the claims process that agencies could use with crop insurance products: information that could be more easily shared, for faster and more accurate processing. "We're partnering with crop insurance agencies," Barnes says.
Information for claims
When disaster strikes, and a farmer needs to file a claim, the process involves filing paperwork — including key information about that year's crop. For a Farmers Edge customer, that information already exists, since it's been collected through the growing season. "We know the exact temperature of the field the day the crop was planted. We can know if there was a heat event during silking," Barnes says. "With this data set, we can change how insurance is done. The winner at the end of the day is the farmer."
In the past few months, Farmers Edge has announced several partnerships with crop insurance agencies to allow customers to provide data for claims. The idea is to use the vertically integrated Farmers Edge's farm risk management platform to allow farmers to share information with the insurance agency, to automate acreage reporting and claim filings. The system includes two products — Smart Claim and Smart Reporting — designed to help the process.
Barnes notes one key is that Farmers Edge is gathering information throughout the growing season, from in-field planting, spraying and harvest data using its CANBUS plug to satellite imagery and weather station information.
"We're excited to create new tailored services for our growers and provide a faster, more efficient way to work together that saves them a lot of time and reduces the headaches of keeping paper-based records," says Jim Stinson, general sales manager of American Crop Insurance, an Alliance, Ohio-based company that recently partnered with Farmers Edge. "The digital revolution in ag is in full force; paving the way for our growers to realize the benefits of connected farming is one of our top business priorities."
Adds Dean Gibson, president, Gibson Insurance Group, Tipton, Mo.: "As a grower myself, this technology impressed me — being able to identify the extent of crop damage without stepping foot in the field is a game-changing shift in risk management, both internally and on our customers' farms."
Barnes says adjusters work hard to put together claims, but figuring field damage can be a challenge. "They can stand on the side of a road by a 200-acre field and estimate 35% damage. The alternative is to go out to the field with a [measuring] wheel and measure all 327 potholes in the field," he says. "Suddenly, there is a source of data that provides an exact number. That's the grower's concern, that they're getting a claim based on real data."
As farmers gather more information, data-sharing programs involving third parties like insurance companies offer new opportunities. For Farmers Edge, data for the insurance industry are a new opportunity. Learn more at farmersedge.ca.
Subscribe to receive top agriculture news
Be informed daily with these free e-newsletters
You May Also Like
---