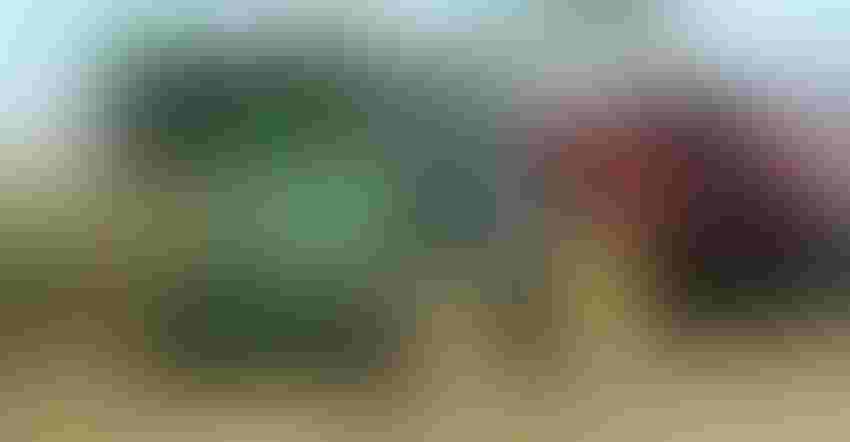 DRIVERLESS APPROACH: This is a familiar image from the 2019 Farm Progress Show where the Smart Ag system drives a tractor with a grain cart to help automate harvest. More robot tools are coming.
Holly Spangler
Driverless tractors roam a field in Iowa planting the 2020 crop. Farmers flock to Arizona, pre COVID-19 to see a robot at work. Researchers continue their search for the perfect driverless technology.
I've been watching the development of autonomous tractors and equipment for some time. Even had some experience back in the early 1990s (you read that right) looking at autonomous mower conditioners with Carnegie Mellon University.
We've come a long way, and it looks like the autonomous future is at hand. We're excited to have a demonstration of some new technology at the Farm Progress Show (Sept. 1-3, Boone, Iowa) and Husker Harvest Days (Sept. 15-17, Grand Island, Neb.). And while that's a shameless plug for our two shows, the idea of an Autonomy Showcase on tap for farmers to see these new tools in action is exciting.
The Smart Ag system that runs a tractor to work with a combine and automate that grain cart gets plenty of attention and is just one of the new tools you'll see at the two shows. Another piece of that presentation is the DOT system, which is a cartridge-like robot tractor (full size) that uses specialized implements that do a range of work. Development continues on more tools that can be deployed with the system.
During my trip to Agritechnica in 2019, I got a look at more than a dozen types of autonomous tools. Many are cultivators, which in a market trying to end the use of glyphosate, there is some interest. I know farm labor shortages also weigh in on this situation, and that's because lack of reliable farm labor has driven innovation throughout agriculture.
But are you ready for your robot future? Here are some considerations I've been pondering as we march forward.
Farm safety matters
The number one issue with autonomy is safety. The new systems being applied in this industry from advanced proximity sensors using lasers and radar combined with GPS and other systems make sure that autonomous system knows where it is. But it also must know what's around.
In the early days of autonomy development, vision systems were being deployed to help make sure the machine sees an obstacle and stops or goes around. That's what's driving the developers now, but even with the best safety systems, if you deploy autonomy on the farm, keep safety in mind and perhaps don't assume that the machine always "sees" you.
Tending and management
Just how you deploy autonomy will be different on every operation. If it's an autonomous tractor pulling a planter (perhaps in combo with another driver-run tractor in the same field) consider how you keep it running. It's doubtful right now that there will be autonomous tenders refilling planters or sprayers (at least early on).
I had a conversation with one innovator who when asked about tending a robot planter had an interesting response. His thought was that you tend it during the day, but perhaps that machine is filled one last time and plants until done overnight. At least you would cover those added acres. The same would be true for tillage or cultivation with fuel perhaps the only tending issue.
Farmers will find ways to manage those systems, and understanding all those aspects will help you maximize the investment.
Tracking machines
One area you'll probably have to engage fully is machine telemetry. That way you can look, on a single screen, to see where all your equipment is and what it's doing. While more farmers are engaging this tool every year, if you automate the machine, having that information at your fingertips no matter where you are will matter. But if you engage telemetry, chances are you'll want it on all equipment, not just the autonomous machines. You might even want it added to semis and other service vehicles for the farm.
Autonomy is going to make a significant difference in agriculture, and perhaps sooner rather than later. Thinking through the process opportunities for your farm can help maximize your return on investment.
About the Author(s)
Subscribe to receive top agriculture news
Be informed daily with these free e-newsletters
You May Also Like
---