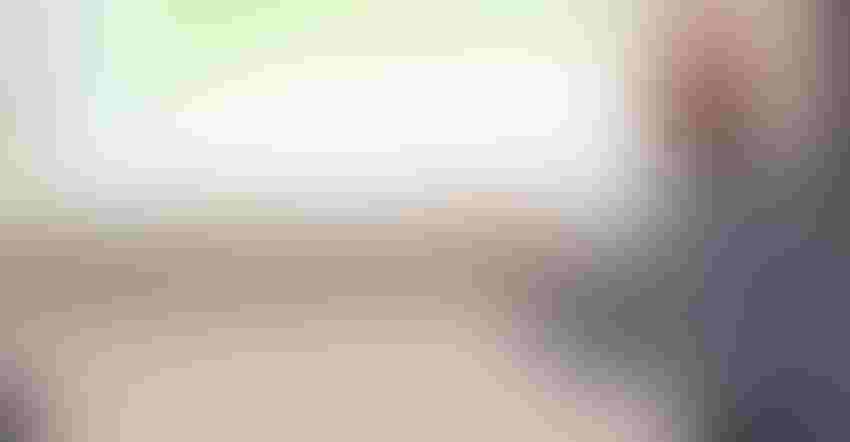 Ross Hodges,AquaSpy, explains the value of moisture probes during a presentation at the recent TPPA conference
Evaluating crop progress from the top comes naturally to most farmers, but what's going on below the soil surface could be more important.
"Look underground," advises Ross Hodges, AquaSpy, Amarillo, Texas.
Hodges, speaking at the recent Texas Plant Protection Association's 30th annual conference in Bryan, Texas, said moisture probes provide data farmers can use to manage crops in-season. "It works in any cropping system," he says, even dryland, "as crazy as that sounds."
Probes make a difference, he adds. "Unless you take a shovel out there, nobody goes underground very often, but this allows you to take an extra look at your soil."
The system includes soil moisture probes at every 4-inch layer, down to 48 inches, and measures water holding capacity and electroconductivity.
Hodges says farmers who use moisture probes and follow the data, may improve yields by 10 to 20 percent. "Soil moisture monitoring can make producers money and do it in a sustainable manner." He says with just a 1.6 percent yield bump on 200-bushel irrigated corn, the extra 3 bushels would pay for the system.
Access to internet
Access to the internet is essential to retrieve and use data from the probes.
The probes show how deep moisture goes into the soil, Hodges explains. "We can get dry on top but still have moisture underneath. Probes show where moisture is in the profile. Water use efficiency plays a role. We can keep moisture levels in balance."
He says moisture monitoring systems are adaptable across the country, so even though his work occurs in the arid Southwest, the process applies across all types of soils and climates.
"It's root zone management," he says. "We identify the depth of the roots. If we know where the roots are, we know where we have access to moisture. Deeper roots mean more access to moisture at key times in the growing season."
Hodges explains that the shallow sensors, at the 4-inch level, may show soil to be either moist or dry. Deeper sensors may show something entirely different, where moisture has infiltrated from the last rainfall or irrigation. "It just lets you know where you're sitting."
That data, he adds, show producers if they are on balance with irrigation, adding too much or under-irrigating. "At times, the crop may be taking more moisture out than you are putting back," he says. In that situation, he suggests slowing the pivot down. "It's like going into the bank and making a $100 withdrawal and putting $5 back. You're going to go backwards fast. Put out more water per pass," he says, to catch up.
When to cut water off
The probes also indicate when to cut the water off. The system follows the soil moisture levels as well as the crop growth stage. "We can see the moisture level and the crop maturity stage with the monitor. Producers can do more with what they were already putting out," he adds, by knowing where the moisture is and what the crop needs at any time during the season.
Hodges used slides to show the color-codes that would appear on a computer screen, tablet or smart phone as a producer collects and evaluates data from the probes.
He says dryland producers also use the probes to manage risk. "Knowing what the soil moisture profile is at planting time may alter decisions," he says.
Producers may decide to alter seeding rates or rotate to another crop that's more adaptable to the moisture regime.
"You can also use the probes to watch fertilizer movements in the soil,' Hodges says. "Knowing if your nitrogen has been pushed and placed outside the active root zone is critical to making high yields."
He says water is the "No.1 limiting factor in determining yield and quality. Knowing what is happening underground can benefit you," he says.
He notes that the Natural Resource Conservation Service may have programs to offset some of the cost of installing moisture monitors.
Subscribe to receive top agriculture news
Be informed daily with these free e-newsletters
You May Also Like
---