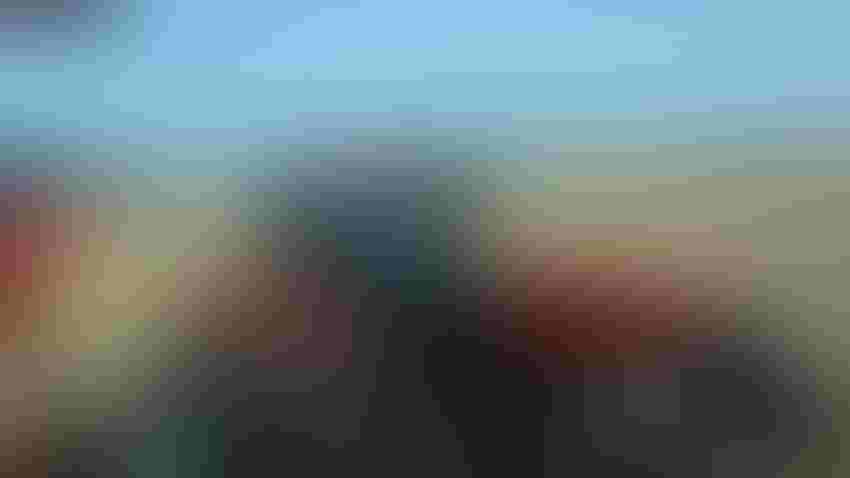 COMBINE OPERATOR RULES: If this tractor driver looks relaxed while visiting with the rider, it's because he is. The combine operator has full control of the tractor thanks to Raven's automated grain cart technology.
Tom J. Bechman
For the past three years, when asked about anything new in their lineup, many exhibitors at fall farm shows shook their heads. "We're just trying to get enough supplies to make products we already offer," was the common response. In 2022, that response become, "We should have something next year."
Next year came with the 2023 Farm Progress Show and Husker Harvest Days. Companies that said "wait until next year" delivered. Farm Progress editors found over 300 new items at the shows, and many are truly innovative.
The Farm Progress Show in Illinois lived up to its name, showcasing progress in developing new ideas into tangible products. Husker Harvest Days in Nebraska was a harvest of new products, especially for irrigators and livestock producers.
Some new products — such as electric tractors, automated grain cart technology, and a one-of-a-kind machine that is part tractor, part combine and part sprayer — could revolutionize agriculture. How many technologies will have staying power and become part of the industry in the next decade?
You and farmers like you will ultimately answer that question. You will figure out which ones fit your farming operations and either improve efficiency or add to the bottom line.
Exciting technologies
Here's a closer look at technologies exhibited at fall farm shows that may become mainstays in agriculture:
Automated grain cart tech. For an investment of $5,000 in your tractor cab and $5,000 in the combine cab, assuming you already have GPS, take control of the grain cart tractor from your combine seat next fall and don't worry about telling the driver to speed up, slow down, or move left or right. With Raven's new automated technology, the combine operator can control not only the combine, but also the tractor pulling the grain cart. Raven is accepting orders.
Electric tractors. Fellow Farm Progress editor Holly Spangler was enthralled by one feature of the Case IH and New Holland electric tractors in the 75-hp range. Called "Follow Me" technology, the driver can open a gate and the tractor will drive through. That means you get off the tractor once instead of twice. It seems simple, but if you're the one getting on and off, it's a big deal!
Autonomous electric tractor. Monarch displayed its electric, autonomous tractor. This isn't pie-in-the-sky technology. You can buy the MK-V Tractor now. Farm Progress editor Betty Haynes was so impressed, she pronounced the machine one of her two favorite products. It may look a bit different than other tractors, but it can also do things most other tractors can't do, including operate on its own.
All-in-one machine. Without question, the busiest lot all day long at the Farm Progress Show was where the Nexat machine was located. Farmers viewed it, kicked the tires and asked questions. How many would consider owning one someday? That remains to be answered. With drive wheels set 45 feet apart and the operator in a cab that moves and rotates position, this machine is designed to do all operations needed for an entire growing season, all on controlled traffic paths to minimize soil compaction. State-of-the-art planter, combine, sprayer and tillage equipment all easily attach and detach to the machine. Expect the price tag to be hefty, but the Nexat is an innovative concept with merit.
Subscribe to receive top agriculture news
Be informed daily with these free e-newsletters
You May Also Like
---