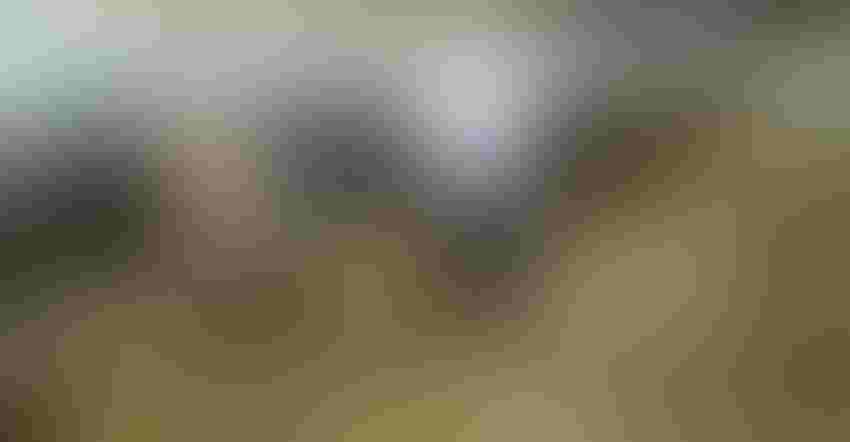 MORE TIME FOR COWS: Dan Diederich of Hobart, Wis., says thanks to DeLaval robotic milkers, he can focus more on caring for his dairy herd than managing labor.
DeLaval recently unveiled the all-new Voluntary Milking System V300 to dairy producers and industry representatives at the company's robotic milking conference in Madison, Wis.
According to Joakim Rosengren, DeLaval president and CEO, 2.5 million dairy cows are milked globally with robotic milking units.
"The VMS V300 helps farmers by making them less reliant on future labor market uncertainties and keeping them at the forefront of animal welfare and food safety," he says. "This redesigned milking system contributes to the profitability of dairy farming not only today, but also for generations to come.
"As a market leader, we have both an obligation and an opportunity to contribute to better milking practices in all parts of the world, directly aiming at helping farmers with their daily challenges. The design of the new VMS V300 system has farmers and their challenges at its core, allowing farmers to do more with less. We are indeed very satisfied with the fantastic result achieved."
Sold on robotic milkers
Dan Diederich of Hobart, Wis., is pleased with the eight DeLaval robotic milking systems he uses on his family farm.
Ten years ago, Diederich and his father, Raymond, were looking for a better way to milk their cows. In 2009, they expanded their herd to 280 cows. In 2011, they put in four DeLaval robotic milking systems. Last year, they expanded to 540 cows and added four more DeLaval robotic milkers.
Diederich, 35, says it's a better way to farm. "The technology is cool," he says. "It provides me with a lot of data to manage my herd. It also keeps me from having to deal with a lot of headaches from managing employees."
Before they started milking with robots, Diederich says he spent a lot of time dealing with the challenges of managing labor.
"Often I would work all day, and then an employee wouldn't show up to milk, and I'd have to take their shift and work another six hours," he says.
Today, Diederich manages the 540-cow herd with his brother Matthew, 40, who is an employee, and two additional employees. The Diederichs farm just under 1,000 acres in Brown and Outagamie counties.
"Dad helps with cropping and accounting," says Diederich, the fourth generation of his family to farm on the family farm. "We've been here for more than 100 years."
Diederich graduated from University of Wisconsin-Madison with a bachelor's degree in dairy science in 2004.
"I wasn't sure I wanted to dairy until my dad started talking about milking with robots," he explains. "That got me excited about farming."
Diederich says robotic milkers make sense on their farm.
"Milking is a repetitive task. In every other industry, we mechanize a repetitive task. This removes the repetitive task," he says. "Milking is a tough job to do six, seven, eight hours straight."
In addition to the robotic milkers, the Diederichs have an automatic feed pusher.
"Most of our time is spent feeding the cows and heifers, looking for sick animals, and dealing with transitioning cows," he says. "Robots allow us to spend most of our time dealing with the day-to-day care of our herd instead of milking."
Diederich says 40% of their herd are Jerseys, 25% are Holsteins and 35% are crossbreds. Their herd averages 68 pounds of milk per cow per day with a 4.3% butterfat test and 3.3% protein.
"We feel robots are a good fit for our operation," he says. "They allow us to focus on the things that we think are important."
Latest technology
According to Theiry Perrotin, DeLaval vice president of market development, the VMS V300 has a 10% higher capacity, up to 50% faster attachment time, up to 99.8% attachment rate, up to 99% teat spray hit rate, real quarter milking, and lower running cost than earlier systems. It also handles up to 7,500 pounds of milk per day.
"It will truly redefine the food efficiency and animal welfare challenges on farms," Perrotin says.
The system allows customers to prespray and postspray two different products, he adds.
"The VMS V300 system comes with DeLaval InControl, the new user interface allowing access to information and control of the system remotely," Perrotin explains. "DeLaval PureFlow, the new transparent teat-preparation cup, is another new feature. Lastly, DeLaval InSight, the latest in vision technology, ensures a smooth, fast and accurate attachment."
The VMS V300 provides brand-new software for smartphones. Customers can share information with their staff. The system includes:
• optional touch screen
• camera ready
• easy to clean and maintain
• better stimulation
• transparent teat cup
• new teat-preparation cup
• improved cleaning and stimulation efficiency

NEW TECHNOLOGY: The DeLaval VMS V300 comes with DeLaval InControl, the new user interface that allows access to information and control of the system remotely.
"Many customers are adding a new robot every few years. The old robots continue to work well. So, the DV300 helps not only new customers, but old customers, too," Perrotin says.
He adds the parts on the V300 are durable and can withstand sand bedding.
A farmer can control several robots with one smartphone. "It allows you to monitor the whole herd from wherever you are," Perrotin says. "The technology is remarkable. We're very excited about this."
Perrotin says dealers can take orders for V300s now. Deliveries will begin in late 2018 or early 2019.
Subscribe to receive top agriculture news
Be informed daily with these free e-newsletters
You May Also Like
---