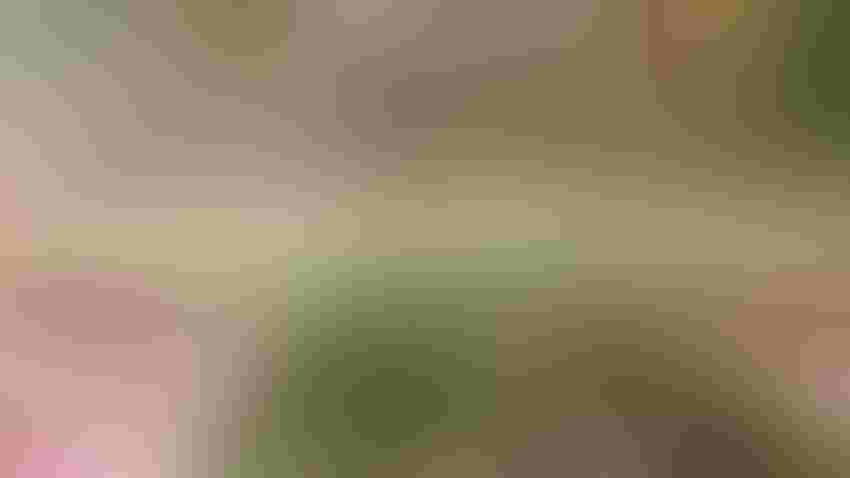 TAR SPOT: If this fungus that attacks corn leaves isn't in your area yet, be thankful. This disease got its name because early symptoms resemble tar spots.
Purdue Extension Plant Pathology
New ways to counter tar spot were hiding in plain sight. Upon closer examination of the spots that develop when tar spot begins, USDA Agricultural Research Service scientists at the National Center for Agricultural Utilization Research in Peoria, Ill., discovered that other fungi and bacteria were present and working against the fungus. These microbes appeared to parasitize the fungus and prevented some stromata, the tough structures that form in the black spots, from germinating.
In fact, it appears several different species of fungi and bacteria grow and reproduce themselves in stromata of the tar spot fungus. Some produce a whitish fuzz visible under a microscope.
As it turns out, some of these microbes are used as biocontrol agents in other crops. In testing, spores of Gliocladium catenulatum prevented 88% of tar spot stromata from germinating. It's already sold as a biocontrol agent.
More work remains to be done to see if practical applications come from this discovery. The full report on tar spot's natural rivals was published in the journal Microorganisms in June.
Biological soy seed treatment
Look for a new name in soybean seed treatments coming from Helena Agri-Enterprises for 2024. Enertia will be marketed as an enzyme-based, biological soybean seed treatment designed to enhance soil health and improve nutrient availability as roots develop. Spokespersons say this unique seed treatment uses patented enzyme technology to increase microbial activity in the root zone and improve nutrient cycling in the soil.
Mike Powell of the Helena Products Group says that in addition to Enertia being unique, Helena's VersaShield Formulation Technology provides it with an extra advantage compared to many other biological seed treatments. This exclusive technology stabilizes the enzymes in Enertia, enabling this product to mix well with insecticides, fungicides and other common inputs. Visit helenaagri.com.
New combine parts line
CNH Reman, a division of CNH Industrial, typically provides remanufactured parts for Case IH and New Holland equipment. After success with offering transition cones by Ihle Fabrications, CNH Reman elected to launch a new line of extended-wear parts to protect and extend the life of Case IH and New Holland combines.
Spokespersons note that these new, enhanced wear parts have longer life than standard original equipment manufacturer parts. Metals used to make them are more robust. Parts with the highest wear history are made with Hardox 450 high-grade steel, lasting up to 2.5 times longer than regular steel. Some parts are made with Strenx 110, another thicker, trademarked steel with improved durability. Visit mycnhreman.com.
Liner kits for combines
The estimate for replacing a grain tank on a Case IH or New Holland combine is 40 to 60 hours, according to spokespersons with CNH Reman. Replacement liners now offered by CNH Reman can be installed in about eight hours, they estimate.
"The idea is to put a liner in before a hole wears through the original metal to protect the original integrity of the equipment," says Nick Borchers, CNH Reman dealer development manager. The beauty of liners is you can use them to repair part of the combine without having to replace the whole component, he adds.
Subscribe to receive top agriculture news
Be informed daily with these free e-newsletters
You May Also Like
---