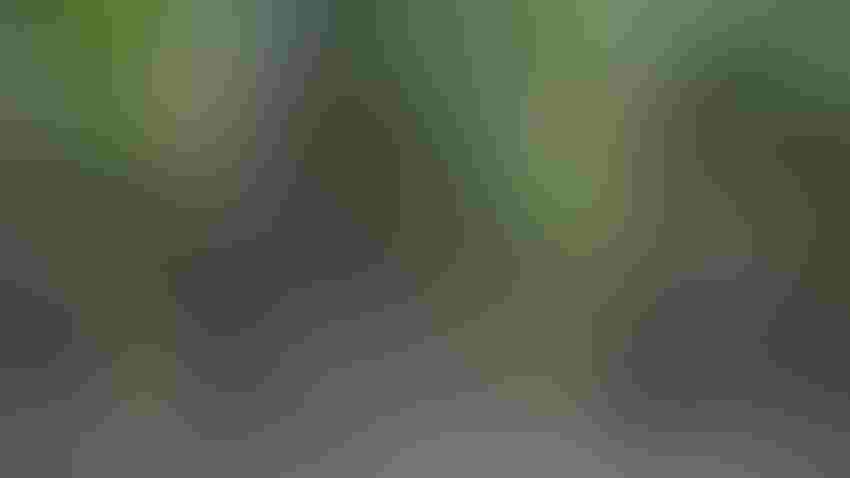 PLENTY OF NITROGEN: Tissue samples indicate this corn contains plenty of nitrogen. What samples don't reveal is where that nitrogen came from — fertilizer or elsewhere?
Tom J. Bechman
Recent studies at the University of Illinois turned up a surprising conclusion. About 67% of the nitrogen corn takes up comes from sources occurring naturally in soil, not from fertilizer. Therefore, tweaking N efficiency by adjusting fertilizer programs may not be as effective as most people think.
In four studies over the past four years, U of I researchers labeled fertilizers with 15-N, a naturally occurring isotope of nitrogen. In all four studies, corn biomass and grain were analyzed for N content, attributing 15-N as fertilizer nitrogen and non-15-N as nitrogen from other sources.
"They're purchasing nitrogen, and it's not all getting into the crop," says Kelsey Griesheim, formerly a U of I graduate student who is now an assistant professor at North Dakota State University.
In Griesheim's 2019 study, only 21% of fertilizer N applied as fall anhydrous ammonia made it into the plant. Using nitrification inhibitors did not increase nitrogen uptake from fertilizer N.
In more recent studies, the researcher applied 15-N liquid nitrogen at planting in subsurface 2-by-3-inch bands, by surface dribble and in drag-chain applications at 80 pounds per acre. Fertilizer N reached 46% of corn biomass with banded placement. With broadcast, it only reached 34%. Banding was more efficient, but whether it was one band or two, 2-by-3 or drag-chain didn't matter much.
Applying in-season using Y-drops or injection below the surface proved more efficient than preseason methods, but more N still came from the soil. Uptake of fertilizer N was greatest when applied in nitrate form.
Spray technology advances
CNH's Raven team and One Smart Spray, the Bosch and BASF joint venture, are working together to integrate One Smart Spray's advanced spraying system into Case IH and New Holland sprayers. The One Smart Spray solution uses multiple cameras mounted on the sprayer boom to provide plant-on-plant and plant-on-soil weed detection and selective spraying capability. Besides taking out weeds, the system documents everything with in-depth maps and tracks input and cost savings.
Meanwhile, John Deere acquired Smart Apply, an Indianapolis startup. That gives Deere access to the Smart Apply Intelligent Spray Control System, an upgrade kit for air-blast sprayers used in orchards and high-value crops. Statistics on using this system vs. a conventional sprayer include 93% less chemical runoff, 87% less airborne drift of particles, 50% less chemical use and 50% less water use. This system uses lidar light detection and ranging technology to achieve its goals.
Plant smoke enhances growth
VGrid Energy Systems of California launches Karrikaid, a liquid plant and soil enhancer containing karrikin molecules. Spokespersons say karrikin molecules derived from plant smoke stimulate plants to regenerate quickly and regrow vigorously. Supposedly, these molecules cause plants to regrow quickly after wildfires.
Karrikaid also contains a blend of organic acids and other compounds, some of which improve bioavailability of iron, zinc and manganese. The new product also contains phenolic compounds, which help plants better withstand stress — from excessive heat and drought stress to insect stress. Visit karrikaid.com.
Color-coded food alerts
An Indiana company, Insignum, is debuting technology that allows plants to indicate a problem through a color-coded system. Meanwhile, researchers at Pusan National University in South Korea have discovered technology that could allow for production of a sensor with the ability to indicate when it is no longer safe to eat food through color changes. As food begins to spoil, it emits what are called biogenic amines, which are harmful to humans.
The researchers developed what's called a portable PDA-based colorimetric sensor that could detect these compounds in foodstuffs during routine monitoring. The sensor can detect changes in solutions or vapors, and produces distinct color changes, like from blue to red. The scientific article was published in the Journal of Food Chemistry.
Subscribe to receive top agriculture news
Be informed daily with these free e-newsletters
You May Also Like
---