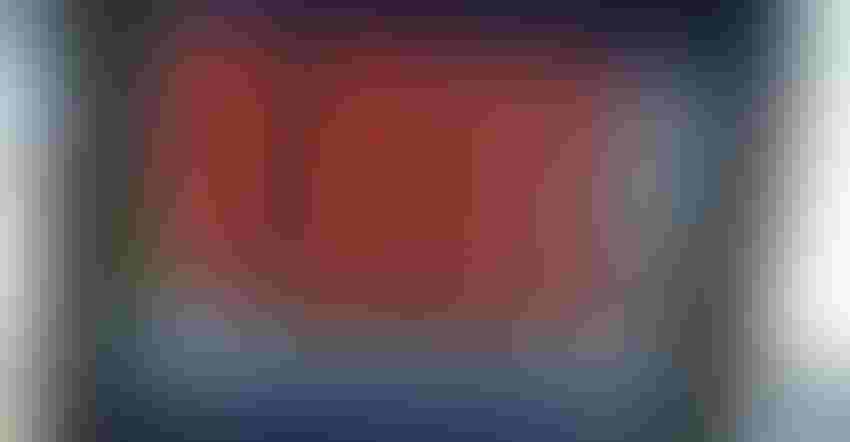 COLLECTING GOOD DATA: To capture accurate data, experts say yield monitors must be calibrated at various flow rates for best results.
Tom J. Bechman
Garbage in, garbage out! John McGuire says it's more than just a funny phrase. It's the truth when it comes to describing data collection in agriculture today.
"We need clean data so that we can have useful information for making farm management decisions," says McGuire, chief innovation officer for Brookside Labs and the Amplify Network of crop consultants. "If you're going to do yield analysis and also analyze return on investment, the data must be accurate, and you must be able to trust it."
One of those consultants, Danny Greene, Greene Crop Consulting, Franklin, Ind., offers a digital-based analysis system to farms called Pay Dirt. It's supported by Premier Crop Systems, where Matt Bower, Columbus, Ohio, is the strategic accounts manager for the eastern U.S. Within Greene Crop Consulting, Bethany Bielecki works with farmers who want to use their data to learn more.
Recently, Bielecki hosted a panel of industry experts, talking about the present and future value of precision technology for agriculture. Panel members included McGuire; Travis Kohrman with Xperience Ag Inc., Greensburg, Ind.; Scott Rudicel, northern territory technology specialist for Bane-Welker Case IH; Justin Butler, precision farming specialist with Bane-Welker; and Stacey Stewart, also with Bane-Welker.
Panel discussion
Here is a portion of that panel discussion, with Bielecki asking questions:
What is the most important piece to precision farming over the next five years?
Stewart: You are — the farmer. You guys put in the data that we work with, and it must be correct. We can use yield data and other types of data to improve the way you do things by making better decisions, but it starts with you guys putting in good data and making sure the data is correct.
McGuire: We need consistency in data for it to be valuable. It needs to be collected the same way every time. We rely on farmers for that consistency.
I hear farmers say they have 10 years of data in a drawer. How can they make it useful?
Rudicel: Farmers need to partner with their ag equipment people and consultants to make sure they utilize this data. A few might want to process their own data, but there are many programs, and most would rather have someone who works with it all the time help them. That's where we come in. A partner approach can really help.
Butler: Even if you have different colors of machines with different monitors, you can still utilize data that you have collected. More efforts are underway to make those who work with data colorblind. In our case, My Case IH is our system that allows you to work with data.
How important is good data?
Kohrman: There is a lot of garbage in data that is often collected. For yield monitors, it starts with calibrating them at different flow rates within the machine. You will hear someone say, "Yes, my yield monitor is off 5%, but I just keep that in mind — it's all relative from one field to the next."
The reality is, that is not true! If it's off 5% in one case, it may be off a whole lot more in other situations where the flow of grain through the sensor is different. You need to calibrate correctly. Clean data is important. If you calibrate a yield monitor correctly, you can get within 1% to 1.5% accuracy under all conditions.
Stewart: You will likely need to calibrate more than once during the season. As conditions change from the first of the season to the end of the season, you need to recalibrate the yield monitor.
Butler: Sometimes yield monitors get blamed for what is really crop loss out the machine. Conditions can change from running during the day to running at night. If yields drop off 10 bushels per acre at night, don't just assume the yield monitor is off. You probably need to readjust the combine because now more crop is going out the back.
What other kinds of things besides not calibrating yield monitors can mess up data?
Stewart: It can be as simple as naming your file consistently every time and using specifics. If you name it "Back 40" one time and "Back forty" the next, that is a problem in the computer world. It needs to be consistent every time, whether you're recording data planting, spraying or setting up a yield monitor file.
We have received files that simply say "corn." Which farm? Which field? Which year? You can eliminate frantic calls from people working with data if you simply remember to be specific and consistent every time.
What are some takeaways you would leave people with to help them profit more from precision ag?
Stewart: Don't be afraid to call and ask a question. There are no dumb questions. We are all here to learn.
Rudicel: Most dealers now recognize the old days of selling someone a guidance tool and waving goodbye are over. You need our support, and we are here to support you. We all learn more when we work together. You should expect that type of support in precision ag from your dealer.
Kohrman: I go back to "garbage in, garbage out." You need to put good information in to be able to have useful information later.
Butler: We're here to help our customers. It's our job, and we get things done working together.
McGuire: Peer-to-peer learning will be a key going forward. If you put in the right information the right way, and have the right people helping you, then you will have the right information you need for making decisions.
Subscribe to receive top agriculture news
Be informed daily with these free e-newsletters
You May Also Like
---