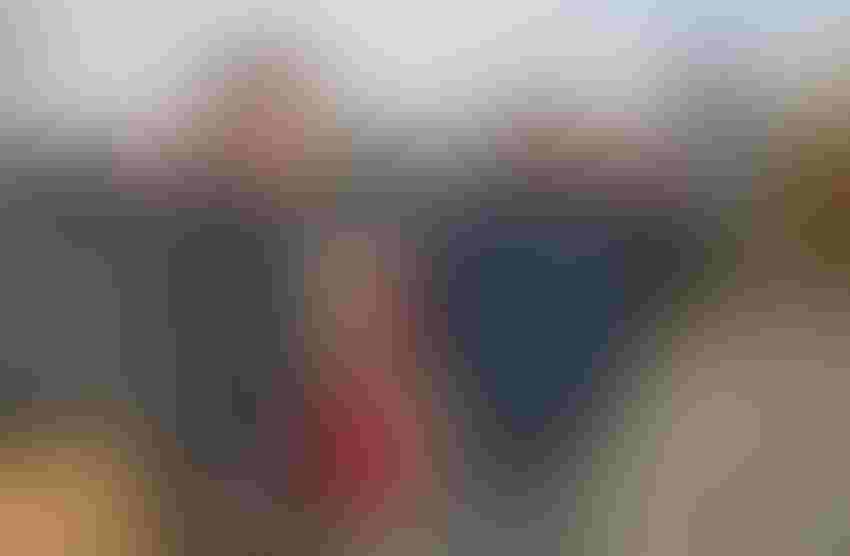 Leroy Maples (right), a sales representative for Valley Power Systems, talks with Colusa Farm Show attendee Tracy Jeffords on Feb. 7. The business attends the farm shows in Colusa and Tulare, Calif., each year.
For officials at Crain Walnut Shelling in Los Molinos, Calif., making a big presence at farm shows is all about remaining visible.
"It's making sure your name is recognized by growers," says Erin Thomas, Crain's grower relations director. "If you have walnuts, we want Crain to be the first one you think of."
Thomas' sentiment was common among vendors at Northern California's Colusa Farm Show Feb. 5-7, many of whom have proceeded to the World Ag Expo in Tulare, Calif., on Feb. 12-14.
For Diamond Foods, which processes walnuts, having a booth attracts interest from prospective new growers but mainly lets current growers "know we're out there supporting what they do," says Ryan Flaherty, the company's grower services manager.
THOUSANDS ATTEND
Thousands of growers, consumers and curious onlookers were expected to flock to the two shows. The 54th annual gathering in Colusa – the self-proclaimed "granddaddy of farm shows" – featured more than 200 vendors.
Having started as a low-key orchard festival, the show has more recently drawn as many as 40,000 people, according to organizers.
"I'm just checking it out," said Tracy Jeffords, a real estate broker from Clearlake, Calif. "They have a big variety of equipment, and technology mixed with the equipment."
Jeffords added he was most impressed with automated machines that use GPS technology to make their way through fields.
"That technology is incredible," he says.
This year's best crowds in Colusa were on Feb. 6, as attendees took advantage of a break in the weather to check out the latest in modern farming equipment and techniques.
A WARM-UP
For some, the Colusa show was merely a warm-up for the 52-year-old World Ag Expo, the world's largest outdoor farm exposition. More than 1,500 exhibitors display their cutting-edge agricultural technology and equipment on 2.6 million square feet of exhibit space at the International Agri-Center.
The event fills hotels throughout the San Joaquin Valley and draws more than 100,000 people, including from across the U.S. and around the world. Free seminars touch on a variety of topics, including water conservation and availability, citrus growers' precautions against the Asian citrus psyllid and issues facing the dairy industry.
Tuesday's opening ceremonies are slated to include American Farm Bureau Federation President Zippy Duvall. Also, National Aeronautics and Space Administration chief Jim Bridenstine will give a media presentation about how technologies developed for space exploration now can help farmers predict crop yields and manage water resources.
WOMEN'S CONFERENCE
New this year is a free, one-day conference for young women interested in a career in agriculture, called Grow by FarmHer. Elsewhere, the Top-10 New Products Competition will feature such innovations as a one-of-a-kind, heavy-duty electric forklift and a wireless irrigation valve control system.
"World Ag Expo continues to provide the best platform for buyers and sellers to meet, greet and grow the ag industry," International Agri-Center chief executive officer Jerry Sinift said in a statement.
"Our theme this year is 'Harvesting Technology,' and there is plenty of time-, money- and resource-saving technology to find at this show," he said. "We're impressed every year with the new innovations our exhibitors bring to World Ag Expo."
AG ADVOCATES
Vendors at the two shows include more than just farm equipment and finance companies. This year's shows also included representatives of a program called My Job Depends on Ag, which aims to educate Californians about the importance of agriculture to the state's economy. The effort started on Facebook in 2016 and quickly grew to an organization with 65,000 members, according to its website.
"We want to just bring awareness so people know where their food comes from," says Victoria Rodriguez, a volunteer who was handing out bumper stickers for donations at the Colusa show. "Ag is very important in California."
Government agencies also set up booths and exhibitions to reach growers. The USDA's Natural Resource Conservation Service hosted an inflatable "Soil Tunnel" at the Colusa show, giving patrons a virtual "underground experience" as they learn about the importance of maintaining healthy soil. The exhibit is normally based in Iowa.
"We were fortunate to get it out here this week," said Wendy Krehbiel, a district conservationist for the agency's Colusa County office. "It gives the general public an idea of how soils are made, why they're important and how they can help sustain them and regenerate them."
GOOD FOR BUSINESS
With eight locations from West Sacramento to San Diego, the City of Industry, Calif.-based Valley Power Systems attends both the Colusa and Tulare shows each year, as well as a couple of construction-related shows, field representative Leroy Maples says.
The business sells diesel and natural-gas engines, and it's an important time to maintain dialogues with customers. New emissions standards have caused some engines to as much as double in cost, Maples says.
"This is one of those shows you need to attend," he said while greeting passers-by in Colusa. "It does give you exposure to your customer base."
The World Ag Expo at 4500 South Laspina St., Tulare, will be held from 9 a.m. to 5 p.m. on Tuesday and Wednesday and 9 a.m. to 4 p.m. Thursday. Entrance is $15 at the gate. Children 6 and under will be admitted free.
Subscribe to receive top agriculture news
Be informed daily with these free e-newsletters
You May Also Like
---