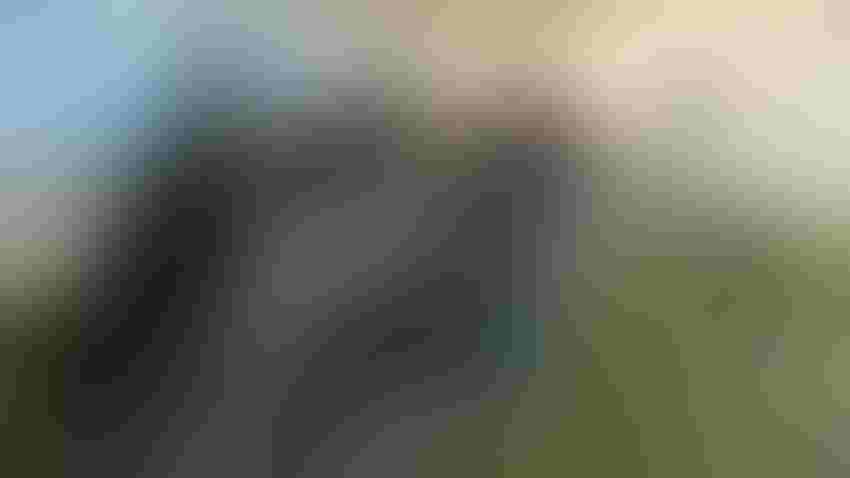 LIFTOFF: Mick Kowitz, founder and CEO of Ryse Aero Tech, explains the versatility that the Recon offers farmers and ranchers at the Farm Progress Show.
Kevin Schulz
Farmers and ranchers looking to elevate their crop scouting or fence tending need to check out the Recon from Ryse Aero Tech.
The Recon takes the chores usually relegated to an all-terrain vehicle to new heights — literally. "What you would normally do with an ATV, now you can do it vertically," says Mick Kowitz, founder and CEO of Ryse Aero Tech, based in Mason, Ohio.
To simplify it, the Recon is basically an ATV that flies. It is an ultralight electric vertical takeoff and landing vehicle, powered by six waterproof, removable 100 VDC (volts of direct current) batteries that each power a propulsion module. Though it allows the operator to take flight, no pilot license is required, and Kowitz says it is easy to operate. The reason no pilot license is required is that the Recon, being an ultralight vehicle, falls under the Federal Aviation Administration's Part 103.
Kowitz says the advantages of the Recon are numerous, adding that the aforementioned crop scouting can be done without causing soil compaction. "Say you have to go check on the irrigation system to repair it, you can get out there faster probably because you're not having to walk fields or park your ATV," he says. "You can fly right to it and land right there. Same thing with fence repair."
Battery power provides approximately 20 minutes of flight time and a maximum of 63 mph, while reaching a maximum altitude of 400 feet above ground level.
Drone spraying
A secondary use of the Recon can be used as a drone under Part 107 under FAA regulations, as well as Part 137, "to be able to spray with it as well," he says.
A 250-pound payload applies to either a 250-pound pilot or 25 to 30 gallons of chemical to spray fields as an unmanned drone with a boom attachment. When used as a drone sprayer, the tank sits in the pilot seat.
Even though there are six individual batteries running six individual motors, they all work together. "If one motor goes out, it doesn't affect the rest," he says. "And the redundancies in this are such that if a battery falls out — not that it's going to, but if it did — these other five batteries would still power this. … If one motor fails, the motor completely fails, you're not falling out of the sky. It is designed to be able to support it and carry it, but it's going to tell you to land now, and it will land you safely."
Kowitz says Recon operators will receive training from Ryse personnel. "I could get you in this and in 15 minutes, you'll be able to fly it. The key is to be able to teach you immediately what to expect. We're talking to you on the phone when you start, so you go up and we're like, 'OK, release the [joy]stick to center and hit the auto takeoff. Keep your hands off the sticks.' And now it's going to settle. On your screen it's going to say 'maneuvering' and that means you're ready to maneuver. Now you can start flying."
Even though Kowitz stresses the safety of the Recon, he strongly suggests pilots wear a helmet.
Kowitz, himself a pilot, wanted to bring aviation to everybody, and his design and engineering team started batting around ideas.
"The trick is, it can't weigh a lot. It's got to be lightweight," he says.
With the mission to bring aviation to everybody, he admits farming wasn't his first thought for application. "I originally thought EMS, I thought first responders would be able to use this," he says.
But then he looked at the agriculture sector, realizing that farmers "are the most-advanced people there are … the first people to use drones, the first people to use autonomous, the first people to use stitch imagery. They are the innovators."
Farmers are also known for their patience, and that needs to apply if a farmer wants to purchase a Recon. Kowitz says the earliest a producer would be able to have one in their possession is late spring of 2024. They also need to be prepared to lay out $150,000 to take farm chores to another level.
Kowitz and Ryse Aero Tech exhibited at this year's Farm Progress Show, and more information can be found at ryseaerotech.com.
Subscribe to receive top agriculture news
Be informed daily with these free e-newsletters
You May Also Like
---