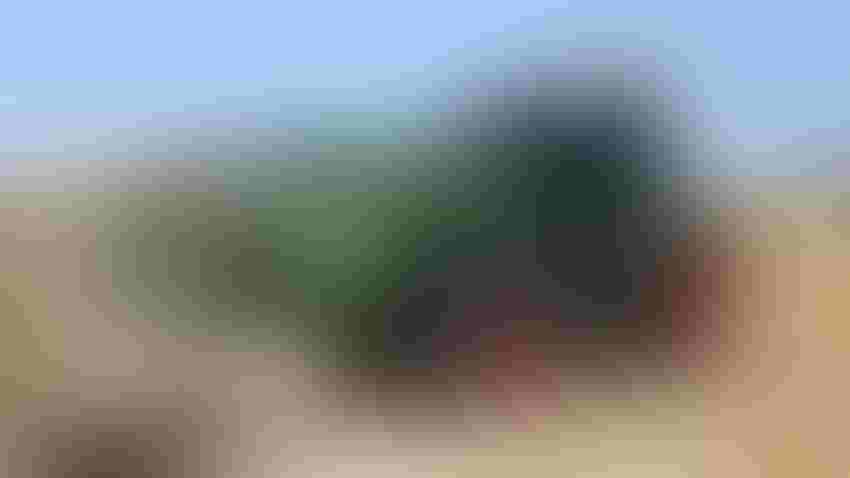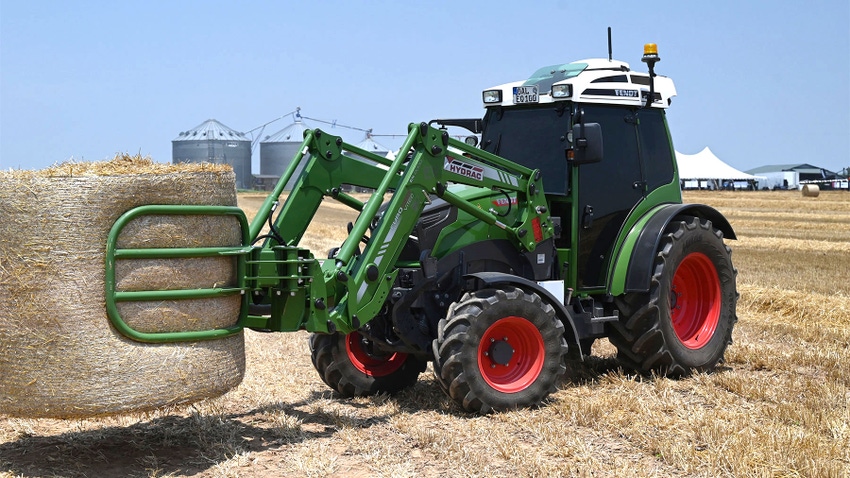 ELECTRIC: Agco demonstrated its Fendt e100 tractor at the Bollinger family farm near Pembroke, Ky. The model will be available in North America in 2025. According to Agco's Rawley Hicks, "What we have to do is focus on renewable fuels and hybrid solutions that allow customers to do jobs that are important and be able to go further distances away from their infrastructure."
Photos by Holly Spangler
Few folks are as skeptical about electric tractors as the American farmer. And nobody knows that better than tractor manufacturers. But they're working to address those concerns.
"Farmers are always worried about how to get the job done," says Rawley Hicks, director of global product management for Agco. "So they need the power to do that, and they also have a time constraint."
According to Hicks, those are the factors Agco kept in mind as the company developed the Fendt e100 tractor, a 70-hp tractor that's all electric and will be available in North America in 2025 and in Europe in 2024. Their goal is to address the farmers' needs and apprehensions, one tractor size at a time.
Hicks says they started with the smaller 70-hp tractor for the jobs that need lower horsepower but need to be able to work four to six hours at a time. Their studies show that even though a tractor doing jobs like moving bales, raking and feeding cows might run a full 12 hours, the amount of work it's doing falls in a four-to-six-hour time range. Those are jobs typically done closer to the farmstead — which is important for charging — and for shorter amounts of time.
"We're confident we can do all of the jobs needed to be done for farmers, knowing you can get a little bit further away from your infrastructure, knowing that when you come back to the farm, you can then recharge if needed," Hicks explains.
How it works
The Fendt e100 is equipped with a 50-kilowatt electric motor, roughly 70 hp, with all the standard PTO, hydraulic and three-point interfaces. The tractor has a 100-kilowatt-hour battery, and charging on board is 22 kilowatts, which is frequently available on farms, according to Leo von Stillfried, director of product management for premium tractors at Agco. The model pictured above was demonstrated at a farm in Kentucky and charged using existing infrastructure at the grain system site.
Hicks says they worked to make charging accessible for everyone — and in fact, they bought a charger for the tractor on Amazon. Farmers can, too, or they'll also be available from the company.
"Again, we're making it easy for the customer to be able to do this and to work with the product," Hicks says.
Agco believes the e100 model will be popular in municipalities that are trying to reduce their emissions ratings. On the farm, Hicks says a quiet tractor with no exhaust could be beneficial for work in greenhouses, and in poultry and livestock buildings.
"You won't have to worry about emissions or exhaust, or the noise that can put stress on those animals," he adds. Check out the video below; it's shot at close range — and really is that quiet.
Up the line
In the mid-power range, on tractors that might be baling hay and working farther from home for a longer period of time, for example, Agco is looking at using a battery electric tractor with some kind of range extender with a fuel cell.
"Then we can get further away and have more working time in the day," Hicks says.
For higher horsepower and longer days yet — planting, combining, spraying — he admits the technology is not there yet.
"It would be nice to do something with battery electric, but the power density is not there, and it'd be way too big," Hick explains. The company expects battery technology to grow from 70 hp up to 150 hp.
In the end, their goal is to focus on renewable fuels and hybrid solutions that let farmers do the jobs they need to do, when they need to do them.
"We all know the windows to do field work are narrowing," Hicks says. "We want to address those problems for our customers."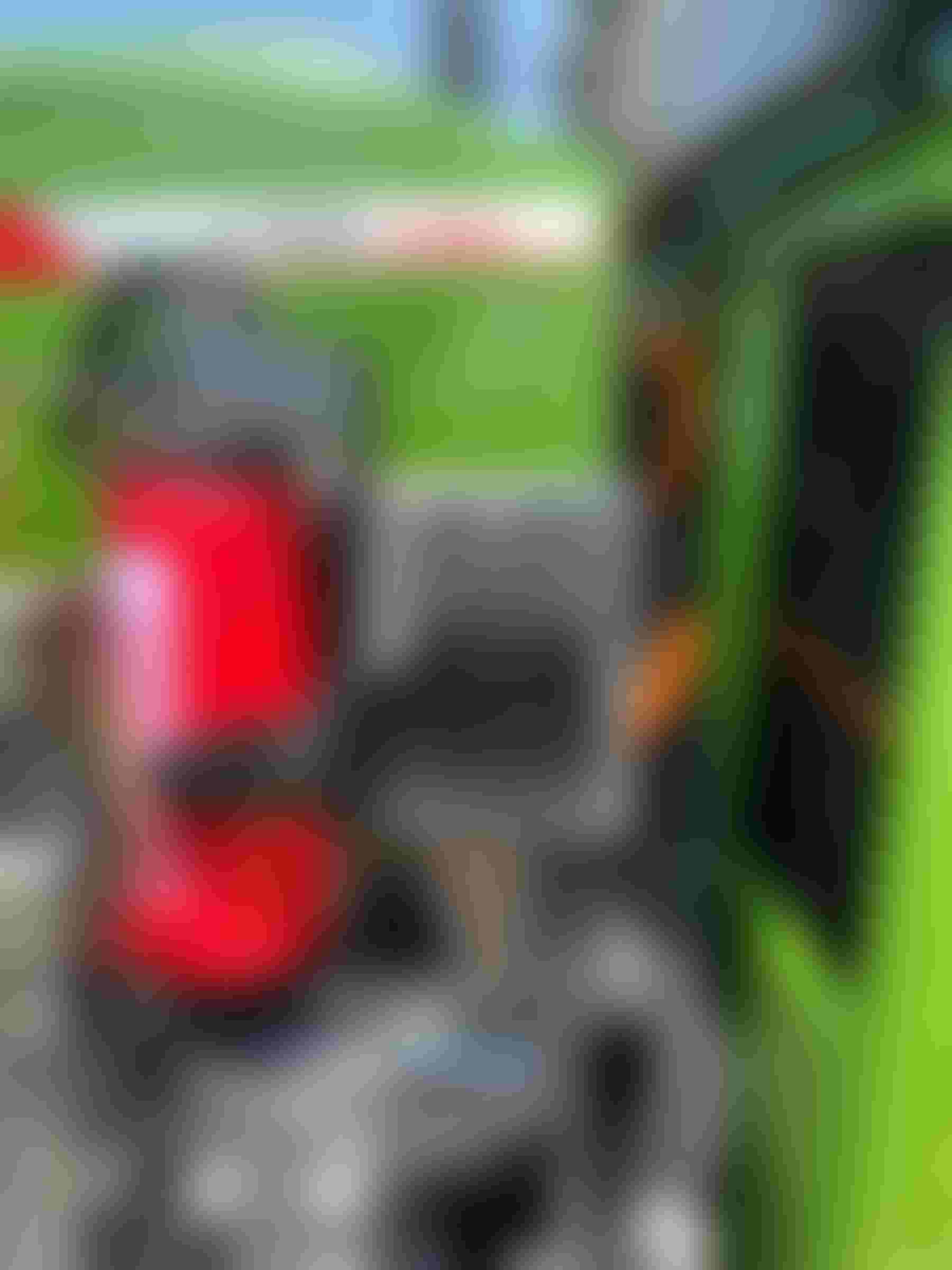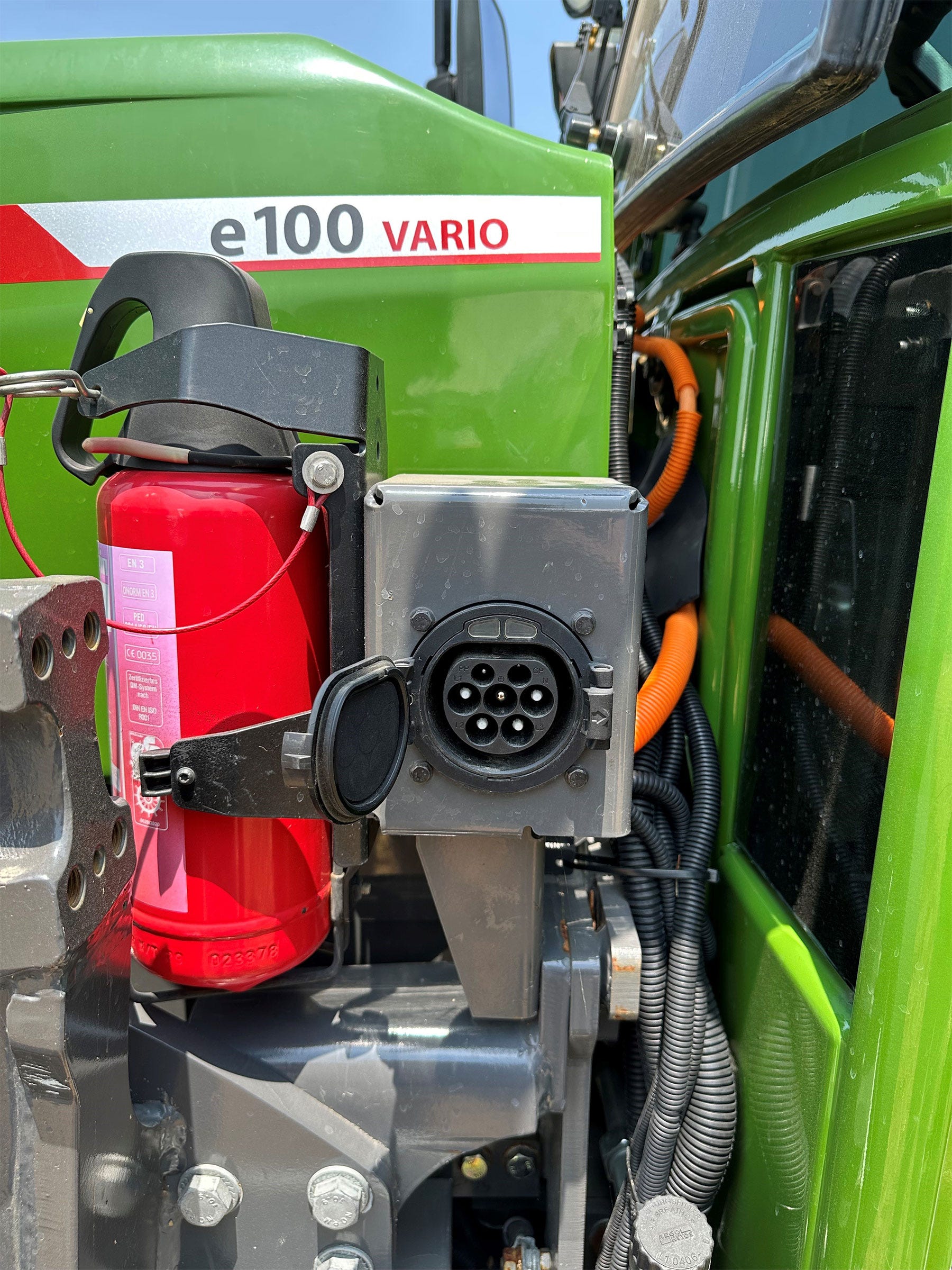 NO TANKS: This Fendt e100 was charged up at the grain bin site on the Bollinger family farm near Pembroke, Ky.
4 power possibilities
Stillfried was tasked at Agco with figuring out how to power agriculture in a world increasingly focused on reducing its carbon footprint. He says that to be both sustainable and productive, the company is looking at four alternative power technologies.
"Being productive is very key, because we all want something to eat," he says.
Biofuels. Biofuels are very common and well accepted, including biofuel-capable tractors.

Biogas. Agco is running a pilot project to test biogas use, which is more frequently used in Europe. Many farms there use biogas to generate electricity, and it's becoming more popular in the U.S. The basic idea is that farmers can use their own energy source to power the tractor.

Hydrogen. An evaluation project in Europe is examining the installation and infrastructure possibilities for hydrogen power, but there are still big questions — like how to get it, how to handle it, and how to get the whole system up and running in rural areas where farming takes place.

Battery power. Battery power is demonstrated in the Fendt e100 tractor, and in vehicles all over the world.
Subscribe to receive top agriculture news
Be informed daily with these free e-newsletters
You May Also Like
---