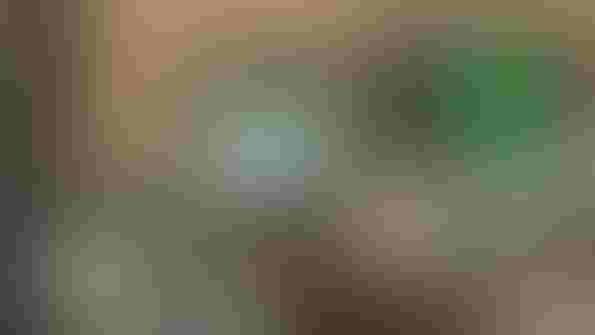 <p>Collecting information on the farm is becoming part of the job. But as farmers turn to more tools to gather information, and analyze it, what gets all those tools to talk to each other? The Application Program Interface.</p>
Photo: John Deere
There are times that the ag industry seems more like Silicon Valley when you start talking about new features on equipment. At Sunbelt Ag Expo this week, cloud computing is part of the discussion. This practice of collecting information and storing it automatically into a secure location off site is becoming commonplace.
Yet there's a challenge. Each of those clouds is pretty discrete. The one created by Company A stores information from one field process – say planting. Another cloud may store irrigation information and control. This proliferation of "clouds" is going to create a storm of challenges for agriculture in the future. And while there is one solution – choose a single brand for all your equipment and tech needs – that may not be possible.
One abbreviation you may hear more frequently is API. Dealers and company representatives toss off that three-letter designation quickly and easily. But what is an API and what does it really mean to your operation?
The API is short for Application Program Interface. And that's pretty much what it is. This is a set of computer code – or rules – in one program that allow other programs to reach in and extract data for use in a specific task. Or the API can reach out from a program and connect to others. Essentially it's a set of digital rules for sharing information between programs.
One computer expert explained that a program without an API was like a room with no windows or doors. The API is what allows access to important information for use by other software. And having that data-sharing capability is becoming more important.
[CHARTBEAT:3]
John Deere has touted in the past that it has developed APIs to work with more than 100 companies, and that list is growing. Other players like Conservis and Granular are connecting with outside suppliers – like accounting software or machine information to pull data in for high-level number crunching. FarmLogs has developed a sophisticated interface to pull information from third-party equipment firms to maximize data use as well.
So what does the API mean for your farm? APIs when properly implemented can save you a bunch of time. Information collected in one place can easily port over to software you need to run your business. This saves the need to manually enter data into an analysis program, and it can make your processes work faster.
When working with tech providers when buying equipment in the future, consider the API. Ask your dealer how their tech talks to other tech. It's important because you want to gather information efficiently so you can take effective action. If a yield map from your combine can't easily be transmitted to your analysis program for determining planting prescriptions – you diminish the value of both tech investments – the combine yield monitor and the analysis program.
The API is now an important part of agriculture and all the major tech players are working to make sure their equipment can talk with others. Pioneer, BASF, Dow, Climate and other crop protection and seed companies are also implementing APIs so information moves more freely from farm to desktop for decision making.
Knowing your API situation with the tools you use, or plan to use, is more important than ever.
Subscribe to receive top agriculture news
Be informed daily with these free e-newsletters
You May Also Like
---